As part of a recent online panel, three student transportation professionals provided insights into how they work within tight budgets, get approval for innovative ideas from superintendents and school boards, find grants, and more. Sponsored by Tyler Technologies, this panel also focused on how districts can use technology to drive efficiency—without compromising on safety or service.
Below we have written up a few of the many insights they provided as part of their discussion:
Tim Shannon, Director of Transportation, Twin Rivers USD, Calif.: "Business management and cost accounting are the skills I bring from my previous work. You have to be data-driven and willing to change instead of saying 'this is how it's always been.' You have to look at modernizing in this industry. And we have to look at supporting the students. Our 'product' is helping students get an education. So from a business perspective, how can I deliver that product?"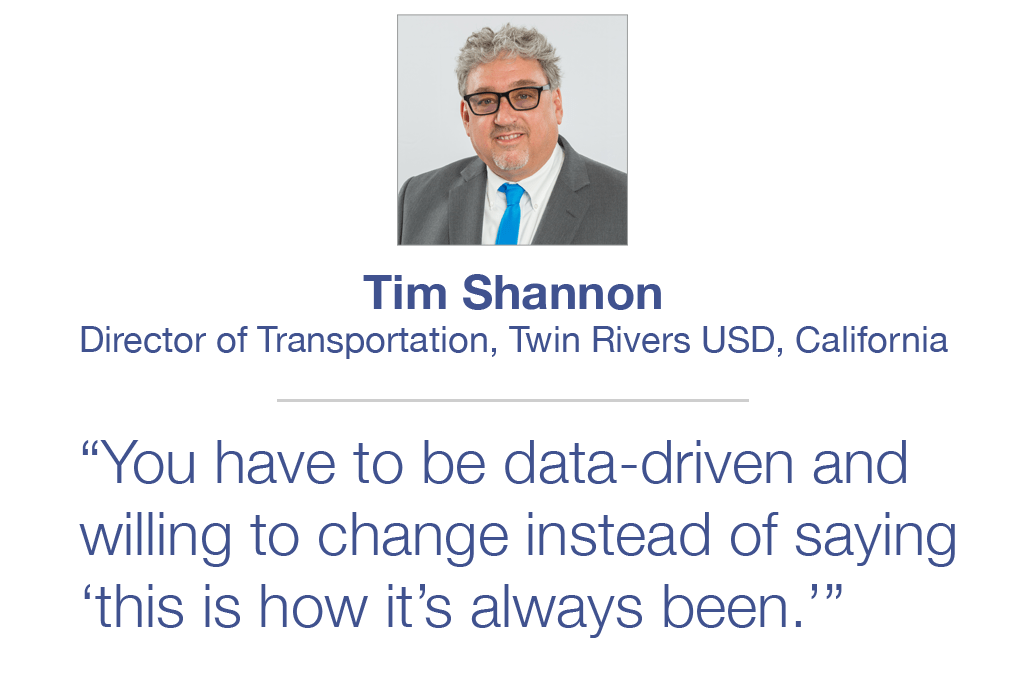 Jason Nelson, Transportation Supervisor, Kyrene School District, Ariz.: "One of the big things I try to do is strategize some district areas, making quadrants where certain routes will service, and I figure out how much deadhead time or unserviceable miles we're driving back and forth. I try to keep the same driver in the same area so they're familiar with the neighborhood, the families they're servicing, the schools. It brings some cohesiveness to the routes, and stability for drivers. A lot of these drivers will keep these routes through their career."
Joe Dives, Executive Director of Support Services, Magnolia ISD, Texas: "A few times a month I sit out in the bus lot and take times of when buses are coming in and leaving, bus counts, and how many students are riding. And I see what I can do to assist and help.
"Sometimes I pick a random bus and I get on and let the driver be in the passenger seat, and I'll drive the route and follow the route sheet. I'll be following the bus sheet and you'll hear the kids yell 'Hey that's not the stop, we usually stop over there.' They'll rat on the driver if they're not doing what they should be doing! And that ensures they're not traveling extra miles, making extra stops, that we have the right number of students on the bus."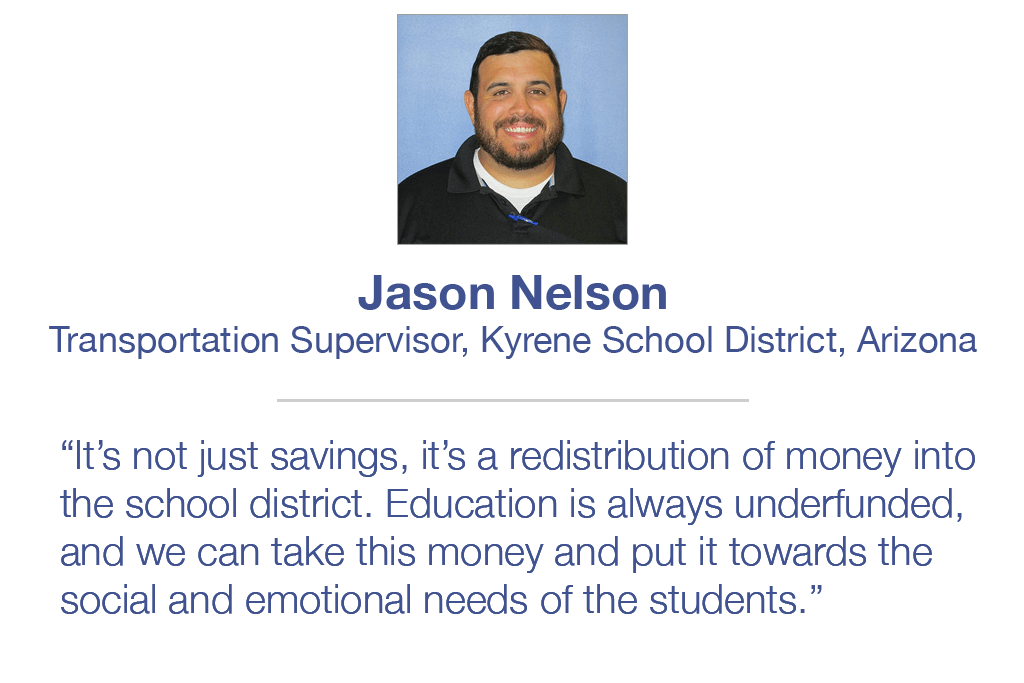 Nelson: "We're very fortunate to have the support of the superintendent that requested our bell time study. It's not just savings, it's a redistribution of money into the school district. Education is always underfunded, and we can take this money and put it towards the social and emotional needs of the students.
"What it came down to was coming up with all these scenarios and explaining how they'd affect all the stakeholders. By using our routing software, we can explore different options and find out what efficiencies we can find, how many drivers we can work with without compromising safety or our routes. We came up with a three-bell option that is going to save roughly $700,000 for our district. We actually had a four-bell option that predicted $1.2 million in savings but we felt it wouldn't be as effective for the community."
Dives: "We've also been very blessed that our school board and superintendent believe in transportation, they know it's a vital part of the school day and a vital part of the organization—like the food service department. Some kids don't eat unless they're at school, so coming to school is vital. And those are probably the same kids that, if we didn't go get them, they wouldn't come to school."
Shannon: "Safety is what drives student transportation and we don't compromise there. So we look for efficiencies like route pairing, or finding the right equipment for the right route. You have to use and know the technology. We're going to use it extensively with some new electric bus products we're looking at and infrastructure management. We'll tie it into how and when we charge our buses, for how long, and when's the best time for costs.
"Next year we're going to use Tyler software to target reductions in gen ed busing; we want to save a million dollars. You couldn't do it without software to analyze your operation. Everything we do has to be based on data-driven decisions."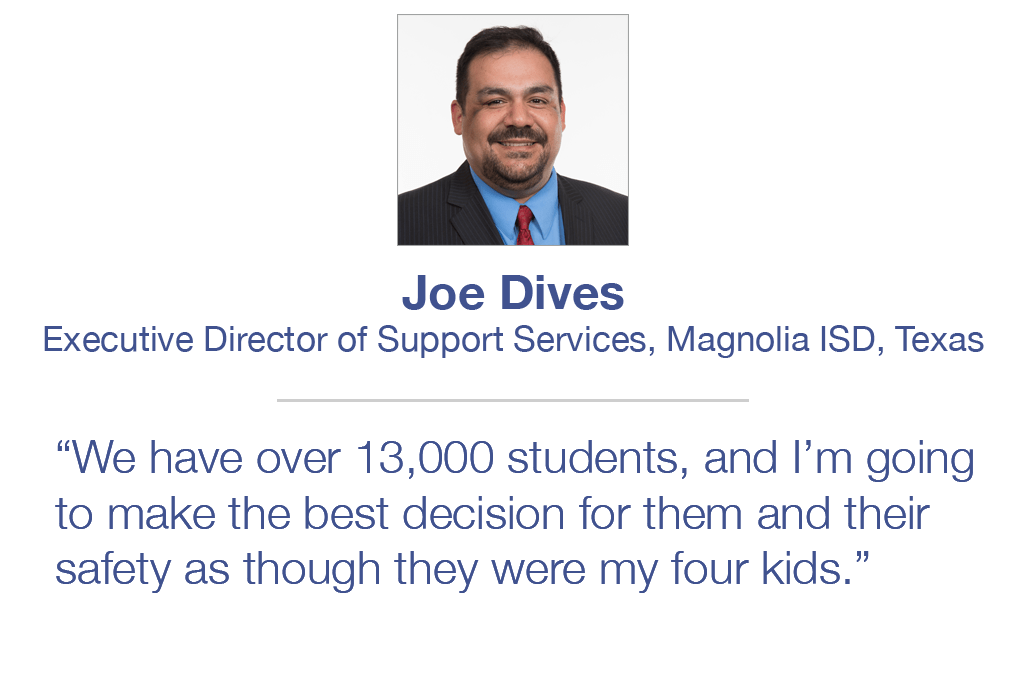 Dives: "If the question is, 'We can save this amount of money but we're not buying the best brake pads, in fact we're buying brake pads that are known to have defects,' any sane person would say, 'No, I'm not willing to make that compromise.' We have over 13,000 students, and I'm going to make the best decision for them and their safety as though they were my four kids. Because I want to believe that their TD at their district is doing the same thing, and I know he is."
Access the on-demand recording of their presentation, and learn more about Tyler Technologies.