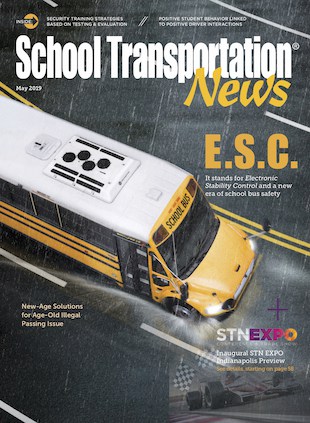 New school bus technology addresses illegal passing, child detection systems, student behavior on the bus and more.
Read the full May 2019 issue here.
Cover Story
OEMs Add Safety Solutions to the School Bus
Accidents happen, but the electronic stability control and collision avoidance systems are designed to help student transporters avoid tragedies.
Features
New Technology Addressing Illegal Passing Incidents
Predictive stop-arm technology joins video technology as tools to combat motorists who fail to heed laws that are designed to protect students who are loading and unloading from the school bus.
STN EXPO Indianapolis Preview
Meet one of the keynote speakers who is scheduled for the inaugural event, which is June 7-12. Continue on to page 58 for the complete workshop schedule, this month's advertisers that are exhibiting at the trade show and much more.
Special Reports 
Better School Bus Behavior
The onboard school bus behavior of students is directly affected by the relationship they have with their bus drivers. A welcoming environment can improve the ride to and from school.
Shrinking the 'Danger Zone'
Readers weigh in on the adoption of 360-degree video systems that provide school bus drivers with improved vision around bus stops.
Sections 
Feedback
Online
Trends
Ad Index
Product Info
Marketplace
Columns
Thought Leader by Michael Dorn
School Bus Security and Emergency Preparedness — Have you Properly Tested your Approaches?
Thought Leader by Robert Scott
Affordable Technology Goes back to the Future
Editor's Take by Ryan Gray
No Passing on Educational Opportunities
Publisher's Corner by Tony Corpin
Technology Rush