School buses carry 25 million students to and from school every day, making this industry the largest form of the nation's public transportation. According to the American School Bus Council, school buses keep 17 million cars off the roads each year—substantially reducing the amount of emissions emitted and fuel consumed. These buses run on a variety of fuels, including diesel and propane.
Clean Diesel
Today's diesel buses are much cleaner than previous years, due to federally mandated changes to reduce emissions. Diesel engines meet these stricter Environmental Protection Agency standards with diesel particulate filters, diesel exhaust fluids, exhaust gas recirculation and other after-treatment devices. It takes about 20 additional components to meet the federal requirements for a diesel engine.
Propane: Cleaner by Composition, not Complication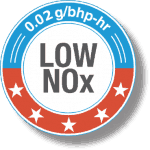 The complexity of diesel has been one reason for the increased growth in propane school buses, which do not require additional parts to reduce emissions. Another reason is that school buses fueled by propane naturally emit fewer nitrogen oxides (NOx) and smog-producing hydrocarbons, and virtually eliminate particulate matter when compared to diesel.
Taking this one step further, the Blue Bird Vision Propane school bus operates on an engine that is 75 percent cleaner than current emissions standards and 99 percent cleaner than pre-2007 standards. It now offers the lowest NOx emissions of any combustion engine on the market, at 0.02 g/bhp-hr (NOx).
More than 840 school districts across the U.S. transport nearly one million students in buses fueled by propane, also known as "autogas." Of the top 25 school bus markets, 19 have propane-fueled buses in their fleets, including Atlanta, Chicago, Houston, Los Angeles, Miami, Philadelphia and Phoenix.
Propane's Effect on Air Quality
Orland School District 135, located in a suburb of Chicago, adopted 79 propane school buses. These buses, which run almost 400 routes per day, reduce nitrogen oxide emissions by over 98,000 pounds and particulate matter by almost 2,500 pounds each year, compared with the diesel buses they replaced.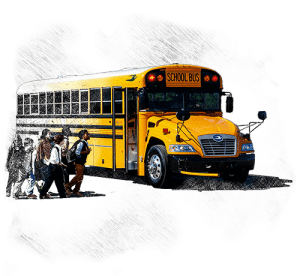 The Coalition for Clean Air and the Natural Resources Defense Council published a study citing children among those who are most susceptible to the health effects of diesel exhaust exposure. This is a result of a child's developing body and lungs, narrower airways, faster metabolism and faster breathing rate than adults.
"At every single bus stop, our propane buses have a cleaner footprint," said Brian Swestaka, director of transportation for Howard-Winneshiek Community School District in Iowa.
According to a recent University of California Riverside study, diesel-fueled medium- and heavy-duty vehicles are the No. 1 source of NOx emissions in almost every metropolitan region in the country. NOx emissions are regulated under federal air quality standards, because exposure to NOx can cause negative health effects in children, including eye, nose, throat and lung irritations, headaches and fatigue.
Carmel Clay School District says it is reducing emissions and increasing safety by adopting propane school buses. The Indiana school district cites its commitment to decreasing children's exposure to harmful emissions, lowering maintenance costs through the use of a cleaner fuel, and increasing fuel diversity for a safer community and world, as reasons why it operates propane buses.
For healthier students, communities and environments, propane buses earn top marks for school districts across the nation.
Learn more at: blue-bird.com