Situated in Colorado's Western Slope Region, Mesa County School District 51 is the tenth largest school district in the state. When the district began its partnership with Student Transportation of America in July of 2015, it wanted reliable transportation at a reasonable cost, delivered by a younger fleet and safer equipment, with improved communication and better access to routing updates for families.
---
MESA COUNTY SCHOOL DISTRICT 51 │ Grand Junction, Colorado
CLINT GARCIA │ Chief Operations Officer
Students served by STA: 21,000
Schools served by STA: 27
Daily routes served by STA: 134
---

WHAT GOALS DID YOUR ORGANIZATION HOPE TO ACHIEVE WITH STA AS ITS SCHOOL TRANSPORTATION CONTRACTOR?
Safe and reliable transportation. Ensuring the safety of students during their commute to and from school is a top priority. D-51 partnered with STA to provide our students with well-maintained buses, trained drivers, and efficient transportation systems to ensure the safety and reliability of their school transportation.
Efficient and punctual service. Timely and efficient transportation services are crucial for students, as it allows them to arrive at school on-time and minimize disruptions to their education. D-51 has worked with STA to improve the efficiency of bus routes, optimize scheduling, and reduce delays to provide a smooth transportation experience.
Cost-effectiveness. Partnering with a professional transportation provider like STA has helped D-51 to manage costs associated with maintaining and operating our own fleet of buses. By outsourcing transportation services, we have the opportunity to allocate resources to other educational priorities.
Focus on education. By entrusting the transportation responsibilities to STA, we have the ability to focus more on our core mission of providing quality education. Having a reliable transportation provider helps to alleviate administrative burdens and allows school staff to concentrate on teaching and supporting students.
WHAT HAS MADE STA'S SERVICES STAND OUT FROM OTHER SCHOOL BUS CONTRACTORS?
STA has been at the forefront of integrating technology into its services. They have implemented various innovative solutions, such as GPS tracking systems, onboard cameras, and fleet management software. These technological advancements enable real-time monitoring of bus locations, improve route efficiency, enhance student safety, and provide valuable data for analysis and optimization.
They have demonstrated a commitment to sustainability by implementing environmentally friendly practices. STA has worked with D-51 to incorporate alternative fuel sources, such as propane, into the fleet. By reducing emissions and promoting greener transportation options, STA distinguishes itself as an environmentally conscious school bus contractor.
And last but not least, STA recognizes the impact transportation has on a student's overall school experience. They strive to create a positive and comfortable environment on their buses, ensuring students feel safe, respected, and engaged during their journeys. This focus on the student experience sets them apart as a contractor that goes beyond simply providing transportation.
HOW IS YOUR ONGOING RELATIONSHIP WITH STA?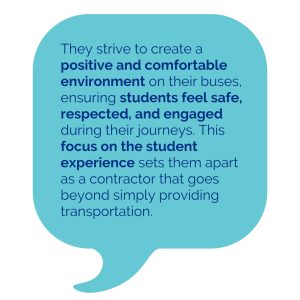 STA has worked to build strong partnerships with school districts and communities. They work closely with our transportation team, administrators, and parents to understand their unique transportation needs and to develop customized and innovative solutions. This collaborative approach helps them provide tailored services and adapt to the specific requirements of each district they serve.
STA collaborated closely with D-51 to understand our unique transportation needs and tailor their services accordingly. This partnership approach enabled D-51 to have customized transportation solutions that meet the specific requirements of our schools and students.
CAN YOU SHARE SPECIFICALLY HOW STA HAS HELPED YOUR ORGANIZATION ACHIEVE ITS GOALS?
As mentioned, the collaborative work that STA has done with D-51 has benefited all of our students, specifically our special programs. The Challenge program, the Early Language Learners program, and the Special Education students and their families, to mention a few, have all been helped by STA and their willingness to problem solve. When our Special Education Department is in need of a transportation solution quickly, the STA staff understands the urgency and responds with a focus on solutions.
HOW IS STA ALIGNED WITH THE VALUES THAT DRIVE YOUR ORGANIZATION AND LOCAL COMMUNITY?
Over the past year, District 51 has embarked on a strategic plan that addresses the following three areas. Through our partnership with STA, we have aligned our goals to provide our staff, students, and community with the best possible services.
1) Prepared & Supported Students
STA creates a supportive environment during transportation. They may assign staff members or bus monitors who can provide assistance and supervision to students. This can foster a positive atmosphere, promote social interactions, and address any concerns or issues that students may have during their journey.
2) Prepared & Supported Staff
STA's collaboration with schools and administration extends to staff members as well, by working closely with schools. This collaboration with school staff has created a higher level of confidence in our partnership with STA.
3) Engaged & Supported Community Partners
Overall, transportation service provided through STA has played a vital role in creating engaged and supported community partners by providing access to programs, facilitating
collaboration, supporting outreach and engagement, ensuring efficient logistics, prioritizing safety and reliability, fostering community networking, and enhancing community engagement.
HOW HAS WORKING WITH STA MADE YOUR JOB OR WORK LIFE EASIER? WHAT HAS SURPRISED OR PLEASED YOU MOST ABOUT WORKING WITH STA?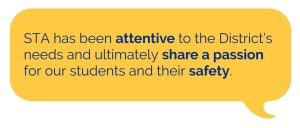 Put simply, STA is available to solve issues quickly. Virtual or face-to-face meetings to solve quick turnaround issues, or taking the time to plan for what may be coming up in the future helps when working on complex transportation needs. This is my first year as the Chief Operations Officer and I have not previously worked with a third-party transportation contractor, and had some initial concerns. STA has been willing to work through many phone calls and meetings to help the District "get it right". For example, STA's Area General Manager, Shane Anderson, has been incredible to work with making himself available even when he is not in town. Roman Fulgenzi, the Terminal Manager, along with all of the office staff have been attentive to the District's needs and ultimately share a passion for our students and their safety.
WOULD YOU RECOMMEND STA TO OTHERS? WHAT POSITIVE BENEFITS WOULD YOU EMPHASIZE?
I would recommend STA for public school transportation. Their team provides safe and reliable transportation, expertise and experience, flexibility, scalability, and excellent customer service. Thank you for your commitment to serving both staff and students in Mesa County School District 51!