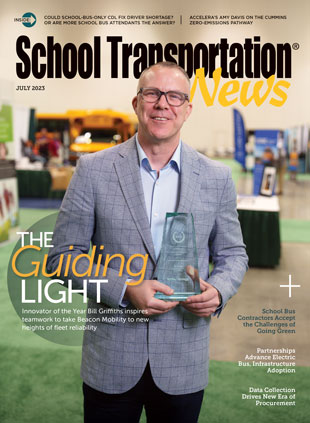 Meet the 2023 Innovator of the Year winner, Bill Griffiths of Beacon Mobility, who shares insights on how teamwork leads to reliability and industry advancements. Learn more about driver retention, data driven strategies for installing electric vehicle infrastructure, the challenges districts face with the accelerated move to zero emissions and the latest discussions around a school bus specific CDL.
Also find the STN Show Reporter and recap STN EXPO Indy with galleries, articles, videos and interviews!
Read the full July 2023 issue.
Cover Story
There Is No 'I' in Team
Fleet expert to be awarded this month by School Transportation News and National School Transportation Association for driving advancements to contractor's school bus maintenance programs.
Features
Data Leads the Green Push
School bus companies set end goals in terms of zero-emissions fleet adoptions driven by analyzed decisions for what locations receive the buses and infrastructure first.
Electric Handshake
The industry is realizing that going green is a huge undertaking and not a project to be taken lightly or without partnerships in place.
Special Reports
Yellow Only?
The school bus driver shortage continues. According to an STN survey, readers averaged at least 10 driver openings this past school year. Some say the answer could be a school-bus-specific CDL.
Bus Monitors: Your Next Retention Strategy?
Having a bus assistant or monitor on board every route could help increase safety and provide much needed help to school bus drivers. However, many districts only provide these staff members as required per student IEPs.
Q&A: Accelerating Change
Amy Davis, president of Accelera by Cummins, sat down with School Transportation News in May to discuss the future of zero emissions.
Feedback
Online
Show Reporter Online
STN EXPO Indy Photo Gallery
Ad Index
Editor's Take by Ryan Gray
Catching the Horse Up to the Cart
Thought Leader by Robert T. Pudlewski
Vehicle & Parts Procurement: Data Collection Needed to Get Ready for New Direction
Publisher's Corner by Tony Corpin
The Culture of Top Transportation Teams