The end of 2022 saw significant leadership changes at North America's largest bus brand. But with those moves come much continuity. Trish Reed, who was the general manager of IC Bus, is now the vice president of zero emissions for Navistar, IC's parent company. Meanwhile, Justina Morosin returns to IC Bus, where she was VP of sales from 2014-2017, as the brand's new leader.
If anyone knows the IC Bus and the larger Navistar portfolio, it's Reed and Morosin, who combined have nearly 50 years of employment at the Lisle, Illinois, manufacturer. While Reed draws upon her experience overseeing the IC Bus CE Electric launch to shape the zero-emissions future of the company's ecosystem alongside partner TRATON, Morosin rejoins the school bus team after spending the past two years as vice president of transformation for Navistar—a time which was transformative not only professionally but personally, as she was diagnosed with early-stage breast cancer (she's in remission).
School Transportation News sat down with both women to recount their individual transitions, learn more about the future of IC Bus and electrification efforts, and discuss how the company is responding to a bevy of current economic pressures.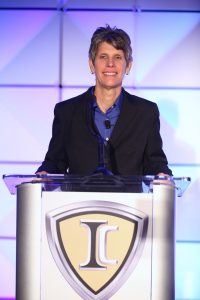 STN: How did the move from GM of IC Bus to heading electrification for all of Navistar transpire?
Reed: It was a natural transition for me to move from general manager of IC Bus to leading zero emissions. The school bus market is at the forefront of electrification in the U.S. and Canada and is leading the way for other types of commercial vehicles to follow in its footsteps. The IC Bus team spent a significant amount of time in the electrification space and accumulated critical knowledge that can easily translate to support the electrification of Class 3-8 commercial fleets used for different applications, but with similar duty cycles.
As the industry thought leader, we are committed to not only educating customers about the vehicle itself but also to help simplify a complex process into a seamless experience for school districts transitioning to electric. The benefits are two-fold: The buses are cleaner and quieter, and the savings that come from having less maintenance costs can be shared back into the community and schools.
While I love the school bus industry and have yellow pumping through my veins, I became enthusiastic about electrification overall and wanted to ensure that we are setting up the right organizational structure to support all our customers in their transition to EVs.
To this end, we created a customer-centric approach to fleet electrification. It is a hands-on methodology that starts by assessing the customer needs to determine the scope of the project. This is key to developing a customized plan to mitigate surprises along the way. We work hand-in-hand with utilities and other partners to oversee the installation of EV chargers by managing the overall deployment. We do all the heavy lifting so our customers can stay focused on their core business.
STN: How will the electrification teamwork alongside TRATON translate to further development of electric school bus models?
Reed: I'd like to stress that in the next few years, while product is important, our mission focuses on supporting our customers through the initial learning curve of electric vehicle adoption. That involves a proper assessment of customer needs, charging and deployment. As part of the TRATON Group, we can leverage scale which will allow us to accelerate our progress in the electrification space.
STN: Justina, this development hastened your return to IC Bus as the new vice president and general manager. You mentioned recently your eagerness to return to the school bus industry as yellow continues to flow through your veins. What did you miss most?
Morosin: The school bus market is a small but close industry responsible for transporting the most precious cargo. The people in this industry are what I missed and what I'm excited to come back to.I am also eager to help drive change. The transportation industry accounts for a significant percentage of total emissions. IC Bus accepts the responsibility to lower the carbonization curve by advancing sustainable solutions. The school bus market is at the forefront of the EV movement, and there are many new and exciting things going on in an industry that hasn't seen such attention before. It's thrilling to contribute to something that is promising for future generations and serves a broader purpose.
STN: New purchase prices have skyrocketed for all types of school buses but certainly electric. Trish, what specifically do you attribute these higher costs to, and what's necessary to bring them down?
Reed: Various unexpected changes continue to impact the industry. We know that supply chain disruption and inflation have impacted every product in every industry, and commercial vehicles are not immune to that inflationary pressure. It is simple economics of supply versus demand that will determine the future.
As the supply chain restructures and additional capacities come online, we anticipate the need for suppliers to recoup the investments made before we will start to see some pricing relief on component cost. Additionally, although not all raw materials are recovering at the same pace, we are seeing some favorable price movements in the commodity markets. One of the costliest components in an EV is the battery. As we continue to see supply chain issues abate and inflation hopefully ease, technology also continues to advance. While upfront costs may be higher than traditional diesel vehicles currently, as adoption grows and technology advances, the total cost of ownership (TCO) for EVs will prove to be more affordable in the long run.
STN: At the same time, the EPA 2027 emissions regulations figure to further impact the future of diesel for school buses, which have also been steadily increasing in price over the past decade and a half. Is IC Bus committing to continued development? Or are all eggs being placed in the electric basket?
Morosin: IC Bus is committed to lead in safety and technology, and provide solutions that meet customers' needs, both today and in the future. IC Bus has invested to ensure we are compliant with emissions regulations and we have a product offering to meet customer needs.When it comes to technology that meets emissions regulations, there has been a heavy focus on electric vehicles, and we'll continue to see investment for these technologies.
We'll see what the future holds for our industry. With all the focus on new technology and regulations, will everyone continue to maintain multiple powertrains? Time will tell. IC Bus is committed to climate change solutions through socially conscious business models that deliver safe and efficient solutions to customers.
STN: Aside from cost, is Navistar and In-Charge identifying infrastructure as the biggest hurdle for student transporters to clear with adopting electric vehicles? How are both organizations trying to ease the transition?
Reed: EV charging infrastructure is a complex aspect of deployment. However, depot charging can make things easier. This charging model is one reason school bus is tip of the spear when it comes to electrification. There's no doubt that EVs are the future but the eco-system remains dynamic and complex, which is why we partner with our customers to help them make a seamless transition. In addition, we can conduct route analysis to help schools determine which routes can be electrified first and provide grant assistance to schools to help them offset costs.
STN: What is the IC Bus outlook for production over the coming year? Where does the brand stand with meeting backlogged industry demand? Any new models the industry can expect? New technology?
Morosin: Supply chain disruptions continue to limit the bus industry and affect lead times. We are fortunate to leverage our partnerships and resources, and to maintain our leadership position in market share. Our school bus plant in Tulsa, Oklahoma has done an amazing job keeping up with industry demands. The industry was historically very cyclical, but since COVID predictability of demand has changed. Order boards continue to remain healthy and while we all look to mitigate potential supply chain disruption, the increased pent-up demand from school bus customers adds to the importance of keeping up with demand and producing quality vehicles in a timely fashion. We are excited for what the future holds and what we are working on for customers.
In 2023, we added factory-installed telematics to all of our CE Series vehicles, including a five-year service subscription. This connected technology is designed to deliver enhanced customer solutions tied to safety, reliability and on-time performance. Customers gain access to OnCommand Connection advanced remote diagnostics, GPS tracking, gateway integrations and IC Bus 360 Service Communications. This was a technology first introduced in our electric model and is now on all of our CE Series buses hitting the market in 2023. We continue to build solutions today for future generations and 2023 is going to be an extremely busy, yet exciting, year for IC Bus.
STN: Thank you.
Editor's Note: As reprinted in the April 2023 issue of School Transportation News
---
Related: New Electric School Buses for Students in St. Albert
Related: Available for Orders: Collins Bus All Electric Ford E-Transit Type A School Bus
Related: British Columbia School Buses Go Electric
Related: Audi and Navistar Partner to Improve Emergency Vehicle and School Bus Safety