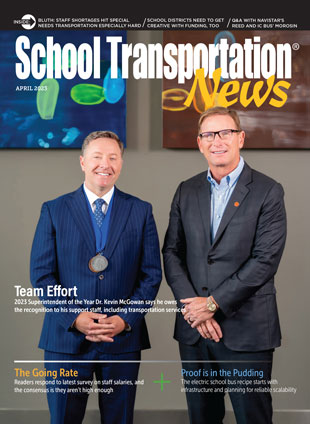 This month's magazine features an in-depth discussion with the 2023 Superintendent of the Year, Dr. Keith McGowan. Learn more about the road to success in fleet electrification, industry salaries, the different state funding challenges districts are facing, the effects of transportation personnel shortages and more! Also, look inside for STN EXPO Indianapolis and Reno dates and details.
Read the full April 2023 issue.
Cover Story
Individual Award Reflects Team Accomplishments
Dr. Kevin McGowan of Brighton Central School District in Rochester, New York says his team, including those in transportation services, is responsible for him being named Superintendent of Year.
Features
Pay Scale
Have industry salaries changed since the pandemic? Readers address the starting salaries for common positions.
Future-Proofed?
Planning for today's electric needs is one thing, but future proofing one's operation is a slow and steady process to success.
Special Reports
A Fact-Funding Mission
State funding mechanisms for school district transportation departments differ greatly, but one thing in common is the funding is never enough.
Q&A: Navistar & IC Bus Leaders Discuss Brand, Personal Evolution
IC Bus' Justina Morosin and Navistar's Trish Reed discuss green energy and more.
Editor's Take by Ryan Gray
Tipping a Glass of Some Cool LeMon Aid
Thought Leader by Linda Bluth
Unforeseen Liability: The Impact of Transportation Personnel Shortages
Publisher's Corner by Tony Corpin
Training for the Unexpected