Not long ago, children routinely moved around their neighborhoods by foot or by bicycle, and that was often how they traveled to and from school. That is no longer the case, according to the Safe Routes to School Online Guide from the Pedestrian and Bicycle Information Center and partners.
Now, two parents in Silver Spring, Maryland, a suburb located north of Washington, D.C., are under investigation for permitting their two elementary-aged children to walk home, unattended, from a park one mile away. This week Danielle and Alexander Meitiv have a meeting with Child Protective Services, which is alleging neglect after police were tipped off that the 10- and 6-year-old siblings were left unsupervised.
"We wouldn't have let them do it if we didn't think they were ready for it," Danielle told reporters.
She added that her children have proved they are responsible by walking around the block together, as well as to a nearby 7-Eleven and the neighborhood library.
The Meitivs say they believe in "free-range" parenting, a movement that runs counter to the hyper-vigilance of "helicopter" parenting: Free-range parents strongly believe they have the right to teach their kids independence and self-reliance by giving them some freedom to roam.
Oddly, no one has brought up an obvious comparison here: The U.S. public school system has been telling parents of elementary students for years that their children don't need school bus service if they live a mile away from school.
The assumption here is that some parents will walk their younger children to school, while many others will opt to drive them. But also assumed is that at least a portion of these students will walk to school on their own. This means numerous parents have already made the call that their kids can handle it. And what about parents who don't have a choice because of their work hours? What do you think?
---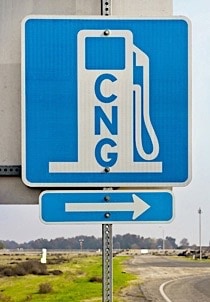 Even with the decreased fuel prices, CNG remains as much as a dollar cheaper at the pump, says NGVAmerica. A new paper published by natural-gas advocate NGVAmericaaddresses the volatility of oil prices, as gasoline and diesel are at five-year lows but are expected to start rising again later this year.
"Our analysis shows a compelling case for the continued transition to natural gas-powered vehicles, especially among commercial and government fleets for whom (sic) transportation costs represent a significant portion of their budgets," the report reads. "The long-term stability and low prices for natural gas relative to oil are likely to remain for many years – perhaps even decades, based on well-documented economic models."
Oil rebounded slightly Wednesday to $47.78 a barrel after peaking at $101 last summer, based on the West Texas Intermediate benchmark. NGVAmerica reported that gasoline prices nationwide fell to $2.21 a gallon and diesel prices to $3.13 a gallon as of Jan. 5. Still, CNG prices remain $0.75 to $1 cheaper, according to the organization, adding that diesel prices are expected to rise due to increasing demand for the fuel in light-duty vehicles, marine applications and the U.S. freight transportation sector.
---
Meanwhile, Bloomberg reported that Abdalla El-Badri, OPEC's secretary-general, forecasts oil prices to rebound rather than decline to as low as $20 or even $25 per barrel.
---
A New Hampshire school bus driver is facing charges after allowing her five-year-old to get behind the wheel of the bus, which subsequently crashed. During her daily pre-trip inspection, Tiffanie Brown stood outside of the bus and directed the child to activate the buttons for lights as she checked to see if they worked, according to police. The child put the bus into reverse, which went on to hit a nearby carport, as well as a child standing nearby. Neither Brown's child nor the child who was hit were seriously injured. Police charged Brown with two counts of child endangerment and one count of reckless conduct.
---
Automated railroad crossing gates will be installed at the intersection in Larimore, North Dakota, where a freight train collided with a school bus on Jan. 5, killing the bus driver and a high school student as well as injuring a dozen other riders. The state's Department of Transportation said it is paying 90 percent of the installation cost, which will run between $250,000 and $500,000. The remaining amount will be split between BSNF Railway, which will also design the gates and maintain them, and Grand Forks County.
A DOT spokesman told that the Daily Journal that the crossing currently meets federal safety standards. The intersection is marked on either side with a white "X" crossbuck sign with the words "railroad crossing." The crossbuck posts also have stop signs, which were added after a deadly 2009 crash.
---
The last two months have been busy for the "Gardian" Angel. Since November, the lighting system has been approved in five more states: North Carolina, Nevada, Colorado, Nebraska and New Jersey. This brings the total to nine states that have approved its use, including Michigan, Wyoming, Mississippi and Vermont. 
School Bus Stop Lighting System Approved in Mississippi is designed to reduce the number of vehicles passing school buses, as well as to increase the visibility of students boarding or exiting the bus, particularly in the dark. It is made up of two red high-intensity flashing strobe lights that are attached to the hood, along with a white flood light that mounts to the left side of the front bumper, creating an illuminated path for students to walk in.