I was taught from an early age by my father not to trust white people. He told me not to let them in your house because they don't like it when a black man is successful. That they will work at keeping the black man down and in their "place," so you have to work harder than them for the same pay.
So many of us have had similar upbringings from our parents, uncles, aunts and other family members. Where we hear them telling stories or calling people derogatory names. And then they all laugh, so we believe it's just the way things are. Our families help us to form our racial lens before we ever had a chance to form our own. That's the lens we see the world through.
As I got older, I began to notice that not all white people hate black people. I began to realize that I never gave my white friends a chance for us to build solid relationships. I began to realize that everything, at its core, is about relationships.
Taking a Bold Step
When I was about 10 or 11, there was a white kid around my age who lived downstairs. He would come over to me and say that he is not supposed to talk to me. I would ask him why, and he said his parents did not want him talking to us. He would get off the bus close to where I went to school, and we would walk home together. He attended the private school that was further away.
One day he looked at me and asked why we couldn't be friends. I responded that I thought we were friends. He related that his father said that wasn't going to be the case. That was the first time I realized that it was because I am black. I asked him why his parents don't like black people. His mom told him we could play together so long as his dad didn't find out. Meanwhile, I did not tell my parents what he told me about his parents. Unprompted, my dad told me, "Don't bring him in this house."
Neither of us listened to our parents and we became friends and started to hang out all the time. I think back to that situation and realize that we built a solid relationship on our own. It did not matter what our parents said or did.
Cultivating Relationships
My father-in-law grew up on a farm. I recall him telling me about the process of growing crops. You need to till the soil, kill the weeds, fertilize, then you need to plant the seed, he said. Then you pray for rain and fertilize again. You must pull the weeds on a regular basis. Sometimes it's not a weed but soybeans left over from last year's crop, you need to pull it to make room for the corn. Then, you have to constantly monitor the field to make sure the corn is getting the proper amount of water, fertilizer and weed control.
---
Related: Black Industry Leaders Make Solid Gains Despite Lingering Barriers
Related: (STN Podcast E99) Blaze the Path & Make a Difference: Black Leadership in School Transportation
---
We need to cultivate relationships in the same way my father-in-law cultivated the land. We need to tend to the person, and we need to give to the relationship like the fertilizer to the soil. We need to plant the seed of trust and respect. We need to expect productive outcomes to bear fruit and not weeds. This means we will have to pull the weeds when they pop up. Don't wait until they take root as then they will be harder to pull. You need to invest in the relationship just like the farmer invests in the land. You reap what you sow.
Becoming a Change Agent
Your words are so powerful that they can inspire or devastate with a sentence. Make the choice to tell a child that they have talent in an area and find the positive in all situations. When it's time to "pull a weed," be gentle so that you do not disrupt the root system of the relationship. Invest time in and with that child. Provide a warm safe climate for that child. Provide adequate resources and have high expectations.
---
Related: Minnesota Transportation Director Focuses on Student Advocacy
Related: Working Against Discrimination: One Transportation Leader's Story
---
Many studies show the single most important thing in turning lives around is the ongoing presence of a culturally responsive caring adult. The lack of a caring adult is one of the most devastating factors for black boys.
We must be willing to make a difference for more than one child at a time. It takes all of us to be aware all of the time.
Walter and Georgia were the caring culturally responsive adults in my life who made all the difference…. The rest of this story is in my training session.
---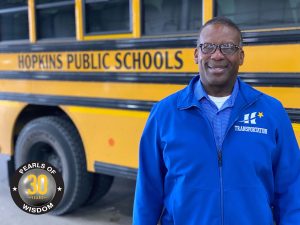 Since 2001, Derrick Agate has served as a transformative leader in school transportation — as director of transportation for Eden Prairie Public Schools and as supervisor of transportation in Hopkins Public schools, both in Minnesota. A past president of the Minnesota Association for Pupil Transportation, he is also a national training consultant for licensed and non-licensed transportation staff. He currently serves the industry in a consulting and advisory role with CESO Transportation, based in Minneapolis.