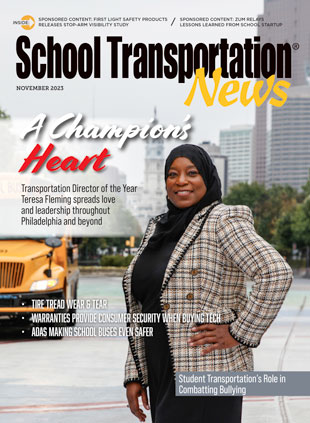 It's time to introduce the new Transportation Director of the Year, Teresa Fleming, executive director of transportation services at the School District of Philadelphia! Learn more about Fleming's story and how she manages the transportation of 23,000 students to and from school every day while also providing equitable access.
Also read about how to combat bullying onboard the school bus, the importance of picking the right tires for your bus, new advances in safety technology, equipment warranties and more.
Read the full November 2023 issue.
Cover Story
Leading With Love
Teresa Fleming with The School District of Philadelphia is no stranger to the various challenges in transportation, but her hard work and determination ensure students are transported to and from school each day.
Features
Tread Carefully
Tires are what keep school buses moving to pick up and drop off students. But how does tread wear differ depending on the fuel/energy choice powering the vehicle?
Head's Up
From automatic emergency braking to rear cameras, school bus technology is ever-evolving. Adopting available technologies could be the difference in safety for the student passengers.
Protected
Breaking any type of equipment is never ideal, but ensuring the technology purchased contains warranties helps safeguard against unexpected fees.
Special Reports
Creating a School Bus No-Bullying Zone
Experts discuss how student transporters can and should play a role in identifying and thwarting bullying incidents that occur on school buses. But this requires school districts to afford the same resources to school buses as to classrooms.
Editor's Take by Ryan Gray
Fleming Latest Add To Impressive List of Transportation Leaders
Thought Leader by Robert Scott
Video Evolution or Revolution?
Publisher's Corner by Tony Corpin
Leveraging the Power of The Iconic Yellow School Bus