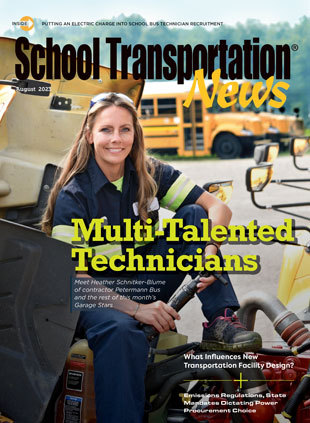 This month's issue introduces the 2023 Garage Stars! Learn more about these exceptional individuals and their commitment to their communities and to maintaining the best in industry safety and technology standards. Also, read about the diesel discussion amid the electric buzz, how the changing landscape of student transportation is affecting staff shortages, leadership challenges and more!
Recap the STN EXPO Reno conference with the online Show Reporter featuring galleries, articles, videos and interviews!
Read the full August 2023 issue.
Cover Story
Garage Stars: Stewards of Their Communities
The 10 Garage Stars featured in this month's issue go above and beyond their vehicle maintenance job descriptions to help students get to and from home safely.
Features
Brand New Digs
More school districts are upgrading or constructing new transportation centers to operate and maintain the latest school buses and technology.
Diesel Hanging In
As electric school buses become all the talk, school district leaders share their opinions on the continued use cases of diesel buses.
Special Reports
On The Lookout
Similar to the nationwide school bus driver shortage, student transporters are having difficulty identifying qualified technicians to work in their maintenance operations. Might electric school buses present a solution?
Feedback
Show Reporter Online
STN EXPO Reno Photos
Ad Index
Editor's Take by Ryan Gray
A New Age Dawns for School Bus Maintenance Training
Publisher's Corner by Tony Corpin
Leadership Training: Challenges & Solutions