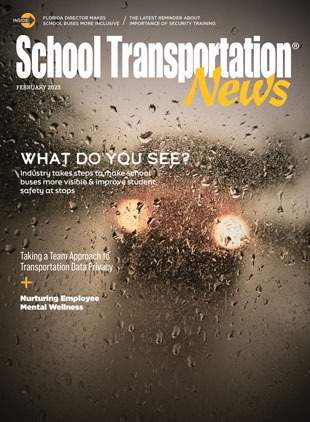 Learn more about student transportation staff and rider safety in the latest issue! Read articles on securing school bus data, ensuring student transporter employees health and mental well-being, routing efficiency, electric school bus infrastructure and more!
Read the full February 2023 issue.
Cover Story
Now You See Me
School districts are taking different approaches to increasing the awareness and visibility of the yellow vehicles around student stops.
Features
Secured
How do you ensure student and school bus data is secured, with only those privileged to the information having access to it?
A Holistic Approach to Hiring and Wellness
Being healthy doesn't just mean staying physically fit. Ensuring employees are mentally well is just as much of a priority.
Special Report
Doing More With Less
Flagler County Schools in Florida underwent a transportation makeover to increase efficiency. Dontarrious Rowls, the director of transportation and fleet services, started by rerouting from scratch.
Editor's Take by Ryan Gray
Seeing Clearly During a Driver Shortage
Thought Leader by Bret E. Brooks
Keys to Thwarting School Violence Are on the Bus
Publisher's Corner by Tony Corpin
Electric School Bus & Infrastructure Takeaways