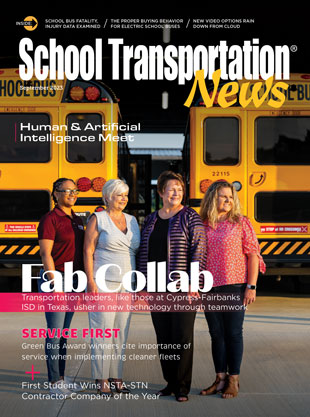 Stay informed on the latest in the world of student transportation for the 2023-2024 school year with the newest issue of School Transportation News! Hear from successful districts and award winners on collaboration, training, customer service and research necessary for implementing new AI technology and green fleet rollouts.
Also, learn more about safety challenges, how districts can use school bus fatality data to improve safety for students and drivers, electrification education and more!
Read the full September 2023 issue.
Cover Story
A Winning Team
Selecting the right partners, implementing the right technology, and collaborating effectively create successful project rollouts, as illustrated by Cypress-Fairbanks ISD in Texas and several other districts nationwide.
Features
The Winner's Circle
Fleets recognized at STN EXPO Reno for their focus on greener school buses discuss role of customer service and training.
Cloud Boost
It comes as no surprise that storing systems in the cloud takes the workload off district IT personnel. But directors and vendors share there are many more considerations to make with school bus video before instantly switching over.
A Marriage of Technology and Human Interaction
Artificial intelligence is here, whether you like it or not. Directors are sharing how they are embracing AI technology.
Special Reports
Data Tells Story of School Transportation-related Fatalities, Injuries
School bus fatality data paves the way for safety improvements and new technology, but what about the impact student injury data could have on the industry?
Q&A: An Era of Firsts
John Kenning of First Student, NSTA's & STN's Contractor Company of the Year, shines light on new industry services, training, electrification and more.
Editor's Take by Ryan Gray
Who's to Blame for Skyrocketing Prices?
Thought Leader by Robert T. Pudlewski
Electric School Bus Consumer Education
Publisher's Corner by Tony Corpin
School is Back, So Are Safety Challenges