NASHVILLE, Tenn. ― Bridgestone Americas, Inc. (Bridgestone) today announced the expansion of the Firestone Transforce tire line to include new size offerings for Class 4-5 commercial truck vehicles.
The Firestone Transforce AT2 is an all-position, radial tire designed for all-terrain performance, that features a tread design that promotes traction in wet and winter conditions. With an innovative tread-to-road contact footprint, the Firestone Transforce AT2 tire is engineered to deliver lasting durability throughout its life. Three new sizes will soon be available for medium-duty commercial vans and trucks.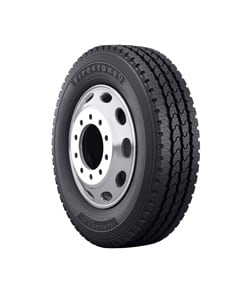 "We depend on long- and regional-haul fleets to keep this country moving every day," said Ben Johnson, director of marketing, truck and bus radial tires, U.S. and Canada, Bridgestone Americas Tire Operations (BATO). "We designed the Firestone Transforce AT2 tire with unique features for dependable, durable performance while driving in a variety of terrain and conditions with frequent starts and stops."
The all-terrain tire is designed with an innovative compound to prevent heat damage. This helps protect the integrity of the tire casing to promote future retreadability, enhancing the casing's time in service and maximizing cost savings for fleets.
Key features of the Firestone Transforce AT2 tire include:
Three-Peak Mountain Snowflake (3PMSF) certification for winter traction performance.
A tread design featuring multiple tread edges to promote great traction in wet conditions.
A series of sidewall protector ribs that fight curbing damage to help promote casing durability.
A high-scrub tread compound that enhances scrubbing resistance and promotes increased tread life.
A wider belt that helps to extend the tire's shoulder area and diminish irregular wear.
The new Firestone Transforce AT2 tire size 225/70R19.5 LRF for medium-duty commercial vehicles is currently available in the U.S. and Canada with sizes 225/70R19.5 LRG and 245/70R19.5 LRG available by October 1, 2019.
For more information on the Firestone Transforce A/T2 tire for commercial applications, and to learn more about the Firestone 90-Day Buy & Try Guarantee, visit: Commercial.Firestone.com
About Bridgestone Americas, Inc.
Nashville, Tenn.-based Bridgestone Americas, Inc. (BSAM) is the U.S. subsidiary of Bridgestone Corporation, the world's largest tire and rubber company. BSAM and its subsidiaries develop, manufacture and market a wide range of Bridgestone, Firestone and associated brand tires to address the needs of a broad range of customers. Those include consumers, automotive and commercial vehicle original equipment manufacturers.
The companies are engaged in retreading operations throughout the Western Hemisphere, and also produce air springs, roofing materials, and industrial fibers and textiles. The BSAM family of companies also operates the world's largest chain of automotive tire and service centers. Guided by its global corporate social responsibility commitment, Our Way to Serve, the company is dedicated to improving the way people live, work, move and play in all of the communities it calls home.