Roger M. Nielsen, president and CEO of Daimler Trucks North America, headlined the Advanced Clean Transportation (ACT) Expo this week and proclaimed the arrival of electric drive systems, which several companies unveiled.
"I believe the future is electric," Nielsen commented during his opening remarks during Wednesday's general session. At least 500 people attended the keynote presentation, with a number of attendees forced to stand around the perimeter, because almost all of the seats were full.
Nielsen added that, "natural gas is an interim solution," which includes both CNG and propane.
But there remain plenty of obstacles to electric. Nielsen advised that the commercial vehicle industry needs to work collaboratively to establish the necessary charging infrastructure nationwide for electric power to realize its promise. Nielsen also pointed out the expense of the battery packs that Daimler installs in its vehicles. Other primary hurdles to clear are the weight of electric drive systems and the price of the battery packs.
Held at the Long Beach Convention Center southwest of downtown Los Angeles, the ACT Expo on April 23-26 boasted over 5,000 total attendees and 250 exhibiting companies. School Transportation News was a media sponsor of the event.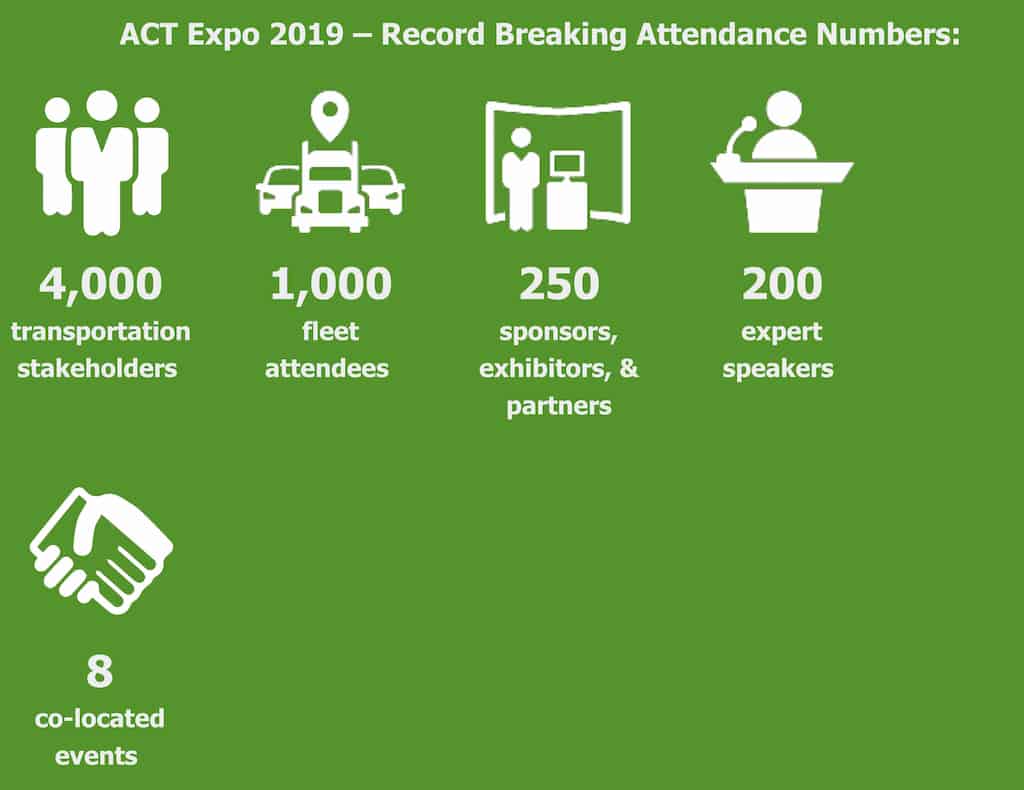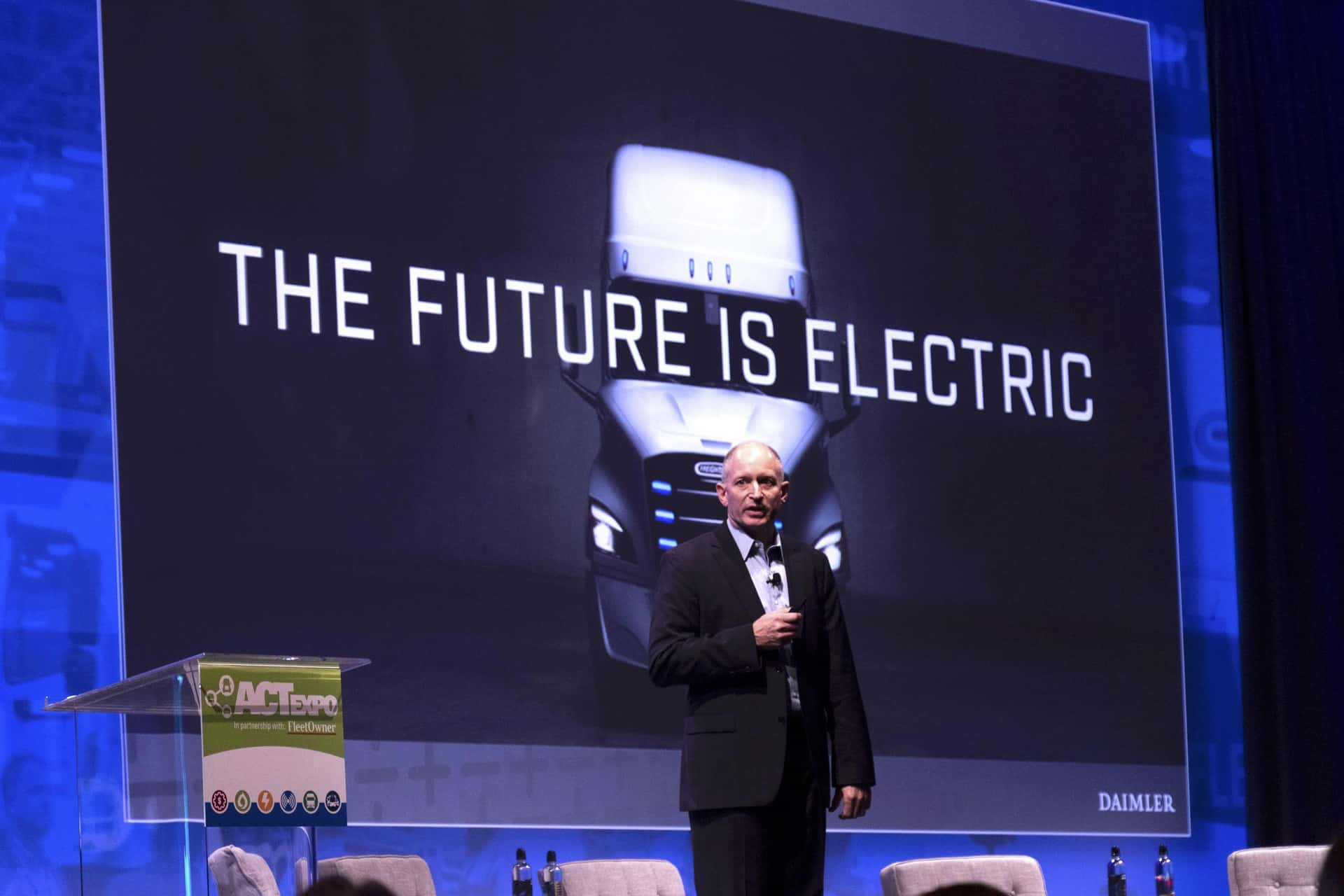 Convention Floor Developments
Agility Fuel Solutions, known for its propane and CNG systems for commercial trucks and buses, is playing the integrator role in Allison Transmission's launch of a new electric drive system. The AXE Series is a bolt-in system that features electric motors, a two-speed gearbox, oil coolers and pumps. It is designed for school buses, as well as trucks, shuttles and transit buses. An Allison representative said the company is working with OEMs to integrate the system at the factory.
Agility has an ongoing partnership with AxleTech, which Allison announced it has acquired, along with Vantage Power, to provide the electric drive systems and battery packs.
While there remains concern about the expense of electric drives, and the limited number of miles driven by school buses as compared to trucks and transit buses, the news indicates the increasing acceptance of electric drive systems in the commercial space. It also demonstrates some of the options that will eventually become available to the school bus market. An Allison representative told School Transportation News that the electric era has fully arrived for the Indianapolis-based manufacturer.
Meanwhile, Meritor executives unveiled a complete electric drive system that is currently powering a Thomas Built Buses Saf-T-Liner C2 that is currently being tested in Escondido, California, near San Diego. The technology is an update of a system it developed. The company is looking to log 500 real-world miles driven this year, with an ultimate goal of 15,000 miles, in addition to "significant" bench testing that has already been completed.
"A common theme here at the show is we're learning together," said T.J. Reed, vice president of front drive train at Meritor. "So, we're putting product in place where it makes sense for electric vehicles, and school buses are absolutely the right fit."
That observation was also echoed by one of the consumer-oriented cars that were on display by Toyota, a family car that is powered by H2O only. That and other hybrids that were displayed by the large consumer car manufacturers, gave a glimpse into what the next wave in trucks and school buses may bring.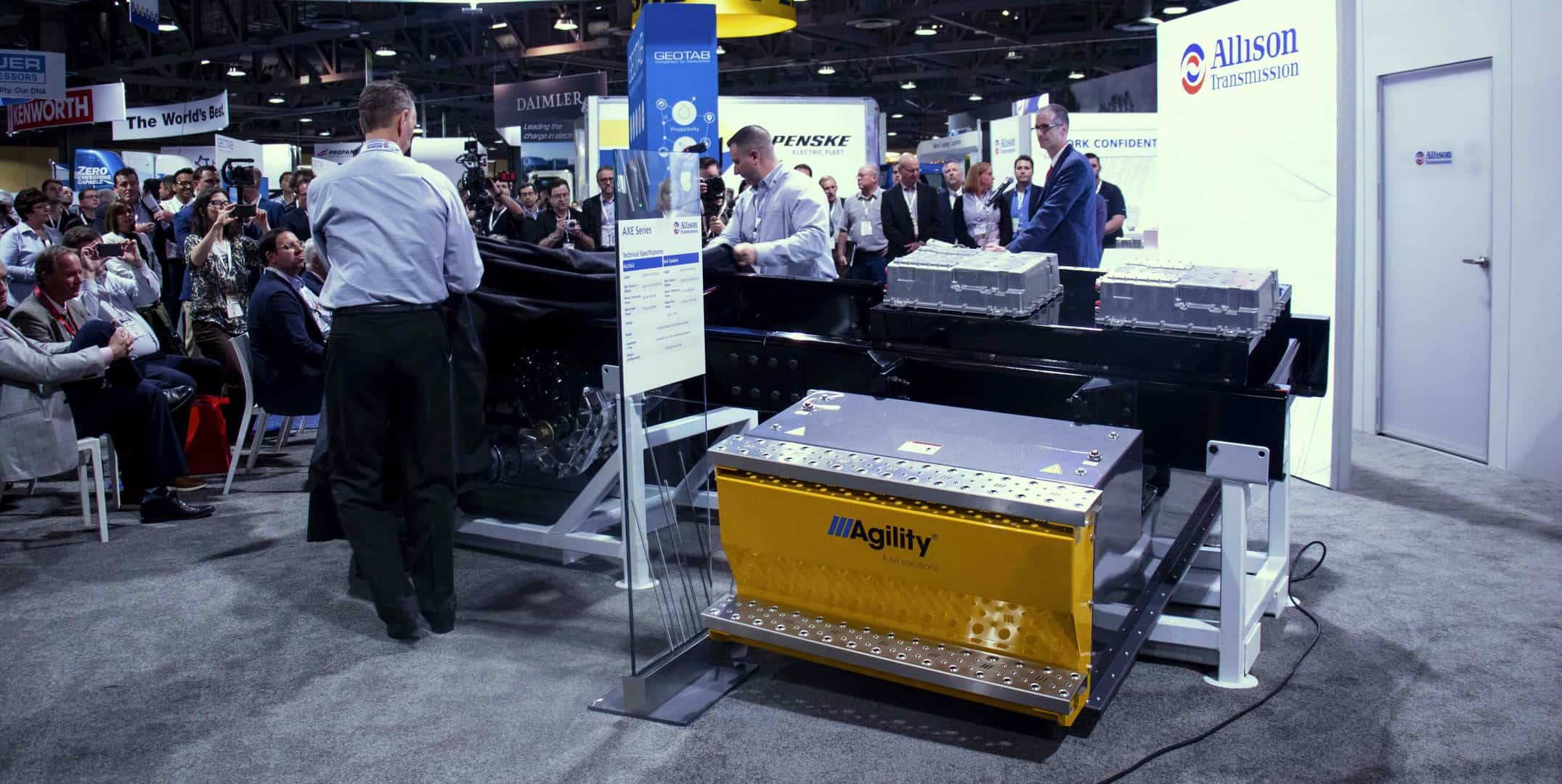 Meanwhile, the Lion Electric Company's new Lion A is expected to be delivered as a Type A application to California school districts by the fourth quarter of this year. Lion executives also indicated that the company is working towards completing an autonomous truck, but there were no specifics in this regard for the school bus industry.
Other major players with large booths and vehicles on display, included familiar car and truck manufacturers: American Honda Motor Company, Chevrolet, Daimler Trucks North America, Ford Motor Company, General Motors Fleet, Mack Trucks, Mitsubishi Fuso Trucks, Nikola (a new electric truck manufacturer), Peterbilt, Toyota Motor North America, who all displayed their own alt-fuel vehicles. Volvo Trucks also had its own press conference at its booth.
Companies that are specifically within the school bus industry that had large booths included: Adomani, Bergstrom, Cummins Westport, Motive Power Systems, the Propane Education & Research Council, Roush CleanTech, Webasto Charging Systems and Zonar Systems.
Power, regulatory and public utility exhibitors included: California Air Resources Board, Pacific Gas & Electric, South Coast Air Quality Management District, Southern California Edison, Southern California Gas Company, and the U.S. Department of Energy's Clean Cities Initiative.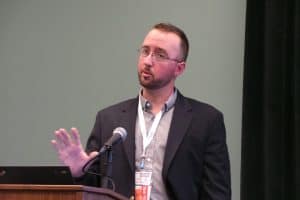 While Nielsen and other speakers repeated the theme that electric is the future, other presenters conceded that electric vehicles might not be the best choice for every school district right now. Especially with the higher upfront purchase prices, the mountainous or hilly terrain in many regions of the U.S., plus the necessary education of the marketplace buyers, electric vehicles are still behind in numbers, compared to other fuel choices, such as propane. The growing popularity of propane-fueled vehicles seemed to be an acknowledged theme during some presentations and questions from audience members.
For instance, with some of the questions following the 8 a.m. roundtable discussion on Wednesday titled, "Accelerating Clean School Bus Procurement," Steve Crolius, vice president of Alliance Consulting Group and leader of the company's Clean Tech practice, commented that, "electric school buses are so expensive" still.
The panel, which was moderated by Kylie Taylor, senior associate at conference organizer Gladstein, Neandross & Associates, had some spirited discussions—especially when things migrated towards propane versus electric-powered school buses.
Steve Lake is the director of transportation at Southwest Allen County Schools in northern Indiana. The district transports about 5,000 students daily, and one day this past school year they encountered temperatures of 40 degrees below zero. Lake revealed that weather was a key factor in selecting propane, to keep operations and maintenance simple, functioning daily, and have overall costs be lower.
"We (even) get rebate checks back from the federal government," he said. His school district sells its older buses after 12 years of use, and has parents who "have been very supportive of (using) alt fuels."
Later in the panel discussion, Lake rhetorically asked, "How are you able to justify the extra cost" for electric-powered buses, while in comparison, "10 years from now, we will still be saving money on our propane" powered buses?
Tomas Ortiz, an air resources engineer with the California Energy Commission, reported that the deadline for solicitations had expired in March. He commented that with the estimated return on investment (ROI), "we are probably way too conservative." Ortiz estimated that there are over 25,000 school buses in the state that are needing to be replaced.
Lilia Montoya-Herrera, deputy director of transportation at Los Angeles Unified School District, the second-largest in the U.S., said her operation had just ordered two new electric school buses, and it is eagerly awaiting their arrival.
Also on the panel was Matthew Belasco, director of maintenance, operations, and transportation, at Pittsburg Unified School District east of San Francisco. He projected that "30 percent of our fleet is going to be electric." However, "infrastructure is really a key piece" of implementing any alt-fuel bus effort." Belasco concluded, "We need to see data" first, before making the final choice on what type of buses to order.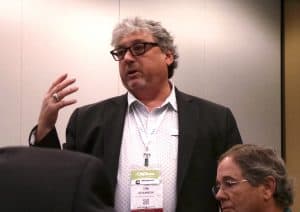 During audience questions, Tim Shannon from Twin Rivers Unified School District near Sacramento, California, shared his concerns with the panel. He said that his school district already has 16 electric buses on hand. Other attendees reported on their own particular unique problems that dictated why they decided to go with one type of fuel-powered bus vs. another.
Tuesday Sessions
On Tuesday, Michael Taylor reported that PERC has estimated there are now 17,000 propane-powered school buses located in 48 states. Taylor also touted propane's blemish-free safety record. He stressed that there has never been a death or disaster that is related to a propane-powered vehicle since the industry began in 1975, when propane was first used to power a vehicle.
Joe Annotti, vice president of programs at Gladstein, Neandross & Associates, presented "VW Settlement Updates: A Year 1 Look Back & Our Funding Future" on Tuesday. He estimated that there are now over 500 U.S. and Canadian funding programs for clean transportation.
Regarding the Volkswagen Mitigation Trust Fund, projects are now being deployed, with a total of $35 million having been released, for purely equipment and vehicles. Of that amount, $4.5 has been for propane, $7.7 for electric, $14 million for clean diesel, and $8 million for compressed natural gas, he said.
A focus of that presentation dealt with why some proposals were funded and others were not. There were no specific requirements publicly revealed for exactly how the VW awards were made, for which proposals, or for which states, and unfortunately, no published scoring metrics.
A good resource that was announced was a new list of all of the state disbursement plans, at www.gladstein.org. States make their own decisions on how to distribute the VW funds, and anything other than electric vehicles is not allowed funds for infrastructure, it was noted.
Wednesday Developments
On Wednesday afternoon, the California Air Resources Board (CARB), South Coast Air Quality Management District (SCAQMD), and Volvo Group North America, held a joint press conference to announce CARB's selection of SCAQMD as the grantee for the Volvo Low Impact Green Heavy Transport Solutions (LIGHTS) Project.
Editor's Note: Ryan Gray, Taylor Hannon and Tony Corpin contributed to this article.