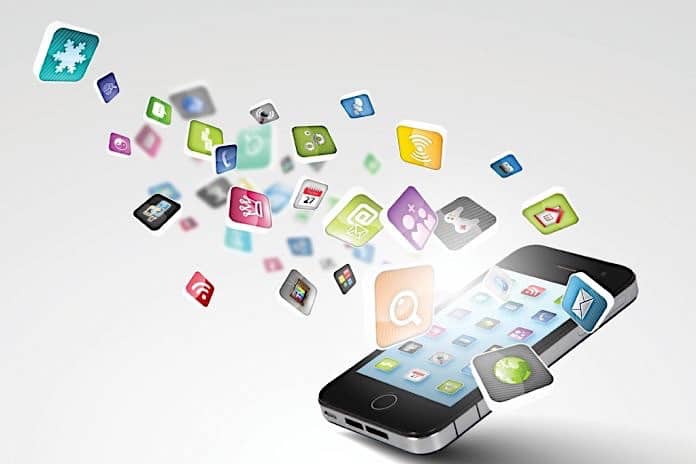 A recent study by Ericsson ConsumerLab found that "communication continues to be the dominant activity on smartphones." It's just that the ways of communicating have changed, a move from voice calls to texting and status updating. The ability to remain in contact at any time is an important component for users of mobile devices. "Communication apps fall within the 'always on' category. Consumers want constant access to them and use them frequently," the study read.
Where is the Bus?
According to a report by Flurry, a mobile analytics firm owned by Yahoo, mobile app usage grew by 76 percent in 2014 alone. Keeping this figure in mind, it should be no surprise that there is now a wide array of options available for student transporters and parents alike.
One common concern for parents with student riders is bus location. Mobile apps can help maintain frequent and consistent communication between a parent and transportation department. Whether it means minimizing the amount of time a child spends waiting for the school bus, the time a transportation director spends fielding parent calls about the bus' whereabouts or notifying of weather delays or school closures, apps help save time and ensure that parents and staff are current with the latest information. Apps enable parents to be notified of sudden changes as they happen.
"Very often parents are picking up their smartphone, first thing of the day. If school is closed, information gets to them a lot quicker than logging in to a computer or turning on TV," said Sam Catalano, manager of product management for Tyler Technologies' Versatrans Solution, which offers the MyStop app.
The app Bus Status from Box Clever Education allows parents to subscribe to their child's bus route. From within the app, they can check if the bus is on time and they receive push notifications alerting them of any delays or cancellations. Bus Status does not show the location of the bus, but simply lets parents know whether it is on time or not.
According to Steve Mebs, head of the education division at Box Clever, the simplicity of the app can encourage usage."It's just super user-friendly and no security, no hindrances to people using it, so you can get really high adoption rates," he said.
For parents who want to know a bus' specific location, there are multiple options available. Apps like Here Comes the Bus from Synovia Solutions shows parents the exact location in real time as well as when the bus left the depot, stop or school, the arrival time and more.
For districts that use Tyler Technologies' Versatrans Solutions to manage their bus fleets, the My Stop app is available to keep parents in the loop about last-minute routing changes, including real-time notifications. Catalano said that with the exception of "broadcast notifications," which district staff have to manually send out, all other notifications are generated by events within the Versatrans suite, which cuts down administrative time. An example of "broadcast notifications" would be one sent out when during school closures or emergency situations.
"Information is coming so fast it's hard to keep up with. It almost takes a full-time person to put all this information in. So utilizing these system events out of Versatrans suite and allowing notifications to be generated based upon those makes a seamless process," he said.
Zonar's Z Pass student tracking technology is also available in app form. With the Z Pass, bus riders receive an RFID card, which is scanned with a reader when students board or leave the bus. The system records these times. School administrators can view the bus' path as well as ridership information. Parents can use the Z Pass+ website and mobile app to access information specific to their child.
Technology companies are not the only ones developing mobile apps for the student transportation industry. School bus contractors have also developed their own offerings.
SchoolWheels Direct, a subsidiary of contractor Student Transportation Inc., created the SafeStop app in 2013. SafeStop shows estimated time of arrivals, real-time bus location, and provides alerts and messages when necessary. It is available for school district customers as well as contractor companies.
"Parents today are extremely busy and want the safety and security that comes with knowing where their child is and when the bus is expected at the bus stop. SafeStop can help busy families plan their time together, answering the common question, 'where's the bus?'" said Patrick Gallagher, SafeStop's director of sales.
Durham School Services also has the app Durham Bus Tracker. The app is available at no additional charge for districts already contracting with the company for transportation, and free for parents to download (mobile carrier data charges may apply).
Durham Bus Tracker uses the GPS technology already in place in the buses to show parents the location of the school bus as well as expected arrival times.
Solutions for Transporters
There are also mobile apps available for student transporters to manage operations. Transfinder's Infofinder mobile app allows for on-the-go access pulling data from the web-based, transportation-department facing Infofinder le.
"One of the things that we have realized is that transportation directors need to be untethered from their desk, and they need to be able to manage their operations in some cases 24 hours a day. They don't know what challenges may come up unexpectedly," said Frank Gazeley, vice president of client relations at Transfinder "It is no longer just about viewing data, but also interacting with data, being able to add a stop, even do routing on a mobile device."
The ability to communicate with the system through a mobile device allows student transporters to quickly address issues that may arise at any time.
"We wanted the mobile ability to be able to solve issues immediately when we are away from our office. We can look at route issues, stop issues and parent concerns remotely and efficiently when we are away from our desks. When we visit bus stops, we are able to pull up driver routes via these apps to assist us in making safety and efficiency adjustment," said Janet Petrisin, director of transportation at the Metropolitan School District of Wayne Township in Indianapolis.
Petrisin and her staff use the Infofinder app in conjunction with Here Comes the Bus. She says routing and student information is imported nightly from Infofinder into Here Comes the Bus to ensure it is current. Petrisin also added that feedback from staff and from parents who use the Infofinder i app to view the public routing and bus stop data has been positive.
"Our staff loves to be mobile and to have the ability to solve issues quickly from home or any location they are in. Our community is raving about 'Here Comes the Bus' app. Families feel much better putting their children on the bus everyday knowing they can keep track of them during arrival and dismissal times," she said.
Generational Divides
According to the Ericsson study, individuals in different age groups use mobile apps for different purposes. The study refers to "traditionalists" as those who use "older and more established means of communication such as voice calls or SMS…They are present in all age groups but are overrepresented among retirees and the over 50s."
Another school bus app, Treker, seeks to bridge the generational digital divide by providing options beyond mobile apps. Aside from a mobile app and web-based service (which the other apps in this story also provide) the company also offers SMS and landline call notifications.
Thy Tang, the company's founder and CEO, told STN that he wanted to make sure that individuals from all age groups and backgrounds had options when it came to knowing where the bus is.
"When we developed this, we wanted to make sure we cater to all kinds of users. If you don't have a smartphone or cell phone that receives SMS, we still can work. You can get a call to your landline when the bus is a few minutes away," he said.