John Benish, the chief operating officer of the largest school bus provider in Chicagoland and a member of the TSD Conference board of advisors, became the 54th member of the National School Transportation Association Hall of Fame last month.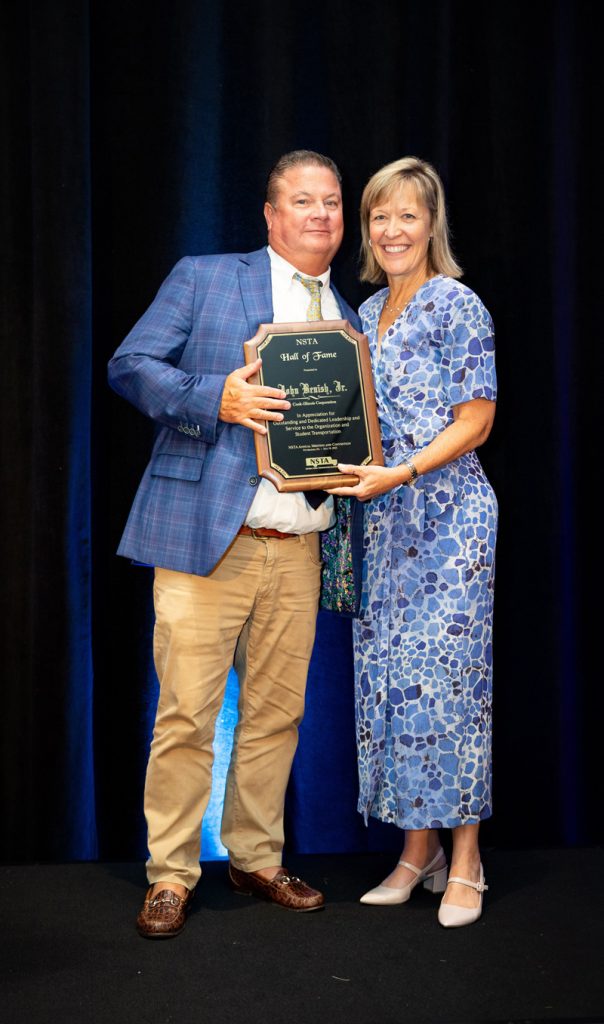 Benish, a president of NSTA from 2019-2021, was recognized alongside a dozen others and several companies during the NSTA Annual Convention and Meeting in Pittsburgh, Pennsylvania on July 18. He received the 2013 NAPT Leadership Award from School Transportation News and has repeatedly advocated for the school bus industry and for school bus contractors, testifying on Capitol Hill regarding school bus safety.
He took full control of Cook-Illinois Corporation following the death of his father, John Benish, Sr., in October 2018.
Benish currently chairs the NSTA Membership Committee and serves on the association's Membership Dues Task Force, on which he helped implement a new dues structure. He al serves on the Nominating and Bylaws Committees.
Other NSTA awards and recipients honored were:
Golden Merit Award (recognizing excellence in service, safety and community responsibility)
Blaise Bodway, Kobussen Buses
Bobbie Hartman, First Student
Barbie Doherty, First Student
Shawn McGlinchey (Krapf School Bus)
Shelly Hall, Student Transportation of America
Kirk Wilkie, Student Transportation of America
Go Yellow, Go Green (recognizing initiative in addressing environmental concerns)
First Student
Committee Member of the Year
Bob Ramsdell, National Express
Committee Chair of the Year:
Chloe Williams, B.R. Williams
Vendor Partner of the Year
Doug Campbell, Safe Fleet
Contractor Company of the Year
Editor's note — Look for the article in the September STN magazine edition
First Student
Innovator of the Year
Bill Griffiths, Beacon Mobility
Outstanding Driver Service Award
Barb Moore, Benjamin Bus
Carlton Murray, North America Central
Monica Solis, North America Central
"I want to congratulate this year's NSTA award winners and thank them for their special contributions to pupil transportation," said outgoing NSTA President Carina Noble. "The award winners represent a wonderful cross-section of student transportation professionals, and we are proud to honor them."
Meanwhile, Dan Kobussen officially took the gavel from Noble and assumed the NSTA presidency for the next two years. Noble, the senior vice president of communications and external affairs for National Express, was honored with her own gavel of appreciation for her tenure. In addition to now being the immediate past president, Noble continues to serve on the NSTA executive committee.
"I am looking forward to continuing the momentum that Carina Noble created during her tenure as NSTA president," Kobussen said. "I appreciate her leadership in all facets of NSTA operations and especially want to further our successful advocacy efforts. Additionally, we want to continue to increase attendance and participation at NSTA events throughout the year and expand all areas of NSTA membership. It was great to celebrate with everyone in Pittsburgh, and I look forward to getting to work on these and other initiatives."
In other NSTA board news, Patrick Dean of Dean Transportation in Michigan assumed the position of president-elect after serving as vice president and secretary for the past two years. The new vice president and secretary is Kim Worster of First Student, and Bradley Krapf of Krapf Bus is treasurer.
Newly elected regional board members are Krapf for Region 1 and Bob Ramsdell of National Express' Durham School Services for Region 4. Worster along with Judith Crawford, CEO of Beacon Mobility, and Jacob Iverson, vice president of Landmark, retained at-large director seats on the board. Denis Gallagher, Jr., vice president of southeast operations for Student Transportation of America was voted onto the board as an at-large director.
The 2024 NSTA Annual Convention and Meeting is scheduled for July 21-24 in Nashville, Tennessee.
---
Related: School Bus Contractors Review Options to Combat School Bus Illegal Passing
Related: Clean School Bus Program Amendments Allow Contractors Direct Access to Funds
Related: NSTA Asks USDOT to Alleviate Shortage of Type-A School Bus Chassis
Related: NSTA's Macysyn Discusses "Under-the-Hood" Waiver, Clean School Bus Program
Related: Michigan's Dean Transportation Named NSTA Contractor Company of the Year