FRISCO, Texas — Attendees at the 24th Annual Transporting Students with Disabilities and Preschoolers National Conference worked through challenging scenarios that can arise when working with parental expectations and frustrations.
The session Co-Piloting with Helicopter Parents for a Smooth Landing" discussed demands for transportation services that can often seem extreme to school staff and how to manage expectations on both sides of the customer-school district partnership. "Helicopter parents" can consume much of transportation's time, but three national experts provided tips to help turn around contentious situations.
To avoid being caught in the middle, Dianna Gates, a physical therapist and special needs transportation liaison with Caddo Parish Schools in Shreveport, Louisiana, said transportation should sit down with parents as well as special educators to explain the services provided and why they are conducted that way.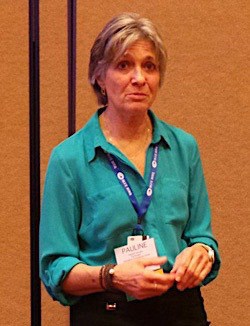 Pauline GervaisAlso presenting was Pauline Gervais, a TSD Tenured Faculty emeritus and the retired executive director of transportation for Denver Public Schools, who returned to the conference this year for the first time since 2012. Providing parental and transportation perspectives was Marisa Weisinger, the executive secretary of the Texas Association for Pupil Transportation and s student transportation trainer.
"The key to the helicopter parent moving in is change," said Gervais. This change is often related to budget cuts, but districts must keep in mind that service alterations that work best for the district, whatever those maybe, might not for parents. So it's up to the transportation department to listen.
For example, Gervais said eliminating curb-to-curb service might be the right thing to do to meet LRE, or the least restrictive environment for special needs students. But parents likely might find the change an inconvenience and misunderstand the reasons behind the change.
The attendees were broken up into groups to work through four specific scenarios tied to eliminating or changing school bus service.
"Change is a scary thing from a parent's perspective," she added, likening change in the bus type their child rides on the reduction of monitors to moving from elementary school to middle school to high school. "They want to be nurtured. Change is overwhelming for parents and over stimulating for their kids."
The presenters advised that customer service is key and that the simple answer, no, is not the best option. Instead, Gervais said, parents should hear that their complaint or suggestion will be taken into consideration.
Weisinger said transportation should always be at the table for discussions between parents and special education programs to manage and share setting and understanding expectations, explaining limitations and offering potential solutions.
"Transportation shouldn't be the last one to know," she added.
Meanwhile, 100 attendees packed a session on managing behaviors for students on the autism spectrum presented by Susan Hamre, a training specialist with Giant Steps based in the Chicago area. Other sessions on Saturday include the Basics of Special Needs, Exercises in Communication, Strategies for Collaboration Between School Districts, Special Education and Head Start/Preschool Providers, and Optimizing Transportation Hiring, Training and Retention Strategies.
The National Special Teams Safety Roadeo also kicked off the behind-the-wheel training and competition at Frisco ISD.