Joan Corwin, the owner of New York school bus contractor Chappaqua Transportation, Inc. since 1970, died on Dec. 15. She was 83.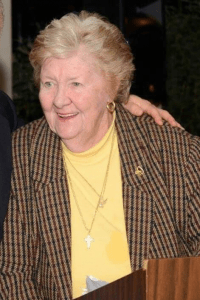 Lauded as a pillar of her community, Corwin oversaw the transportation of students and residents in New Castle, New York, and was also a bookkeeper and a nurse. While some knew her as the "Bus Lady," others looked to her as "Mother Hen."
"Joan will be missed by many, but her legacy will keep her alive in our hearts," Chappaqua Transportation said in a Facebook post.
Many who knew Corwin also turned to social media to offer their condolences and share their memories of her.
"Oh no! I am so sad to hear this news," wrote Kelly Mofield, in response to a Facebook post from New Castle Town Supervisor Rob Greenstein that announced Corwin's death. "One of my favorite days each year is the PTA's Annual Bus Driver Appreciation Day and hearing Joan tell about [her son] Seth as a little boy [and] pushing him in a stroller around town, followed by all the adventures and good work at Chappaqua Transportation. She had been a true treasure to Chappaqua and will be dearly missed."
"Very sad news. Joan was a trailblazer in her field, a very kind person and a talented professional," said Laurie Brecher in another comment to Greenstein's post. "She took great care of all our Chappaqua children and seemed to know all of them! I have fond memories of those early days with 'Mother Hen' and over the years working together on various community committees. She cared deeply about our children, her family, her employees and our community. She will be missed."
Corwin was said to be extremely involved in the community and her number one priority was student safety. She helped turn the company around and was considered to be a hands-on leader. She was remembered for her exceptional leadership qualities and her company morale.
"She was extremely involved in the community," Benn Gerson posted in the Facebook group School Bus Photos—Only School Buses! "She donated vehicles for countless occasions, sponsored scholarships, volunteered at local events and was the first female president of the local Rotary Club. On a personal note, in first grade, the Chappaqua Transportation bus I was riding was struck by a distracted driver. The students and the bus were fine, but within minutes Joan was on the scene, comforting us confused elementary schoolers and attending to the scene. I would never have found my passion for school buses if not for Joan's pride in her company and fleet. My thoughts are with her family and her extended family of Chappaqua Transportation employees."
Corwin is survived by her children, Joseph Cipriani, Laurie Dipietro, Theresa Cipriani, Seth Corwin, and the late Vincent Cipriani; sisters Patricia and Connie, 10 grandchildren; and three great-grandchildren.
Funeral services were scheduled for 11 a.m. on Thursday in Pleasantville, New York. Private internment is to follow.
In lieu of flowers, the family is asking for donations to the Chappaqua Volunteer Ambulance Corps.