The U.S. Environmental Protection Agency (EPA) awarded a clean diesel grant of $695,509 to the Bay Shore Union Free School District on New York's Long Island to replace four diesel-powered school buses with 100 percent electric-powered school buses. The grants also pay for the installation of charging stations.
EPA Deputy Regional Administrator Walter Mugdan announced the grant at a ceremony held Tuesday in Bay Shore. He was joined by New York State Senator Monica R. Martinez, Suffolk County Executive Steve Bellone, Bay Shore Union Free School District Superintendent Joseph Bond, and Suffolk Transportation Service President John Corrado.
The grant, which was awarded earlier this year from the EPA's Diesel Emissions Reduction Act (DERA) program, is helping to curb harmful tailpipe emissions and fight against diesel pollution throughout the northeast, officials said.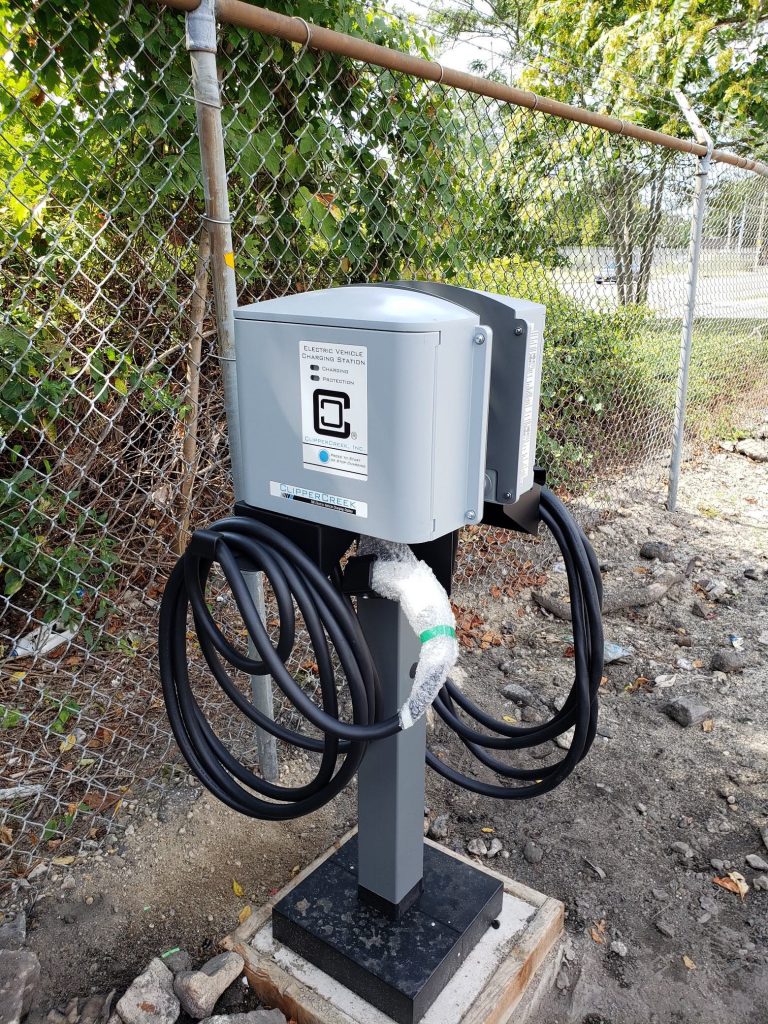 "EPA is partnering with the Bay Shore Union Free School District to scrap the older, dirty buses, to ensure that they will not be put back on the road," said EPA Regional Administrator Pete Lopez. "We are progressively reducing diesel pollution and will soon make that familiar black puff of smoke a relic of the past."
Bay Shore Superintendent Joseph Bond noted, "The addition of these four electric buses will greatly reduce the impact of transporting our students to and from school."
According to the EPA, its standards for new diesel engines can make them more than 90 percent cleaner than older ones, but many older diesel engines that are still being used predate these standards.
The model-year 2001 diesel buses that Bay Shore Schools replaced logged about 10,000 miles per year. These buses released over 11 tons of pollutants, particulate matter and nitrogen oxides, the EPA said. The all-electric school buses eliminate these pollutants, which will improve the air quality for the district's 6,600 students and the region.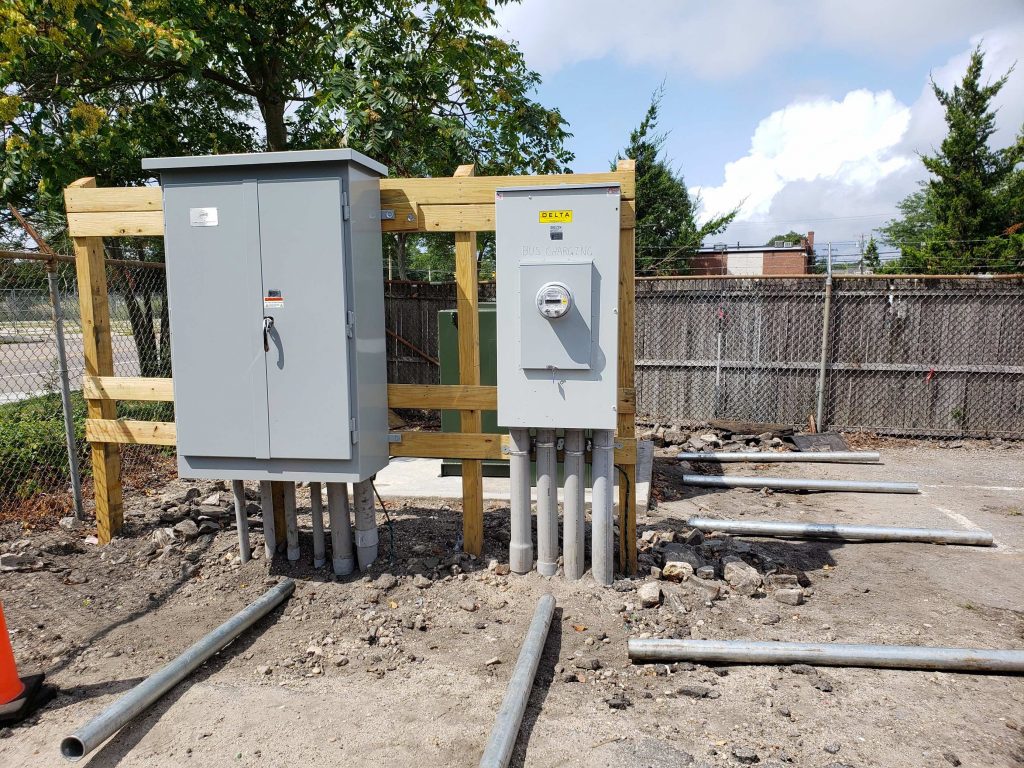 Richard R. Gallagher, who is the director of transportation and purchasing agent at Bay Shore Schools, told School Transportation News that the four Blue Bird Vision electric school buses are already in service. He made a presentation at an EPA press conference on Nov. 19, where he said the buses were received the first week of September and began operating on routes about one month later.
At the same event, Superintendent Bond discussed the improved health for students that he expected would result from the cut in particulate emissions.
Gallagher is still hoping to obtain further funds from the Volkswagen Mitigation Trust Fund grants and DERA grants, among additional sources. Gallagher noted that since the electric buses cost about $330,000 each, the district will have to continue to seek financial assistance if it wants to continue to expand the size of its electric fleet.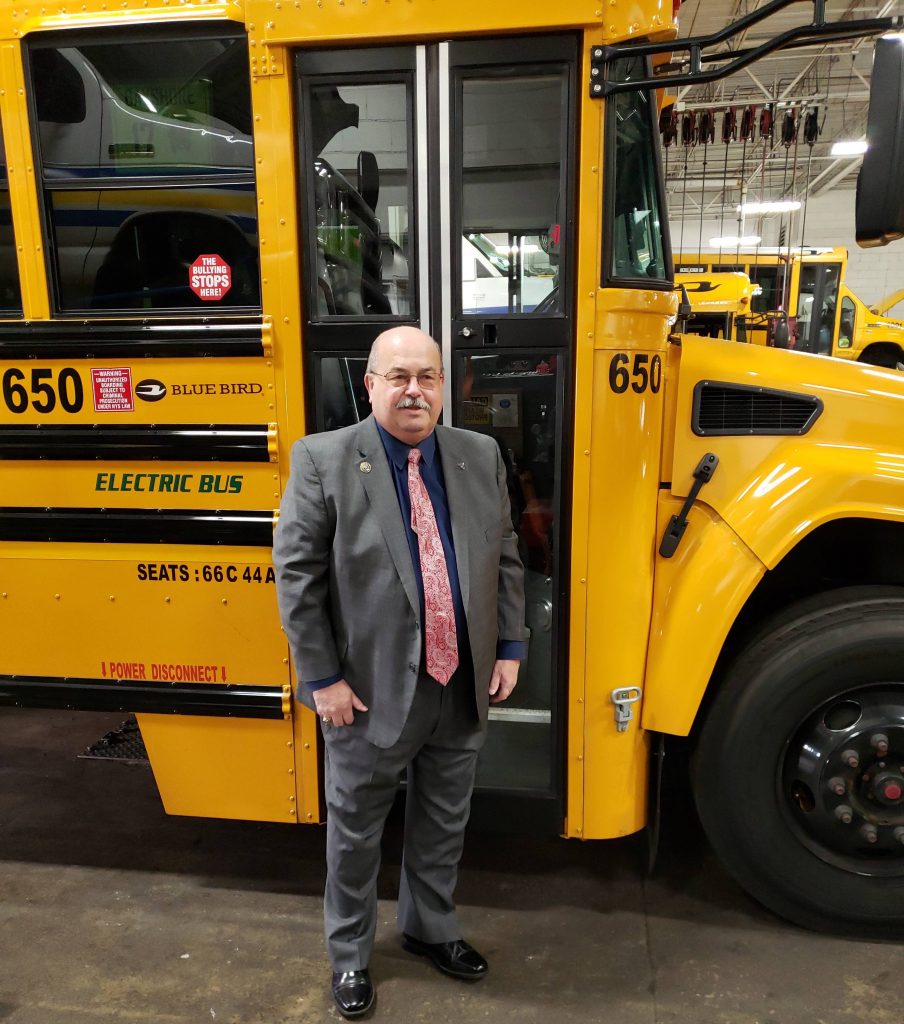 Gallagher would also like to see a tax credit or tax rebate approved by the state of New York, so the district doesn't have to pay almost $30,000 per electric bus in state sales taxes.
The project began in May 2018, Gallagher explained, with the decision to apply to the EPA for a grant to fund the purchase of Blue Bird all-electric school buses and the associated infrastructure. The proposal was accepted by the EPA on Feb. 4.
Contractor Suffolk Transportation Service owns the four new buses that are being used by Bay Shore Schools and one of the two charging stations. The latter reportedly cost about $50,000 each.
---
Related: EPA Awards Clean School Bus Grants in Several States
Related: EPA Accepting Applications for DERA School Bus Rebates Program
Related: EPA Extends Clean Diesel Tribal Grant Applications Timeline
Related: STN EXPO: Discover School Bus Alt-Fuel Benefits of Clean Cities Programs
Related: EPA Announces DERA Funding Recipients
Related: California Lower-Emission School Bus Program Issues Revisions
Related: Atlanta-Area School District Receives EPA Grant for Propane Buses
Related: EPA to Propose New Standard on NOx Emissions
Related: EPA Announces Latest School Bus Rebate Awards
---
Bay Shore's electric school bus project is part of the district's effort to partner with its current student transportation carriers to cut the total amount of diesel pollution that school children are exposed to. The project, named C.L.E.A.N. B.U.S.E.S., stands for "Continuously Lowering Emissions and NOx Becoming Users of Sustainable Environmental Solutions Program."
EPA's Mugdan reported during his presentation that for every $1 the federal government spends on electric vehicles, operators realize $2 in fuel savings, while the public reaps $11-$30 in public health benefits.
Almost 30,000 buses nationwide have already been made cleaner because of the DERA funding, EPA officials reported. Meanwhile, projects have saved over 454 million gallons of fuel and reduced total lifetime emission of particulate matter by 15,490 tons and nitrogen oxides by 472,700 tons. Those reductions have created up to $19 billion of health benefits, officials claimed.