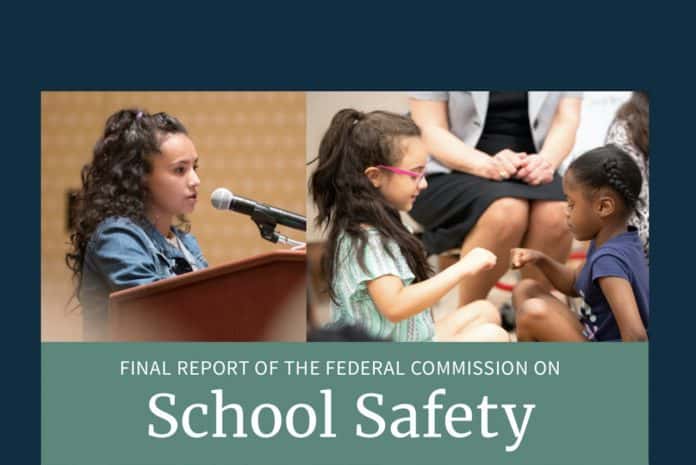 The President's School Safety Commission released a detailed 178-page final report that examined ways to make schools safe for all students and teachers, by providing a reliably safe environment nationwide. Important recommendations on how to address school safety and violence are featured.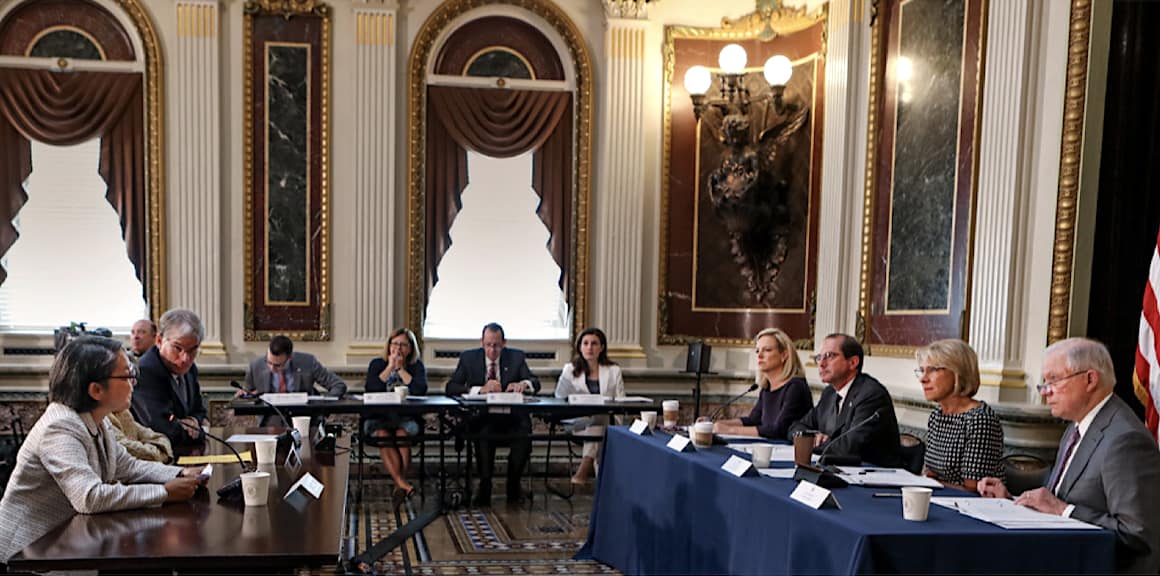 A large appendix listed and described other relevant resources by key federal agencies that could prove useful to school safety experts. Those studies highlighted best practices that may be of immediate use to stakeholders at the state and local levels.
So far, the commission's new study that was released on Dec. 18 has received almost no attention from the national media.
"We must also work together to create a culture in our country that embraces the dignity of life, that creates deep and meaningful human connections, and that turns classmates and colleagues into friends and neighbors," President Trump commented.
The Letter of Transmittal (see image below) noted that no universal school safety plan exists that will work for every school nationwide. "Such a prescriptive approach by the federal government would be inappropriate, imprudent, and ineffective," the report adds. "We focused instead on learning more about, and then raising awareness of, ideas that are already working for communities across the country. That is why the Commission's work and recommendations focus on a variety of school sizes, structures, and geographic locations."
Specific School Bus Activities
The report noted that over the past several years that Transportation Security Administration employees have registered over 1,000 school bus trainers online via the First Observer program and has conducted over 200 in-person training sessions for student transporters.
"TSA offers a number of services to school districts and transportation providers on school bus security including guidelines, assessments, and exercise support," the report said.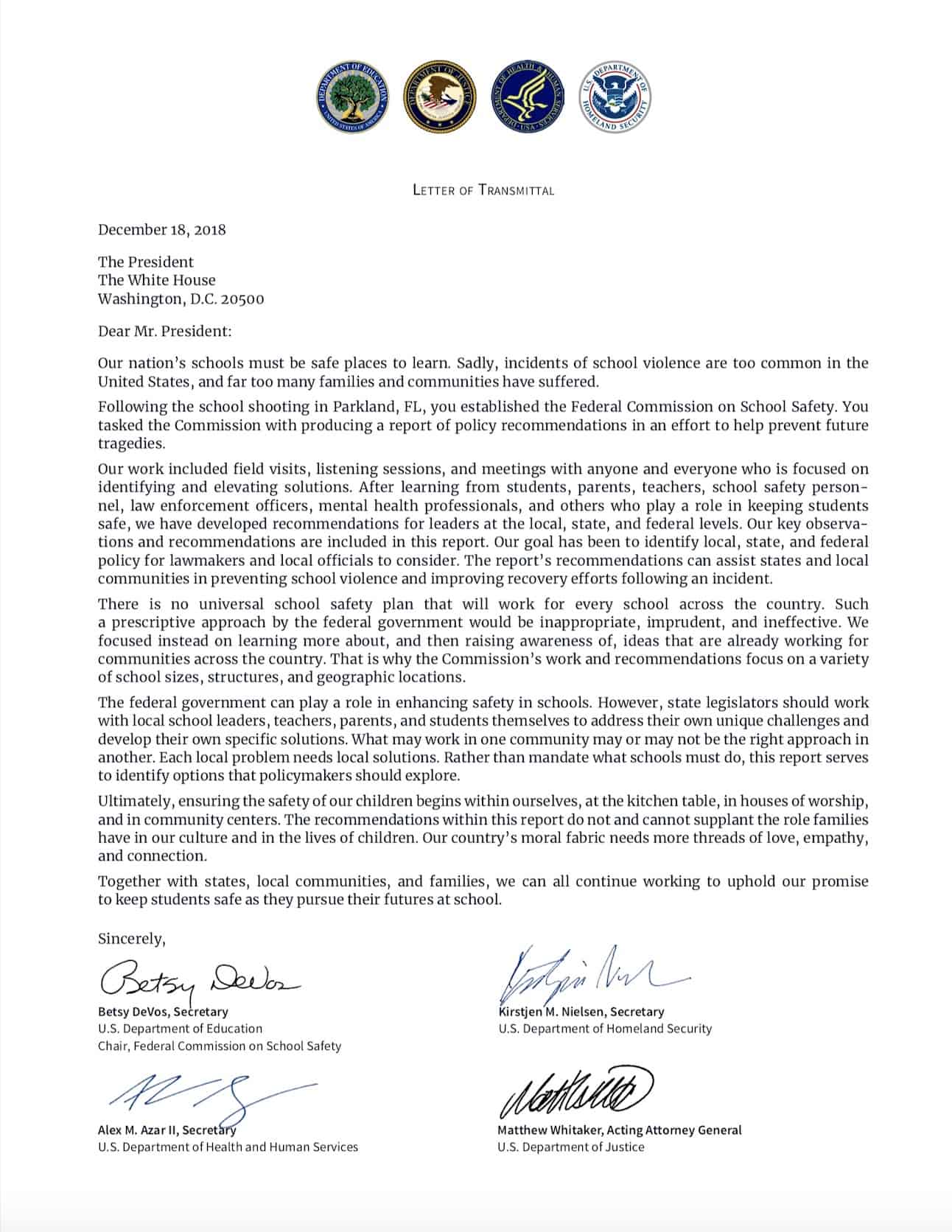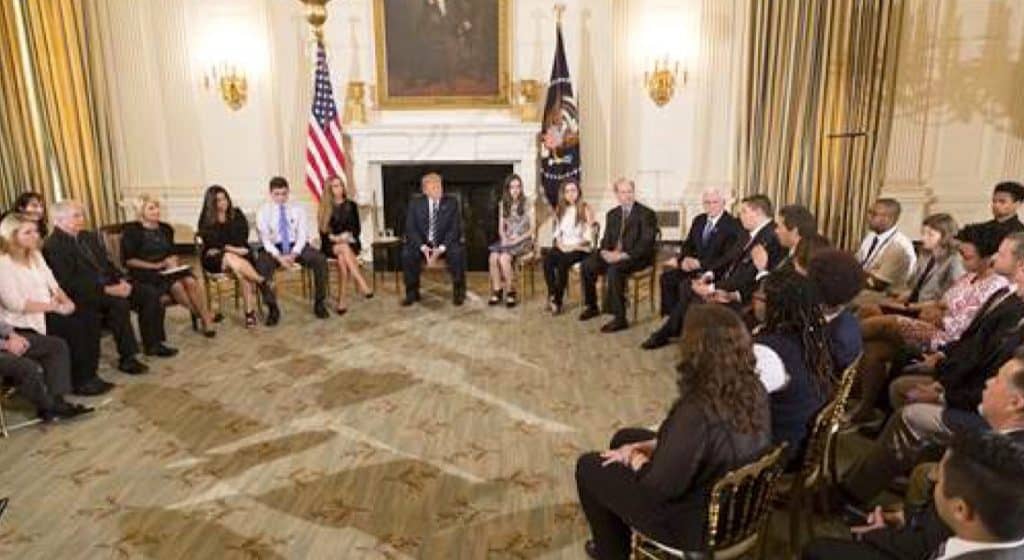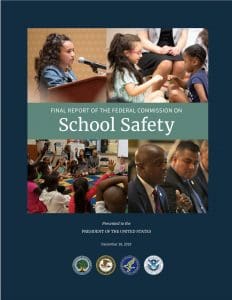 The Report's Conclusion
President Trump announced the establishment of the Federal Commission on School Safety on March 12, in the aftermath of the shooting in Parkland, Florida. The shooting outraged the nation. It reignited discussions about ways to prevent such tragedies, what we can do to better protect our students, and how to respond to and recover from these acts of violence. …
The report found that, while Washington, D.C., has an important role to play, it can play that role more successfully by acknowledging a truth understood by people across the country: What works in Wyoming may not work in New York, and what is effective in an urban setting may not be effective in rural communities. One size does not fit all.
Real Improvement Requires:
The efforts and engagement of Americans and communities nationwide who have vitally important insights and experiences to share.
Recognition that best practices, lessons learned, and recommended approaches must be evaluated in light of, and adapted to, the particular needs and circumstances of each school and community.
The coordination of multiple efforts by schools, school districts, and communities as well as by policymakers at the local, state, and federal levels.
A Multifaceted Longstanding Problem
The report states that engaging a wide range of Americans is essential given the complex and multifaceted nature of school violence. The Commission heard from individuals with diverse perspectives and expertise at Commission meetings, field visits, and listening sessions.
Participants included students and their families, state and local policymakers, principals and teachers, and law enforcement and healthcare professionals. …
The report stressed that the problem of school violence is complex and it has existed for decades. The Commission has drawn upon the work of previous commissions and reports on school violence at the federal, state, and local levels.
Preventing School Violence
The report said that many individuals have a role to play in prevention efforts—parents, teachers, the media, health care professionals, entertainment industry leaders, and law enforcement—the report concluded. Such efforts are wide-ranging. They include creating a positive school climate, combatting cyberbullying, ensuring rating systems allow parents to fully assess the appropriateness of entertainment their children are consuming, and establishing "No Notoriety" practices in the wake of shootings.
Local approaches and priorities are most important. Because teachers, in partnership with principals and other school leaders, know their schools, students, and classrooms best, they should be able to make decisions about school discipline without unnecessary worry about undue federal repercussions.
Similarly, school-based counselors and other healthcare providers are best positioned to identify mental health needs and develop a course of action.
The report observed that a proper understanding of how school shooters get their hands on firearms (i.e., in most cases from family and friends) must inform state legislative efforts. Individuals deemed, through appropriate processes, to pose a threat to themselves or others can be denied the ability to possess or purchase firearms through "extreme risk protection orders." They can also be reported through the Federal Bureau of Investigation's tip line.
Protecting and Mitigating
Training personnel, hardening schools and engaging the community are all important tools to protect against school violence and to mitigate its effects, the report said. Training applies to teachers, school staff, school resource officers (SROs), and state, local, and tribal law enforcement. Increasing numbers of these personnel could come from the ranks of the country's military veterans and retired law enforcement officers, both for security and teaching roles. …
Responding and Recovering
The unique characteristics of each school (such as campus layout, building design, and age of students) present complex challenges to active shooter planning. Approaches to improve emergency response must be specific to each school.
There is no doubt planning and training helps prepare police officers and first responders to deal with active shooters, the report's authors pointed out. However, because active shooter incidents are often over before law enforcement arrives on the scene, onsite personnel must be prepared to deal with an active shooter attack in the absence of trained crisis response officers.
An Ongoing Challenge
The Parkland, Florida, shooting was not the first such tragedy in the U.S. and is not likely to be the last without changes at the federal, state, and local levels, the report found. The Commission said its job was to identify best practices and lessons learned that will help schools better prepare for the future.
Each section of the report concludes with actionable recommendations—for the federal government, states, tribes, and local authorities, and for school districts and schools. However, they are just that—recommendations to be considered and adopted as appropriate to each jurisdiction. School staff and local officials are best placed to determine which recommendations to implement in their communities, the report said.
From start to finish, the commission said it recognized that the people who best understand the needs of their schools and communities are the families whose children attend those schools and live in those communities. …
Chronology of Significant Events
The following list of school violence incidents is not intended to be exhaustive, but rather to illustrate the breadth of the problem.