LGS Group, the master distributor for InterMotive Vehicle Controls, has hired Bill Hinze to fill the newly created role of overseeing transit fleet sales in the western U.S.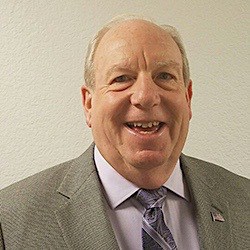 The distributor company said Hinze will call on transit and school bus dealers, transit agencies and school districts to demonstrate the latest products from InterMotive and Revecorp that are designed to improve fuel economy and safety for the specially equipped Ford Econoline van.
Hinze is a recognized name in the school bus industry with 45 years of experience. He started in 1971 as a transportation director for the Eastern Nebraska Human Services Agency before going to work for Collins Industries in 1978 to oversee the company's wheelchair lift and accessory division. His stint at Collins included training.
He is perhaps best known for more than 20 years with Ricon Corporation in various roles, including director of marketing, vice president of risk management and regulatory affairs and owner until the company's acquisition by Wabtec in 2007.
Most recently, Hinze served as an account manager for mobile surveillance and transportation management firm 247 Security Inc. and a regional sales manager for ElDorado Mobility.