Dominion Energy Virginia has announced plans for the largest electric school bus deployment in the U.S., with the aim of reducing emissions, providing cost savings to school districts and enhancing grid reliability.
School bus manufacturers will be able to submit bids through an RFP process in the coming weeks, officials said in a press release on Thursday. School districts can state their interest in participating in the unique program to receive the buses as soon as 2020.
Dominion Energy operates in 18 states and is headquartered in Richmond, Virginia. The first phase of the electric school bus deployment is to have 50 buses fully operational within the company's Virginia service territory by December 2020—all without any rise in prices that customers pay. Phase two, with state approval, would boost the program to have 1,000 electric school buses online by 2025.
Once phase two is completed, the vehicle batteries could provide enough energy to power over 10,000 homes. The target for Phase three is to have 50 percent of all diesel bus replacements be electric by 2025 and 100 percent by 2030.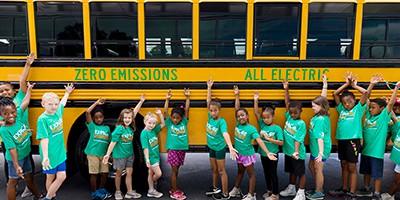 "We're committed to lowering our carbon emissions, but we can't do it alone. Transportation is the number one source of carbon emissions in the US, and by partnering with this industry, we can expedite the development of innovative, cleaner, more sustainable solutions," said Dominion Energy Chairman, President and CEO Thomas F. Farrell, II.
Farrell observed that "We think that electric school buses will provide a wide range of benefits for the customers and communities we serve, including cleaner air, cost savings for school districts and enhanced grid reliability."
Officials claimed that replacing a diesel bus with an electric bus "is the equivalent of taking 5.2 cars off the road. If fully implemented, by 2025, the program would be the equivalent of removing more than 5,000 cars from the road per year."
---
Related: Copper Development Association Applauds Dominion Energy's Investment in Electric School Buses
Related: Cummins and Blue Bird Join Forces to Electrify California's School Bus Fleets
Related: Speaking Up for Electric School Buses
Related: Rising Fuel Costs = Alternative Energy
Related: Webinar Answers Common Questions on Electric School Buses
Related: Washington School District Acquires State's First All-Electric School Bus
Related: Vermont to Launch Electric School and Transit Bus Pilot Program
Related: Thomas Built Buses Electric School Bus Powered by Proterra Technology Receives Full CARB and HVIP Certifications
Related: Lion Electric Awarded by Calif. Energy Commission for School Bus Replacement Program
---
"This innovative electric school bus program is one of many steps we are taking to make electric vehicles accessible to all Virginians, and we look forward to working with Dominion as they bring electric school buses to communities in all corners of our Commonwealth," Gov. Ralph Northam said in a statement.
Dominion Energy officials said the program is designed to offset the additional costs of an electric school bus, including charging infrastructure, above the standard cost for a diesel bus. Because operational and maintenance costs are lower with electric school buses,  officials estimated that there will be up to a 60 percent cost reduction per year.
It is expected that the electric school buses will also use "vehicle-to-grid" technology that leverages the bus batteries to store and add energy into the electric grid during high demand periods when the buses are not being used for transporting students.
Dominion Energy said it also expects to reduce generating fleet carbon dioxide emissions by 80 percent by 2050 and cut methane emissions from its gas assets by 50 percent by 2030.
A tele-town hall meeting is scheduled for Sept. 4 to give school districts more information about the program.