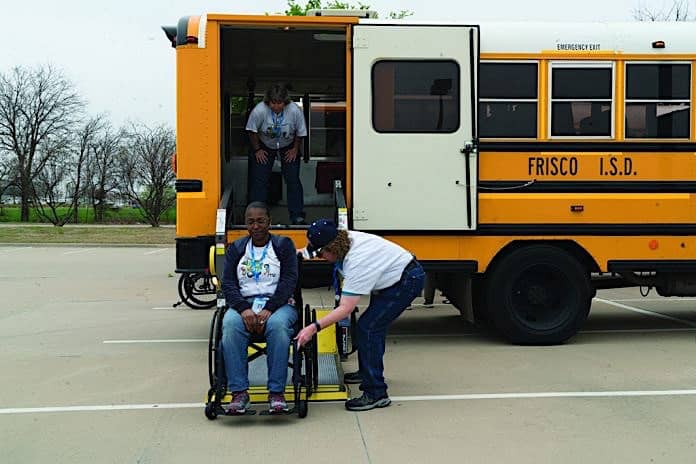 Mobility has plays an important role for school bus drivers, aids, attendants and managers when it comes to daily fleet operations. Unfortunately, the challenge of securing mobility devices is still playing a large role within the industry.
The biggest challenges reported are "parents having the proper equipment for the child," said Tom Taylor, Miller R-2 transportation director from Missouri, as reported in the latest School Transportation News survey. Another issue is "larger chairs, less space," said Jeff Hutchings, maintenance operations and transportation manager from Huntington Beach, California.
These problems, although commonly heard within the industry, prove to be more difficult to resolve.
Issues with mobility are also due in large part to securing mobility devices onboard school buses. The importance of properly securing students who use wheelchairs and other mobility devices can make the ultimate difference in unforeseen incidents. When wheelchair-occupants are not secured correctly, the risk for severe injuries and trauma increases. Not only should the child be secured, as should the wheelchair or mobility device the child uses.
Although wheelchair securement practices have significantly progressed since early days when bungee cords or rope were used to tie chairs down, securing mobility devices remains a challenge with the use of larger, heavier power chairs.
"In the last 10 to 15 years it's become pretty clear that the problem of securing mobility devices, especially some large power chairs, are really getting worse than getting better," said Darren Reaume, the national training manager for Q'Straint and Sure-Lok, a developer of wheelchair passenger safety solutions for public and private transportation.
Unfortunately, there is no "one-chair-fits-all" size available, or a single rule to follow when it comes to safety for wheelchairs on buses, he added. He made his comments during a free STN webinar in late that covered mobility securement.
Nearly 400 webinar attendees from across the country, including student transporters and transit agency representatives, listened as Reaume shared three steps to follow when ensuring mobility safety.
"The first (rule) in securing the chair is to make sure you put the retractors and securements in the right place on the floor," he advised, stressing the significance of identifying a welded frame member to attach the securements to.
Reaume said that since most wheelchairs are not originally intended to be transported, there is often no specific area recommend for attachments. He added that decisions come down to the transporter's ability to select a stable section of the frame that won't come apart during the vehicle's operation.
The next rule Reaume stated was to adjust the correct angle for securing the wheelchair to the bus floor. For the front of the chair, the securement is recommended to be at a 40- to 60-degree angle and as close as possible to 45 degrees for the rear.
Finally, the third rule regards using a direct path to the attachment point of the chair. Looping securements through the wheels and around frame members, for instance, is never recommended.
Aside from Reaume's guidelines, an acronym all school bus drivers should be skilled with is WC-18, a Rehabilitation Engineering and Assistive Technology Society of North America (RESNA) standard for wheelchair tie downs and occupant restraint systems (WTORS) that secure wheelchairs and provides crash protection for all wheelchair users.
Although using tie downs, restraint systems and lifts on school buses are helpful when transporting students in wheelchairs, what about the use of low-floor or flat-floor buses to increase mobility for students with disabilities?
Low-floor buses designed to be 15 to 16 inches off the ground
eliminate the need for stepwells as well as the use of wheelchair lifts. The use of ramps on these buses are usually at a relatively low angle for greater access for unassisted mobility.
In turn, these buses can make it much easier for wheelchair occupants to access the bus, and they can enhance the Least Restrictive Environment for students with disabilities, as is called for by the Individuals with Disabilities Act. They can also reduce instances of discrimination by providing a better experience for students as they are positioned towards the front of the bus, rather than the rear as accustomed.
All low-floor buses have floors above the rear axle raised nearly 10 inches to accommodate the engine, transmission, drive shaft and differential spaces.
IC Bus unveiled a low-floor concept vehicle a decade ago. It was "more of an out-of-the-box idea that could be formed to benefit specials needs students," said Himanshu Angolkar, chief engineer and bus product specialist for Navistar. Currently there are no plans for IC Bus to re-launch a low-floor bus, as "the existing platform has been working very well," he added.
While low-floor buses bring benefits to disabled students, they also have their share of disadvantages for student transportation. For example, these options tend to cost twice as much as regular school buses. Installing lifts can be more cost-effective for school districts. Additionally, sloped road surfaces such as driveways pose issues.
"(Low-floor buses) may be effective for one industry, but it might not lend itself for a special needs bus," said Angolkar, adding that these types of buses are often not equipped to handle multiple wheelchairs compared to regular school buses.
Titan Bus Company, LLC announced it is looking to fill "a niche" in the Type-A market by building a flat-floor school bus on the GM and Ford E-Series chassis for special education routes, said Brian Barrington, founder and vice president of Titan Bus.
He said the Titan flat-floor bus will distinguish itself by having the floor rise to the same plane as the wheel house. A flat-floor option brings flexibility special needs routes, he added.
"The market demands buses available with max wheel chair capability. The only way to do that is by going with a flat floor," said Barrington.
However, Barrington added that "until somebody makes a chassis where it can be converted into a school bus I don't believe (low-floor buses) will be seen in the future."
The Titan Bus Company will display the new bus line at the STN EXPO tradeshow this summer in Reno, Nevada in July, and will have a flat-floor bus ready for the summer market.
Reprinted from the May 2017 issue of School Transportation News magazine.