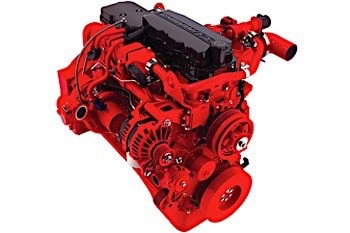 The first IC Bus CE Series conventional school buses with the Cummins ISB 6.7L diesel engine that relies on Selective Catalyst Reduction to limit harmful emissions have rolled out of the company's assembly plant in Tulsa, Okla., on their way to customers, announced parent company Navistar.
The SCR aftertreatment technology of the ISB meets current EPA diesel emissions standards to limit oxides of nitrogen. It was added to the IC Bus lineup in September and a month later was on display the NAPT Summit in Grand Rapids, Mich.
In an interview with School Transportation News in the February issue, John McKinney, president of Navistar Global Bus, said adding the ISB to the brand's portfolio presents an opportunity to diversify the company's customer base. He reiterated that on Monday after Navistar reported more than 2,000 orders for the CE Series with ISB have been received.
"Adding the Cummins ISB as an offering on our CE Series buses was intended to provide us with a new opportunity for growth and we are excited to already see results reflected in the first two months of orders," said McKinney. "Customers now have access to the broadest selection of mid-range diesel engines in the industry and we are encouraged by the long-term market potential for the CE Series."
In addition to the ISB, customers can continue to specify order the IC Bus CE Series powered by Navistar's MaxxForce® 7 or MaxxForce DT.
Navistar said other upgrades available to CE customers include a driver cockpit that incorporates feedback and measurements from more than 1,500 school bus drivers nationwide to ensure optimum ergonomics, easy-reach features and maximum comfort while driving.
The new CE Series school bus also offers 32-inch entry doors; the widest available. It also comes standard with the proprietary Leave No Student Behind® alarm system for driver post-trip inspections. The alarm requires drivers to walk the length of the interior aisle, scanning each seating area for children, to disable an alarm located at the rear of the bus before exiting. The alarm is linked to Navistar's Diamond Logic multiplex system.
Navistar said IC Bus CE Series school buses are built with standard 16-gauge steel side rails and an 18,500-pound rear steel spring suspension, which offer durability to customers. The bus's Easy-tilt® three-piece hood and exterior electrical panel is also designed to simplify and hasten maintenance trips, increasing vehicle uptime as a result.