The National Transportation Safety Board recommended adding collision avoidance systems and lap-shoulder seat belts to all new large school buses during a meeting held to examine the causes of two fatal 2016 school bus crashes, one in Baltimore, Maryland and the other in Chattanooga, Tennessee. 
These recommendations, among others, were developed by NTSB investigative staff and presented by Managing Director Dennis Jones on Tuesday during a board meeting. Members unanimously approved them.
The report recommends that the National Highway Traffic Safety Administration require collision avoidance systems on all new large school buses. The four states that require lap belts only—Florida, Louisiana, New York and New Jersey—were recommended to update their specifications to lap-shoulder belts. Calif. and Texas require lap-shoulder seat belts, with Nev. requiring them next summer and Arkansas allowing local voters to petition for a levy on property taxes to pay for the occupant restraints. The remaining 42 states and Puerto Rico lack occupant restraint mandates.
NTSB recommended to require lap-shoulder belts on all new large school buses.
The Crashes
Both crashes occurred in November 2016. Glenn Chappell, a 67-year-old Baltimore City Public Schools driver with a history of driving violations and medical conditions, including seizures, passed out while driving an IC bus on Nov. 1. His vehicle collided with a transit bus, killing himself as well as the transit driver and four of her passengers. No students were on board the school bus, but an attendant who was, suffered injuries.
Twenty days later, 24-year-old Durham School Services driver Johnthony Walker, who had a history of unsafe driving, crashed his Thomas Built Buses school bus, due to speeding and cell phone usage, killing six elementary school-age children and injuring 26 more; he was sentenced last month to four years in prison.
"In both crashes, we saw poor driver oversight, both by the school districts and by the contracted motor carriers that provided student transportation services," said NTSB Chairman Robert Sumwalt. "In concrete terms, neither of these drivers should have been behind the wheel. … Both crashes could have been prevented; neither one was."
Baltimore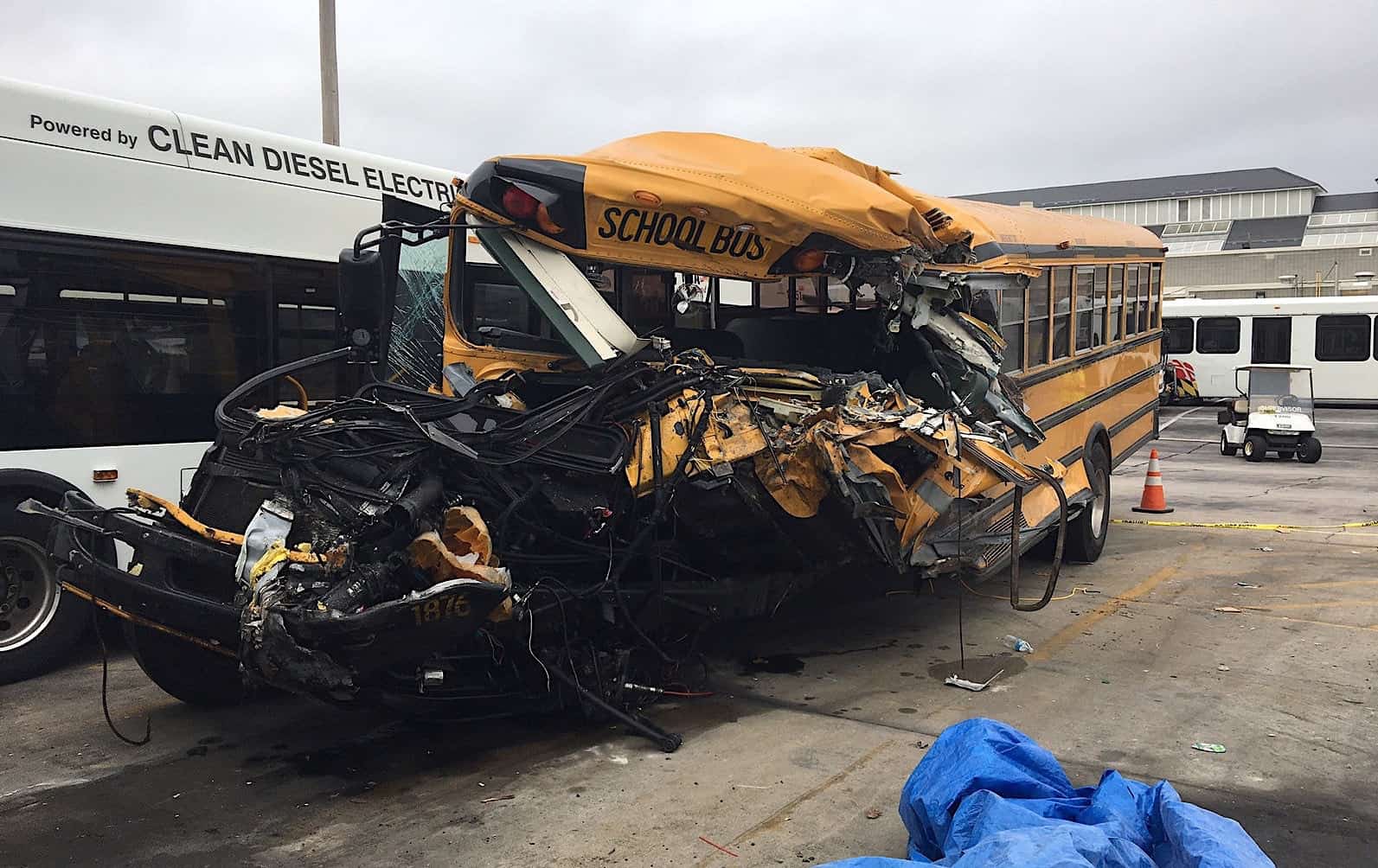 The Baltimore County Public Schools bus following the crash with the metro bus. Photo: NTSBDr. Mary Pat McKay from the NTSB Office of Research and Engineering said that electronic health care systems could help reveal important driver medical information, based on the medical company Baltimore City Public Schools used for driver checks and certifications allegedly not asking about all of Chappell's medical conditions. It was also claimed that Chappell hid facts about the seizures he could suffer if he did not take his medicine.
In response to a question from NTSB Member Bella Dinh-Zarr, McKay added that information located in different places in a patient record caused a disconnect between medical providers realizing that Chappell was a school bus driver.
The third board member, Dr. Earl Weener, questioned why doctors did not report Chappell's conditions. McKay said that was unknown, but could in other cases come down to confidentiality concerns. Her team, she said, "made a number of recommendations at the time including educating doctors on options and the capability to report."
Dr. Rafael Marshall from the NTSB Office of Highway Safety discussed Chappell's repeated use of falsified documents, such as ones with a different spelling of his name or a different birthdate, so he could continue obtaining commercial driver's licenses after the Maryland Motor Vehicle Association would revoke them for traffic violations caused by his seizures. Marshall said that digitized photos and facial recognition technology—the latter currently used by 40 states and being piloted in Maryland, New York, New Jersey and Connecticut—would help prevent that from happening.
Mike Fox stated that Chappell's employer, school bus contractor AAAfordable Transportation, did not follow FMVSS regulations and that the school district "failed to follow their own standard operating procedures" by neglecting to keep proper medical records, perform background checks, keep complete crash records, or disqualify Chappell from driving following a seizure that was witnessed by other employees. To address these issues, NTSB previously called for a review of Baltimore City Public Schools's transportation department by the Maryland State Department of Education in April 2017.
Related: NASDPTS Discusses Proper Oversight of School Bus Drivers
"The underlying issue is that the oversight that was in place, that should have kept this driver off the road, failed," declared Sumwalt.
Sumwalt called for the failings of AAAfordable Transportation and Baltimore City Public Schools to be elevated by crash investigators as the main reason for the crash, instead of simply a contributing factor. However, he withdrew that recommendation after Dr. Robert Malloy, director of NTSB's Office of Highway Safety, countered that the blame fell on Chappell, since the efforts of all six bus companies who fired him would not have stopped this "case of a driver who willfully evaded all checks."
The probable cause of the crash was finally updated to rest equally on vehicle loss due to the seizure, Chappell's driving in spite of his disqualifying medical conditions, fraudulent actions, and the failings in oversight of AAAfordable Transportation and Baltimore City Public Schools.
Chattanooga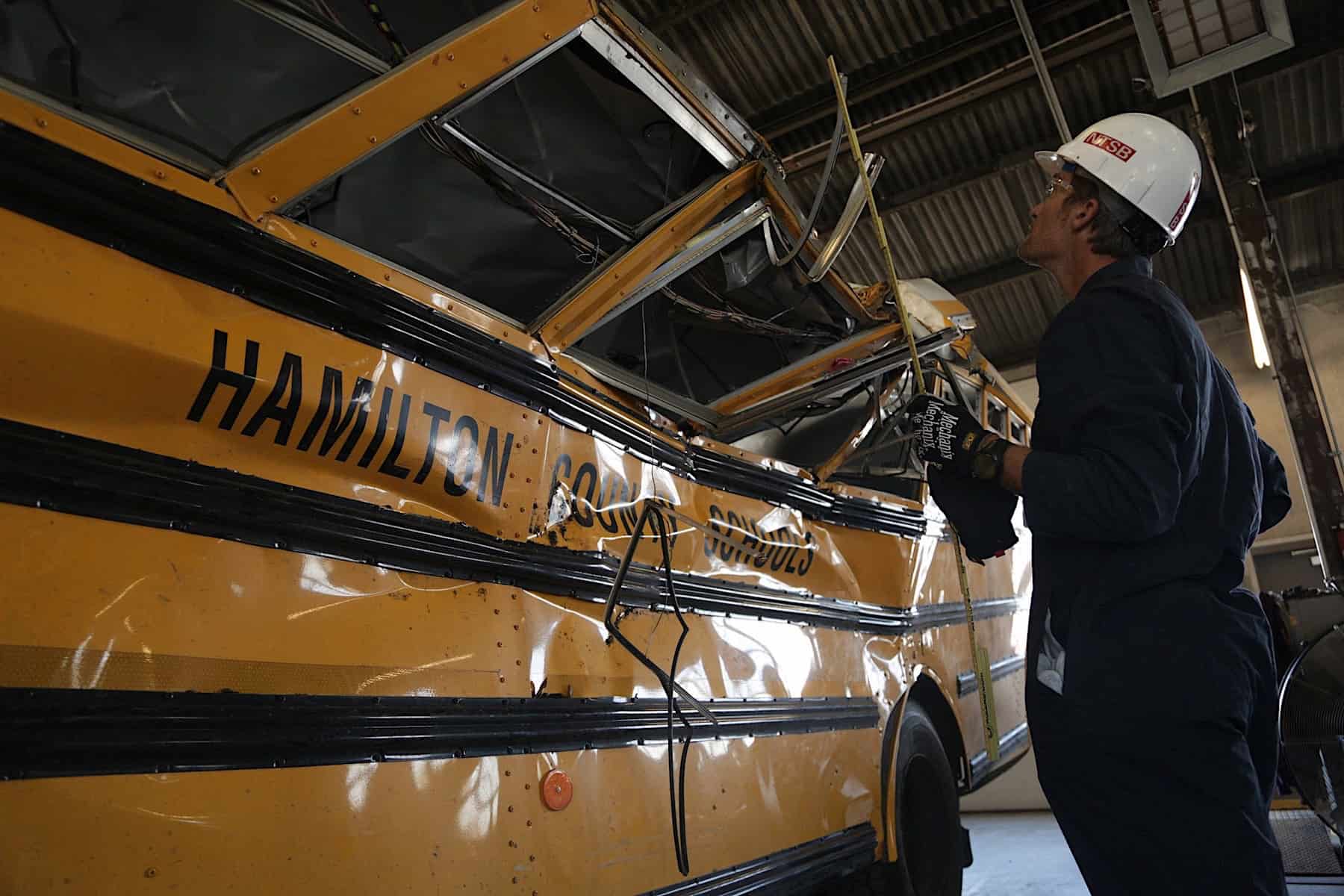 An NTSB investigator surveys the Hamilton County Schools bus operated by Durham School Services that crashed on Nov. 21, 2016, with six student fatalities and dozens of injuries as a result. Photo: NTSBNTSB Investigators Robert Accetta and Kenny Bragg confirmed for Dinh-Zarr that after Johnthony Walker reported having trouble managing student behavior on his bus, the Hamilton County School District responded by telling him to reduce the number of referrals. As a result, Walker began engaging in unsafe behavior, such as braking sharply or swerving, to enact what he considered discipline.
They also said that information about Walker's unsafe driving "came from so many different sources it never ended up in the same place, so the carrier did not have a very accurate understanding of the behavior because complaints were going to everyone."
Nonetheless, Jones said later in his review that the Hamilton County Schools Department of Transportation and contractor Durham School Services were both at fault—for failing to recognize the dangers Walker presented and for allowing him to continue driving a school bus.
Durham subsequently instituted a central repository and tracking system for complaints, which Accetta said has "become very effective."
Investigators confirmed that Walker had previously used his cell phone while students were loading and unloading his bus, and that it was unclear if he was using a hands-free device like Bluetooth at the time of the crash. However, the investigators added "phone data indicates he was not," despite Walker's defense attorney Amanda Dunn and a witness asserting at trial that Walker had earlier received a short phone call but hung up prior to the crash.
NTSB's conclusion, Sumwalt said, showed Walker "had little or no fear of being reprimanded [for phone use while on the job], which says a lot about the oversight of the organization."
Dr. Thomas Barth presented crash data gathered from onboard video that showed the students were thrown out of their seats as the school bus swerved, which he said negated the protective effect of compartmentalization. It made them vulnerable to ejection and secondary impacts when the bus hit the pole and then a tree. He underscored the NTSB's long-standing recommendation of lap-shoulder belts for both safety and improved student behavior, an observed phenomenon previously reported by STN.
Sumwalt proposed a revision of the Chattanooga crash's probable cause statement, to make equally responsible Walker's risky behavior, Durham's lack of oversight, and the Hamilton County Department of Education's failure to follow-up and ensure that the school bus contractor had addressed concerns about Walker's driving. The investigation also concluded that a lack of seat belts was an additional contributing cause.
Recommendations
Investigator David Pereira reiterated NTSB's approval of "long overdue" crash prevention technologies—including collision avoidance, electronic stability control, and automatic emergency braking. The agency's Research and Engineering department found these "would have benefitted" the buses and passengers in both crashes.
A team member told Dinh-Zarr that research found 238 school buses from two companies currently equipped with crash avoidance technologies.
Investigator Jane Foster revealed that both the Baltimore and Chattanooga school buses were equipped with engine control modules that recorded some vehicle information, but not pertinent crash data. The investigative staff responded by recommending that dedicated, crash-protected event data recorders be installed and implemented for all heavy-vehicles, including school buses.
"I think today can be a historic day," said Sumwalt, referring to the recommendation to NHTSA on developing guidelines on crash avoidance technologies and to the states on requiring lap-shoulder belts. "I feel that as an agency we have tiptoed around that for a long time, and it's time to take a hard stance on this."
Related: NTSB's Hart Provides Insights from School Bus Crash Investigations
Jones continued with the other recommendations, including: Improved reporting of school bus driver medical conditions among medical companies, school bus contractors and school districts; passing all CDL holders through a facial recognition system; shared lessons from the two crashes by the National Association of State Directors of Pupil Transportation Services, the National Association for Pupil Transportation, National School Transportation Association, American School Bus Council and Maryland School Bus Contractors Association to their members; encouraging Durham parent company National Express to use industry best practices to implement a driver complaint tracking and follow-up system.
NTSB also recommended that all major school bus manufacturers—including Blue Bird, Collins Bus, IC Bus, StarCraft Bus, Thomas Built Buses, Trans Tech and New Jersey-based Type-A provider Van Con—install collision avoidance technology, including automatic brake systems on all of their new buses. It also called on IC Bus to include better data recording features on new buses, and urged NHTSA to require crash-worthy data recorders on all school buses that would capture many different aspects of the bus' operation, in the event of a crash.
"Safety demands oversight that puts lives first," Sumwalt concluded. "Action on the safety recommendations issued and reiterated today will constitute a crackdown, but only from the point of view of drivers who put the safety of our children and other road users at risk. Such a crackdown is long overdue."
Editor's Note: Opening and closing statements from the NTSB meeting, as well as PowerPoint presentations on various aspects of the two school bus crashes, can be found here. Additionally, stay tuned for more discussion on school bus seat belts during a panel discussion on July 15 at the STN EXPO featuring real-world experiences.