Editor's Note: This profile is part of an ongoing series on women who have made an impact in the school transportation industry. 
Sandi Miller started her career in pupil transportation as a bus driver. Since then, she has dedicated her interests to training programs and making sure all bus staff is fully equipped for the job in front of them.
In 2003, Miller followed in her mom's footsteps and began driving a school bus. She had three children at home at the time, so she was used to being around youngsters on a daily basis. Miller said that she loves kids, so getting into school transportation made sense.
"It didn't take me very long to discover that training was something I was interested in. I wanted to make a difference in how kids were transported, so I became a trainer for several years," Miller explained.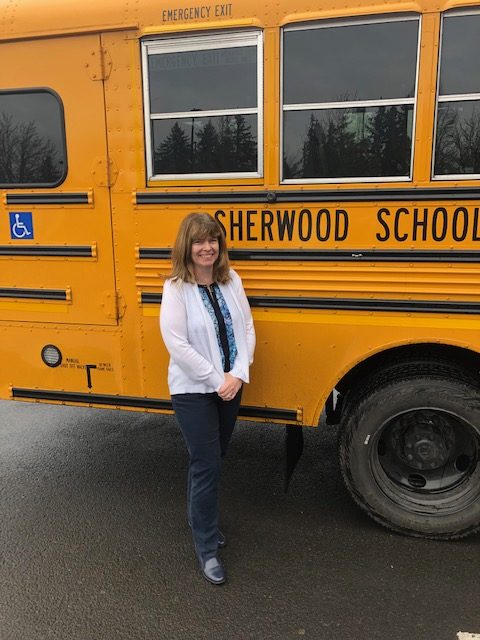 She worked her way up from school bus driver to special needs supervisor for Eugene (Oregon) School District. Today, Miller is the transportation supervisor for Sherwood School District near Portland, Oregon.
She oversees the entire transportation department, including the budget and fleet management. She has 35 employees—when the district is fully staffed, that is.
"I got in [this industry] because I love kids. I stay in it because I want to make sure that kids have the greatest opportunity that we can offer them. Sometimes that means transporting [kids] to programs in different towns, cause that's what that student needs," Miller said.
Miller is the president-elect of the Oregon Pupil Transportation Association (OPTA) and previously served as president for both the south and northwest regions. She loves being a part of the organization because she is able to influence the training that drivers receive.
"It's our job to make sure that drivers statewide have the best training we can put into their hands because our role is to provide the safest form of transportation for kids to get to school. That is why we are here," Miller said.
When she first started in the industry, there weren't the training opportunities available for bus drivers that there are now. Miller said that when she first began driving a bus, she didn't receive bullying response or student management training. However, now there is training available for many different aspects of the job.
"Even as a supervisor, I just love to go out and ride the routes and be around the kids," Miller said. "They are so funny and happy, of course. I am [also] observing my employees. But as a bonus, I get to actually see the kids again."
Miller said that while working in school transportation, she is most proud of the bus attendant training program she put together at a summer conference last year. Miller added that bus attendant training is an area that is currently lacking, and a lot of people don't know what to do with it because bus attendants are new, especially in Oregon.
"There were a lot of people there. I got a lot of feedback from it and people requesting my material, and that actually is probably one of my proudest moments," Miller said. "Because employees who are working with kids are going to get training now. In certain cases, they didn't even have a training program. So, the fact that districts are maybe taking some of the instruction and turning it into a good solid training program for attendants, that makes me feel good."
Miller said that transportation departments want to be a part of the entire educational team. She feels that good districts involve bus drivers in discussions and conversations about the students.
"I think it's important to realize that bus drivers do this for so much more than a paycheck. They do it because we love kids and we want to make sure that kids get the best education they can get, and we want to be a part of the educational team," Miller said.
Miller said that one of her challenges was educating the people around her on the importance of student transportation, the logistics of what her job entails and the limitations. She said that people don't understand why certain things can't be done or be done in a certain way.
"We try to accommodate everything we can, and find a way to get the job done," Miller said. "But it may not be the way that people first think it's going to be done. So, educating people to logistics of what we can do, is a piece to the overall process."
Another aspect of pupil transportation that Miller expressed interest in is growing the industry. She said it's important for everybody in leadership positions to be a mentor. She said if you are not a mentor, you won't have somebody to replace you when you move on.
A lack of mentoring will cause districts to look outside of the industry to replace you, which Miller said isn't a big problem. But it is more helpful to have a successor who has experience in the industry and knows what working in the industry entails.
"Growing our own and being a mentor is so important," Miller said.
Going forward, Miller wants to continue to help bus drivers and bus attendants have the best training that is provided to them. Miller added that having a supportive district makes all the difference.
"I work for a district that is really supportive in my efforts to help in the way that I can to provide that training, not just to my own drivers, but to drivers statewide," Miller said.
She said she wants to continue doing just that. When her term as president ends, Miller said she will still be a part of that process and will offer any training that she can to help.