Pedestrian deaths are rising across the U.S., a fact punctuated during the National Association of State Directors of Pupil Transportation Services Annual Meeting by the deaths of three students and the serious injury of a third, as they crossed a two-lane road to their waiting school bus in rural Indiana.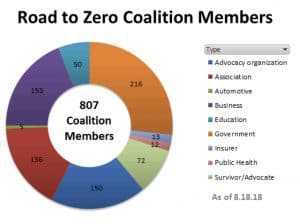 At the industry meetings in Kansas City last week, NASDPTS attendees heard from a representative of the National Safety Council (NSC), who discussed the organization's "Road to Zero" coalition. It was launched in October 2016 in response to Sweden's Vision Zero campaign of 1997. The Road to Zero is operated by the NSC, in partnership with the Federal Highway Administration, Federal Motor Carrier Safety Administration and National Highway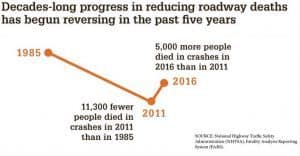 Traffic Safety Administration.
The group commissioned a Rand Corp study that was released earlier this year, which outlines key strategies to reduce and then end roadway deaths in the U.S. by 2050.
"It is the first time so many organizations have collaborated to put forth a plan to address motor vehicle fatalities, which recently increased after years of decline," NSC notes at its website. As NSC President and CEO Deborah A.P. Hersman has said, "Getting to zero fatalities is not impossible—it just hasn't been done yet."
The Rand Corp. report comments that "many businesses have made great improvements in fatality and injury rates through adopting a safety culture, and a number of cities have adopted a Vision Zero strategy incorporating the safe systems approach that accommodates human error. But to be fully effective, these ideas need to spread across the country."
For instance, "The safe systems approach has saved lives in other countries. Sweden reduced the number of traffic deaths by more than half since the approach was introduced," said Lisa Ecola, a senior policy analyst at RAND and lead author of the report. "This shows that we in the U.S. can make large strides in traffic safety with existing technologies and policies."
Jane Terry, senior director of government affairs at the National Safety Council, discussed the efforts to achieve zero roadway fatalities, via the Road to Zero campaign that focuses on preventable deaths. There are already 709 coalition members for that campaign, she reported. New data posted at the National Safety Council website shows a new tally of 807 coalition members, so it looks like the coalition is continuing to attract new members. To join, sign-up here.
On Dec. 4, the Road to Zero Coalition will meet from 9 a.m. to noon ET at the 20 F St. NW Conference Center in D.C., near Capitol Hill and Union Station. This free event also will be available live via webcast. Following the coalition meeting, the Road to Zero will hold a meeting at 1 p.m. to focus in more detail on the distracted driving issue, at the same location as the coalition meeting.
Motor vehicle crashes are now the number one cause of death for ages 5 to 24, Terry stressed. Those fatalities have increased during the past two years, which she attributed to "coming out of the recession." According to Terry, that means more teen drivers are on the road driving. She cited successful efforts to reduce fatalities in the aviation industry, as demonstrating that similar efforts in the bus transportation industry may also be just as successful.
Terry stressed that the last fatality in the airline industry, other than the one partial ejection of a passenger on a Southwest Airline flight, was in 2009. "We have a very different expectation" in the airline industry for safety, compared to the bus industry, she explained. "We can, and we must, do better" in the transportation industry, she said.
Terry hopes to have awarded another $1 million in grants next month, after having awarded $1.5 million in grants in March. She also mentioned some of the winning projects that were funded. A project in South Bend, Indiana, for example, lowered posted speed limits to 25 mph in many parts of the city, in an effort to reduce the number of fatalities. The fatality risk jumps for vehicles traveling at more than 20 mph, Terry stressed, and pedestrian fatalities double in 40-mph collisions.
On Sept. 24, the NTSB released a new publication, "Pedestrian Safety: An NTSB Special Investigation Report," authored by member T. Bella Dinh-Zarr, PhD, MPH. It stressed that 5,987 pedestrians died on U.S. roadways in 2016. "That's 16 people every day across our country," the report said. "But because these tragedies happen one by one, pedestrian deaths often fail to receive national attention. But as an agency dedicated to preventing transportation deaths and injuries, we know that must change."
NTSB held a public forum in 2016 to address pedestrian safety. Since then, the agency said it has conducted at least 12 investigations into pedestrian deaths, which focused on learning lessons on how to prevent more of those deaths. "In most of the cases, the pedestrians were in crosswalks at intersections, and many occurred where speed limits were posted for 25­-30 mph," the report pointed out.