Carlisle Beasley, a former member of the School Transportation News editorial board and a National Association for Pupil Transportation (NAPT) Hall of Fame inductee, died on Memorial Day. He was 83.
Several of Beasley's friends and contemporaries took to social media on Tuesday and Wednesday to mourn his passing. They referred to him as "an outstanding leader" and "a great advocate" who "will be missed in many ways besides pupil transportation."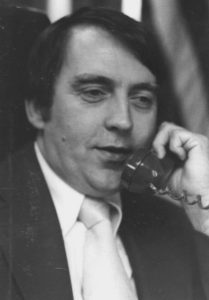 Beasley was a charter member of NAPT, and his industry experience spanned nearly 60 years. He was the director of transportation for Metropolitan Nashville Public Schools for 33 years, retiring in 1999. He started in transportation as a terminal operations manager for Mason Dixon Transportation Lines in 1960.
In Nashville, he managed a fleet of over 500 school buses that transported approximately 50,000 students daily to and from school and supervised nearly 600 employees. Beasley successfully implemented one of the nation's earliest busing desegregation plans. Beasley's son Lyle said his father was proud of "never losing a child" to injury during any of the approximately 3.3 million daily bus rides by Nashville students.
"Carlisle was a very good friend. We worked very well together," said George (Ed) Donn, another former NAPT president, who also taught pupil transportation courses with Beasley. "He and I also collaborated on a number of court cases together. I had nothing but the utmost respect for both his professionalism and the quality of operation he ran there in Nashville Metro."
After retiring from the school district, Beasley worked for another 15 years as an industry consultant, lecturer, instructor and expert witness. He was widely recognized as a leader in his field, having served in multiple leadership roles, including NAPT president, chairman of the School Transportation Executive Committee for the National Safety Council, and the board of directors for the National Safety Council. He received the Distinguished Service Award from both NAPT and the National Safety Council.
Beasley was named School Bus Fleet magazine's "Man of the Year" and was inducted into the NAPT Hall of Fame in 2001 alongside Donn.
Beasley was a graduate of West End High School and earned his bachelor's degree in business management from Vanderbilt University's Peabody College. He received his master's degree in education from Tennessee State University.
He was also a member of the Masonic Lodge, Elk's Club, Liar's Club, Optimist Club and Green Hills coffee club.
"He had a huge heart, was always early, loved to laugh (and make others laugh) and was beautifully understated in his life well-lived," his family wrote. "Pops will be missed by all."
Visitation will be held at Woodlawn Roesch Patton funeral home from noon to 3 p.m. on Friday, May 31, followed by a private family graveside service.
Born Ezra Carlisle Beasley, Jr., on Feb. 21, 1936, he is survived by wife Claudette, son Ezra Carlisle (Lyle) Beasley III (Lisa), daughters June (Mike) Fleming and Angela (Criswell) Freeman, and five grandchildren, Chandler and Will Beasley, Courtney and Chase Fleming, and Carlisle (Carli) Freeman.
Memorials can be made to the Middle Tennessee Community Foundation, 3833 Cleghorn Ave, Nashville, TN 37215; Joy Church, P.O. Box 247, Mt. Juliet, TN 37121; West End High School Scholarship Fund, P.O. Box 160356, Nashville, TN 37216; or a charity of your choice.