Starting out as an airport transportation company nearly 50 years ago, Station Wagon Service (SWS) knows all too well the importance of on-time arrivals. Now, the family-owned company is in the business of transporting students to and from schools in northern New Jersey — and time remains of the essence.
"Every day we probably get 50 calls from parents wanting to find out where the bus is," said Ron Reinhardt, who is the son of owner Ceil Kurek as well as vice president.
Both consider themselves "hands-on" executives. It didn't take long for them to realize they needed to be able to track their fleet of 70 sixteen-passenger school buses. They were also looking for a way to better manage their routes and their mobile workforce, with the aim of making both more efficient.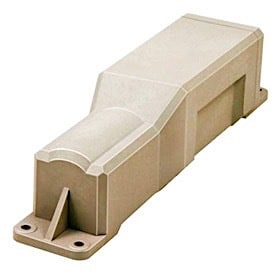 So they turned to AT&T. Now, about half of the SWS buses feature the TeleNav Asset Tracker, a Web-based fleet management application that continuously reports the exact location of each bus and runs on the AT&T wireless network. The small device (pictured, at left) enables the company to locate and track its buses with a password-protected website that displays the real-time GPS location of every vehicle.
"It's a very cutthroat industry these days; people buy a bus and call themselves a bus company without following all the rules," Reinhardt said. "Anything that we can do to enhance our ability to protect the children becomes a selling point in our favor."
Since its opening, SWS has grown from a few airport shuttle cars into a school and charter transportation company with more than 100 employees. The owners attribute much of their success to the loyalty of their staff, many of who have stayed on for years.
"We pretty much treat everybody like family here," Reinhardt said, adding that they even trust many drivers to take buses home with them during the work week. "It helps us because we don't have the room to store 70 buses, and it makes their lives easier because they don't have to come into work before beginning their routes in the mornings."
While the system works well for most, he noted there have been a few drivers who took advantage by clocking in earlier than necessary or who used the buses for personal reasons too often.
The Tracker solution helps SWS prevent unauthorized use of its buses by sending an alert if they are driven on evenings or weekends or if they reach speeds higher than 60 miles per hour. As a result, the company reports they have seen a decrease in payroll costs, mileage, fuel costs and wear-and-tear on the buses.
"There are a million ways to go anywhere," Reinhardt said. "Once we can see the route each driver is taking, we can often find a more efficient route that saves time and avoids congestion, allowing us to get the students to school and home on time."
Though the cost savings is "substantial," at least 10 percent a year, according to the company, Reinhardt stressed that the main benefit is knowing the whereabouts of every single bus.
"It's a lot easier to manage our vehicles; just knowing where they are at any given time makes a world of a difference," Reinhardt said. "It's a safety factor, and it gives you peace of mind."
When inclement weather rolls in, so do the phone calls from concerned parents, he explained, and this is where the Tracker solution makes a difference; it enables SWS staff to give instant feedback on bus locations and arrival times.
"Instead of contacting the driver, we can go to the TeleNav web portal and tell parents, 'They're taking it slow; I can see that they're doing 30 miles an hour.' When you have a five-year-old child (who is late), you want real answers quickly. You don't want somebody just guessing where your child is," he added.
Reinhardt said SWS plans to add the solution to the rest of its buses to improve safety and accountability even more.
"It's a big differentiator in our industry to have this device," he continued. "The system works, and I believe that eventually some kind of tracking system will be mandated in all buses."