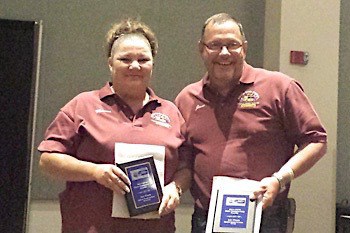 Jesse Hill and Melissa Surlett of Academy 20 School District in Colorado Springs (pictured, at left) won the state Special Needs Roadeo while Ray Goik of Cherry Creek Schools won the conventional roadeo and Don Hough of Adams-12 Five Star Schools won the state "Best of the Best" technicians contest.
The Colorado State Pupil Transportation Association (CSPTA) announced the winners during the recent state conference. Each of the first place winners have the option to represent the state at America's Best School Bus Technician Skills & Training Competition held this fall at the NAPT Summit in Kansas City, the International School Bus Driver Safety Competition held next month at the NSTA Annual Convention in Charleston, S.C., or the National Special Needs Team Safety Roadeo held at the TSD Conference in Frisco, Texas, next March.
The association also presented a posthumous award to the family of a Jefferson County Public Schools bus driver who was killed in the line of duty in March during a storm. Jack Garland was based out of the district's West terminal, which services a predominantly mountainous area. He was pulled over off the roadway during his afternoon route on March 7 to install tire chains on his rear wheels when a six-car accident occurred, said Theresa Anderson, a former director of transportation for the district and now a state and national transportation consultant.
"It is believed one of the cars spun out and hit him while he was bent down," she told STN. "It appears he died on the scene. Luckily he did not have children on board."
Meanwhile, Kimberly Venable of Englewood Public Schools won the associations Operations Person of the Year Award. Carrie Moore of Jefferson County Public Schools won Paraprofessional of the Year. George Casais of Alamosa School District won Driver of the Year.
Below are the complete, final standings for tthe technician and roadeo competitions.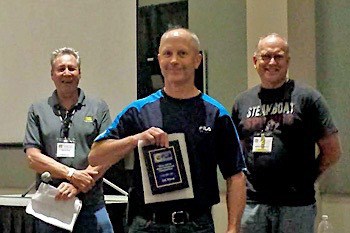 Technicians
1st – Don Hough (left) of Adams-12, Five Star Schools
2nd – Patrick Maloney of Douglas County Public Schools
3rd – Kurt Rosten of District 11, Colorado Springs
Conventional Gen Ed
1st – Ray Goik of Cherry Creek Schools
2nd – Josh Gonzales of Cherry Creek Schools
3rd – Dennis Rose of Jefferson County Schools
Special Needs
1st – Jesse Hill / Melissa Surlett, Academy 20
2nd – Steven Stephens / Patty Mize, Falcon 49
3rd – Chris Fritts / Sydni Sertich, Academy 20