The first electric school buses operated by the New York City Department of Education and its contractor companies will hit the streets this September.
So said Mayor Bill De Blasio on Feb. 6, as he signed an executive order during his seventh annual State of the City presentation. The order requires that all 4,000 city fleet vehicles, including school buses, ambulances, police cruisers, refuse trucks and ferries, are electric-powered by 2040.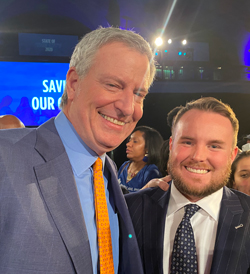 "We can't just talk about change, we have to do it, we have to lead," he said.
De Blasio also signed another executive order to immediately stop the installation of any new fossil fuel infrastructure.
Last year, New York City introduced its "Green New Deal," which retrofits buildings to stop harmful emissions. In January, Gov. Andrew Cuomo recommended the implementation of a statewide utility "Make-Ready" program to accelerate the development of electric vehicle charging stations.
In 2018, contractor National Express, LLC. partnered with White Plains School District, a local power utility, and the New York State Energy Research and Development Authority, to launch a demonstration project for using an all-electric school bus to increase grid reliability.