LONG BEACH, Calif. — Rural school districts in California can now receive up to $400,000 in California Air Resources Board funding that offsets the entire cost of purchasing a new electrified school bus.
The money is available via the Lower Emissions School Bus Program, which is in turn funded by state cap-and-trade dollars that CARB said now exceeds $1.2 billion. The announcement was made Wednesday during an Advanced Clean Transportation EXPO press conference in The Lion Electric Co. booth.
The Rural School Bus Pilot Project, administered by the North Coast Unified Air Quality Management District, has received $25 million in cap-and-trade funding to remove the oldest and dirtiest diesel school buses from rural and small school districts. CARB said nearly half of these districts serve low-income and disadvantaged neighborhoods.
CARB said the goal of the program is to develop economies of scale to reduce the up-front purchase cost of not only electric school buses but also electric trucks and hydrogen-powered transit buses.
To date, CARB said the cap-and-trade funds have resulted in 150 cleaner school buses statewide, 60 of which are to be funded by the Rural School Bus Pilot Project. Nineteen of these school buses are battery electric models supplied by The Lion Electric Co. and seven other buses are powered by renewable fuel. A CARB spokeswoman told School Transportation News that the remainder have yet to be decided.
The Quebec-based company was the first to market with a fully electric Type C school bus, its eLion, over two years ago. The bus offers up to 100 miles per charge.
Meanwhile, Lion Electric Co. also announced at the ACT EXPO that it and dealer FirstPriority Greenfleet will this summer deliver the new 22-passenger, transit-style and low-floor eLionM on a monocoque chassis. The bus offers a range of 75 miles on one 80kWh battery pack or up to 150 miles on two battery packs. During an ACT EXPO panel discussion on Tuesday regarding barriers to new procurement of cleaner-energy school buses, Lion Electric Co. CEO Marc Bedard said the company expects the eLionM to eventually offer a third battery option with a top range of 225 miles.
Additional large school bus electric options are expected later this year from Blue Bird and Greenpower, with IC Bus and Thomas Built Buses eyeing production vehicles in the next two years. Motiv Power Systems also announced at ACT EXPO that it will be bringing to market this year its third Type-A electric school bus option as Collins Bus joins existing options from Starcraft and Trans Tech. Micro Bird is also delivering a small electric bus this summer to a school bus contractor.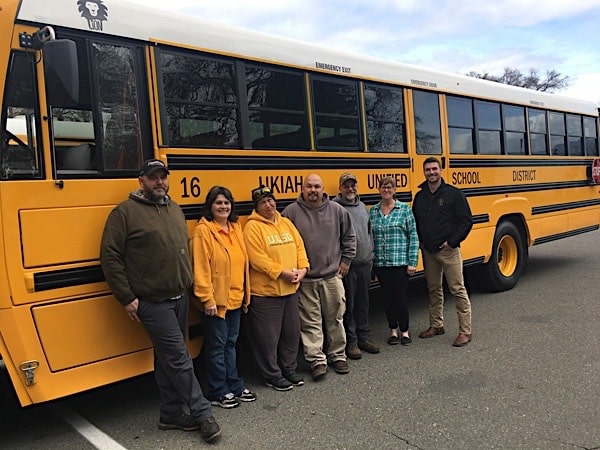 Transportation staff for Ukiah Unified School District in N. California show off their new eLion electric school bus, which was purchased using funds from the Rural School Bus Pilot Project. There are 16 other districts across California that have also used the program to procure eLion models.
Editor's Note: A previous version of this article incorrectly stated the number of cleaner school buses funded by the Rural School Bus Pilot Project.