After Clark County School District buses rolled out into the Las Vegas area in August to start route service for the new school year, they returned with in impressive 94 percent, on-time arrival rate. Everyone from the district administrators to transportation staff to parents was in a celebratory mood. Not Shannon Evans.
"I wanted the 6 percent on my desk to figure out what went wrong with those," said the executive director of transportation, now in her third, full school year overseeing the largest publicly owned and operated school bus operation in the nation. "If the bar is set high and we don't quite reach it, at least we are reaching. I don't want to be subpar. We are the third biggest district we need to act like it. We need to be leaders."
That's how Evans rolls.
"I don't know how to do a job just a little bit," she added. "Anything that is new I personally do it, first. I'm completely 100 percent vested in making sure it's successful for kids and drivers are set up for success."
Aptly, School Transportation News has recognized her this month as the magazine's 11th annual Leadership Award winner.
Evans said she attributes her work ethic to her late father, who was a self-employed owner and operator of a vehicle paint and body shop. So if she ever tells you that she doesn't know anything about maintenance, don't be fooled.
"I at least know when it's not done right, does that count?" she said. Push her on the topic, and she'll admit she can sand and primer "like nobody's business."
Evans said her drive is fueled by the recollections of the 14 hour days her father worked, without complaint and despite coming home exhausted with that day's paint color in his hair.
"He always made sure taking care of his family came first. He was a kind and calm role model in my life," she added. "When I think about those that have influenced me the most, my dad is at the top of my list. I wish he could see my success today so I can share this award and great honor with him."
---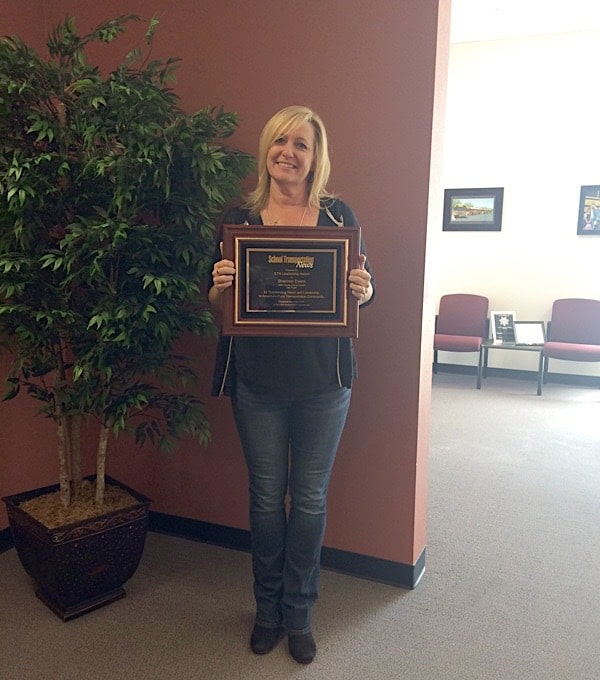 Shannon Evans shows off her STN Leadership Award. She joined Clark County School District about 25 years ago as a school bus driver and for is now in her third year as executive director of transportation. Photo courtesy Clark County School District
Evans is now in her 24th year at Clark County School District, all of them in transportation. Like many in the industry, she started as a school bus driver in 1993, but she took a much different path to the driver's seat than her peers. Evans was trained to draw blood from patients as a phlebotomist for a local Las Vegas mobile laboratory unit that visited convalescent homes and rehabilitation centers.
"It's an important job, but it's not as rewarding as transportation because you don't see an immediate return," Evans said. "I decided to try something different. I had heard a lot of good things about the school district, their benefits package, and that they treated their employees really well. I figured, 'Why not?'"
After her second year of driving general and special education routes, the district was implementing its first computerized routing program and verifying the two-mile walk boundary. One letter went out to all parents of bus riders explaining the new eligibility rules. Another letter went out to transportation employees as the department needed summer hires to answer phones and speak to parents about the changes. It wasn't a job for the faint at heart.
Needless to say, Evans jumped at the opportunity. Always an interested sort, she had been looking for a way to learn more about behind-the-scenes office work. Plus, who could turn down the extra hours? "As a driver you have summers off but you also have to figure out some means of paying your bills and feeding your family," she said.
She interviewed and was hired. With her desk right outside the director's office, she had a front-row seat to the inner workings of student transportation.
"For eight hours a day, I had to listen to parents' concerns, relate to those concerns, console them about their concerns, but at the end of the day explain to them that, 'This is the policy, this is the regulation,'" she said. "As a parent, I understand your concern. However, due to fiscal constraints, this is the policy this is the procedure, and this is what we build our routes off of."
It was a defining experience for Evans, as she saw the larger implications of student transportation, how the support services truly impact families, how parents holding down two jobs or working the graveyard shift at a local casino relied on the school bus to get their kids to class every day. That's when the transformation of Shannon Evans the school bus driver to Shannon Evans the transportation leader truly began.
She said she finally understood how she could help facilitate communication with parents, so that they could understand the expectations of service and also come to rely on it. At the same time, Evans could help them see that the district cares about getting students to and from school safely and as efficiently as possible.
All this was not lost on the district's administration team.
As she was preparing for that fall's routes, the transportation director called Evans in and advised her that she needed to start thinking about doing more in the department, that she understood transportation and had the ability to calm parents down by explaining the rules and regulations.
In short order, she read the district's transportation procedural handbook and learned all district regulations. She began to learn everyone's job function, and she watched interactions between supervisors and drivers. One day, she told herself, she could be the director.
"All I needed was that little seed to be planted," Evans said.
She soon became Clark County's field investigator in 1996. She evaluated the best placement of bus stops to ensure none were at a busy intersection or in the middle of a curve. She monitored construction and road closures to update the new routing network, and she physically measured the walk zone to ensure parents requesting service weren't living with the walk zone.
"Parents to this day challenge that they are less than 2 miles from the school," she said.
She also continued to drive routes and field trips as a sub, but she also had an eye on the next rung in the career ladder. From 1997 through 2006, she served as a field supervisor, overseeing driver training and hiring. That included expanding the district's driver training program and restructuring the driver in-service. In 2000, she oversaw the creation of the Clark County School District Bus Safety video, and three years later, coordinated the full implementation of Zonar's electronic vehicle inspections and payroll module.
At the same time, she went to school at night after working all day, all in order to obtain her bachelor's degree in business administration and to make herself eligible for promotion. Working at a school district, she was told further career advancement was predicated on achieving a higher education.
"I was determined to take that next step," she said. "I think a lot of people have that same story."
In 2006, the district promoted her to bus operations coordinator, an administrative position she longed dreamed of. It meant more pay and more hours and with it greater responsibility. Drawing upon her training background, she led the development of transportation IEP representatives to attend annual student IEP and Section 504 Plan meetings to determine the related service.
If that was not enough, by 2010, she had helped to save the district $10 million via a bell-time evaluation and balance. Then it came time to move Clark County to a new routing software, at the time called Compass, now a solution of Seon. She said the district is now in its final stage of the transition with the goal of further reducing human error. On the horizon is a new field trip module, but first Evans said she wants to ensure the district is using all possible data elements already available from GPS.
"My buses produce GPS data points, so I know how fast a bus can go during rush hour," she added. "So I want to be able to utilize realistic times, put into our routing software and to be able to then make sure parents get good route timing so we don't have two things happening: Either the bus is early at the school and I have kids sitting on bus until the school opens, or I have students so late that they are missing breakfast. That is all contingent how strong and how mature and how accurate our road network is and our timing."
Despite being named the executive director of transportation in 2014, she continues to be as hands-on as possible with the district's technology, especially routing.
"One of my biggest passions is making sure routing is done right," she said. "Over the summer, I do a lot of my own routing because I'm so adamant we do it right. I want it as close to perfect as possible. Anything that is new I personally do it, first. I'm completely 100-percent vested in making sure it's successful for kids and that drivers are set up for success."
Another challenge facing transportation is addressing a district breakup by a legislative mandate that creates new precincts because the district is so big. Additionally, six new schools are set to open next year. Evans said she doesn't expect service to change too much, but she remains unsure of how restructure will exactly occur.
"We are always looking at technology that will make us better, more efficient, cleaner," she added. "I think that any district not looking to improve no matter in what area it is, is a district that starts to fall behind in technology and service."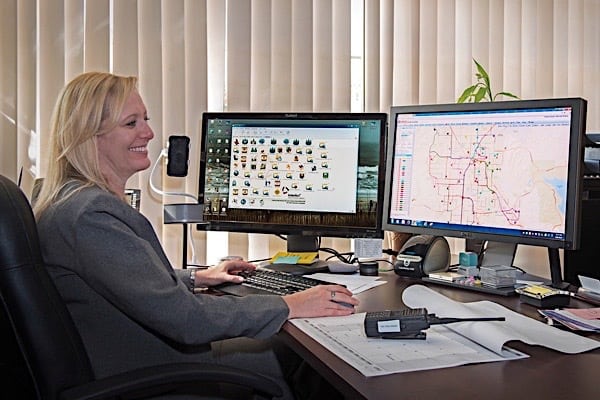 Evans continues to perform much of the initial routing before each school year to ensure Clark County drivers and transportation staff are set up for success from the beginning.
But like most districts, one of the thornier issue remains driver retention and hiring. Over the years, Evans has kept her CDL with school bus certificate. While she has little time anymore to get behind the wheel, she remembers well the job and all the responsibilities—and frustrations—that go along with them.
Last year, she implemented a driver task force to support new and existing drivers and "to slow down the revolving door of drivers," she said.
The district was trying to determine why many new driver applicants were leaving the position after only one week of being driving routes, despite surviving the previous 13 days of training, studying for and passing the written and behind-the-wheel CDL tests and backgrounders. Why was it that these new drivers seemed unprepared for the job despite all the tools they had received?
"For a first-year driver, if you don't have mentors with this generation of students sometimes good structure is not well received," she said. "After seven hours on, they are tired and frazzled. And I was tired of seeing drivers crying and walking out the door."
So a task force was created, first with three members and now 10. It consists of drivers themselves, plus supervisors and driver training instructors, to provide support for any issues or concerns heard from the ranks. The senior member has 50 years of experience with the district.
Boosted by a new department newsletter and suggestion boxes at the district bus facilities, the result has been more open lines of communication from the top down and bottom up, Evans said.
"It has truly had a more positive impact on our new hires," she added. "They were so close to quitting, thinking the job was too hard. But now they want to be at Clark County for a long time. It's fine to have a focus on the students, but there's also value in making sure drivers are heard and supported. They are the ones out there with the kids. How can we hold safety bar so high without top-down support?"
Evans said she credits all transportation staff in such a large operation for pulling their own weight, but none are bigger factors to her success than her administrative team. It's important to her to hire people from different backgrounds with different perspectives.
"When I have an administrator opening, I truly go out there and I try to look for somebody who is different than everyone else sitting at the table … because I feel the more people I can put around the table who have a different opinion, that we're going to be more effective," she said. "I don't want a bunch of nodding heads when I say, 'Hey what if we do this?' I want someone to poke holes in it, I want somebody to challenge me. Because when it does impact drivers or it impacts parents, I know we've already fully vetted that decision or that change."
---
Recently, Evans hosted her mom for a weekend visit. At one point, her mom turned to her and asked, "So why transportation?"
"I told her, 'You know, Mom, I don't know if I can put word to it,'" Evans said. "I truly believe that there are those people who go out and plan their career. My career found me."
Read more from the November edition of School Transportation News magazine.