The Richmond Ambulance Authority, in conjunction with other safety partners and the Virginia Association for Pupil Transportation (VAPT), held a mock school bus crash-test during the VAPT 42nd Annual Conference. The event, "At an Instant, A Mock School Bus Accident," was held on June 19, 2019.
The crash simulation commenced at 9:30 a.m. It was staged to help prepare transportation personnel, school administrators and emergency services for a possible school bus crash.
The entire event was held in real-time, which gave attendees the experience of a serious school bus accident. The purpose was to improve mass casualty care and family reunification, but also to prepare emergency personnel for a "worst-case scenario."
The stimulation was held with live victims and a school bus flipped on its side. A full complement of emergency respondents was called to the scene. The exercise included: law enforcement agencies, multiple fire and rescue departments, an on-scene mobile incident command post, a mass casualty medical ambulance bus, and crash scene investigators from the National Transportation Safety Board.
Children and adults were depicted as injured, with frantic, screaming "parents" rushing to the scene in an attempt to reach their child. Part of the demonstration required police and school administrators to handle the parents, while the fire and rescue personnel attempted to free the bus occupants and get them to safety. Concurrently, medical teams were waiting to treat them at the scene.
The driver of the school bus, a training dummy, was pronounced dead at the scene and loaded into a hearse for transport.
James Lash, past-president and program committee co-chair for VAPT, said many spectators became emotional having witnessed the event. Several of the attendees said they had experienced such tragedy before.
Following the crash, a panel debrief session was held with expert fire and rescue personnel, law enforcement, NTSB investigators, an insurance representative and a school principal.
During the panel discussion, attendees reviewed seatbelts, fire suppression systems, the training opportunity, cause of school bus crashes and more.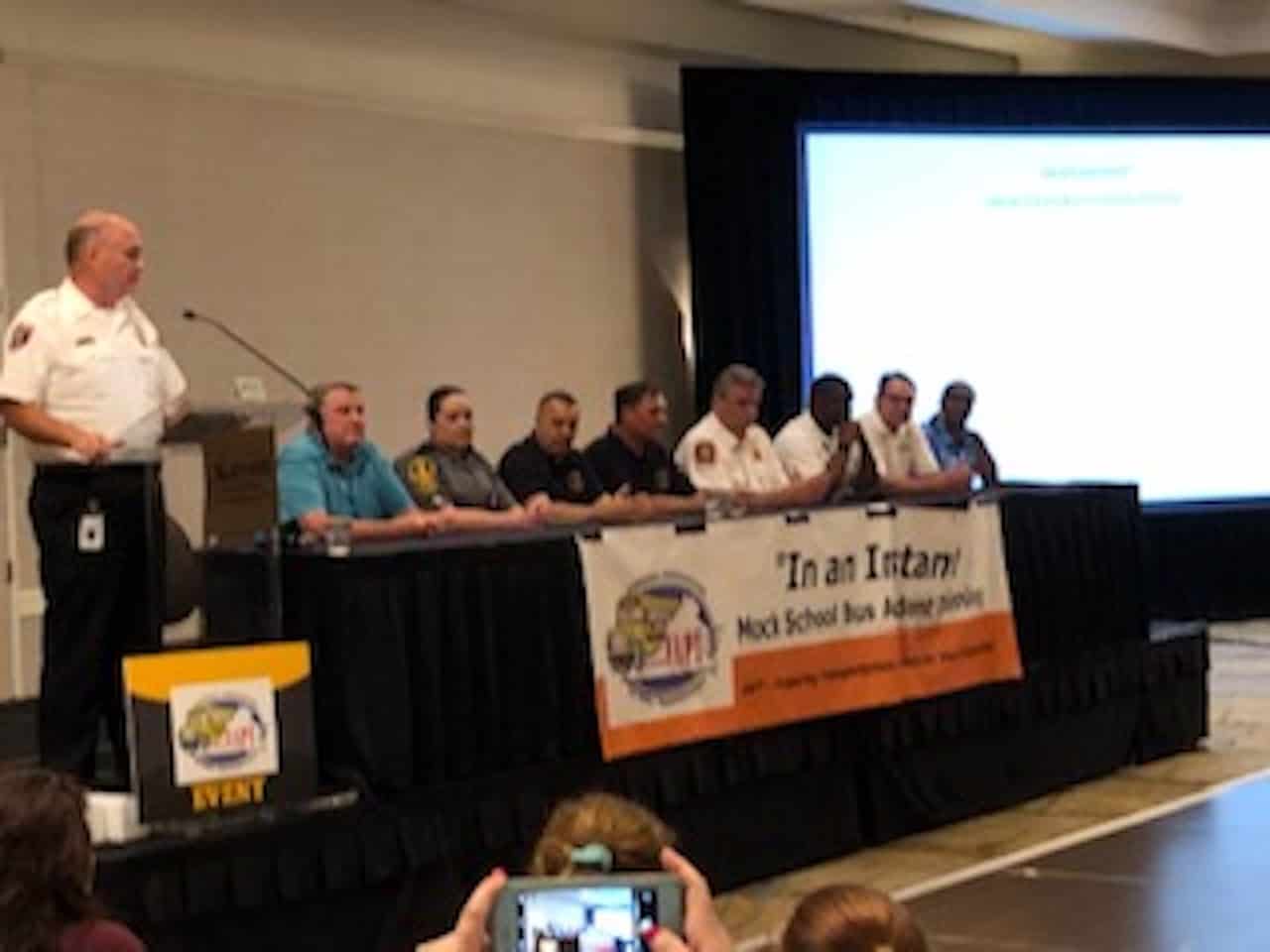 Editor's Note: School Transportation News reached out to obtain information regarding the session and will update the article when the information is available.