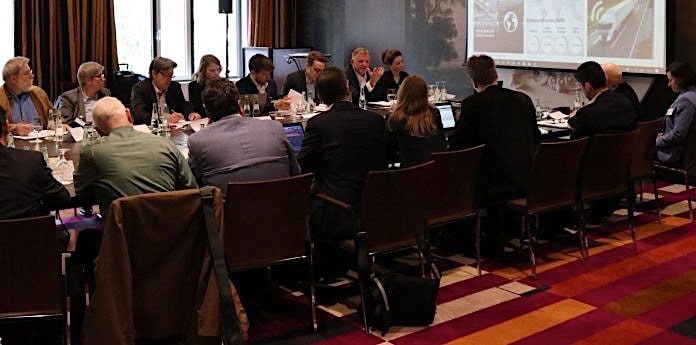 Navistar would not comment on reports that partner Volkswagen Truck & Bus is interested in eventually purchasing the company, only to say it looks "forward to continued success with our strategic alliance."
A Volkswagen Truck & Bus spokeswoman relayed to School Transportation News that Chief Financial Officer Matthias Gruendler told reporters during a Tuesday press conference that a takeover "would theoretically be possible," and that it could "make sense" in light of the company's strategic partnership with Navistar. Gruendler made the comments in response to a journalist's question about increasing the company's 17 percent ownership of Navistar over the next year, which would initiate a mandatory takeover offer.
Bloomberg News reported that the full acquisition of Navistar could cost $3 billion to $4 billion, and could be funded wholly by parent company Volkswagen AG, despite talk of an initial public offering (IPO).
Navistar stock closed trading on Tuesday, up 9.85 percent to $40.71 per share.
VW Truck & Bus was formed in 2015, from bundling the MAN, Scania and Volkswagen Caminhões e Ônibus truck and bus brands. The new unit then initiated its "Global Champions" strategy, the results of which the VW Truck & Bus executive board provided during the Monday roundtable.
Revenues have increased by nearly 17 percent over the past three years, and last year alone, VW Truck & Bus saw revenues of €23.9 billion ($29.5 billion). With brand market share at 35 percent in Germany, one third in Europe and 40 percent in Brazil, VW Truck & Bus will next target North America, as evidenced by the $256 million joint procurement venture with Navistar that closed last March.
That deal not only allowed VW Truck & Bus direct access to NAFTA, but furthered company development of engine and drive train technologies in conjunction with Navistar. The parent company, IC Bus, meanwhile, has worked with its partner to develop electric vehicles, such as the chargE concept school bus, and to enhance connected technologies, such as OnCommand Connection.
Following last week's news that VW Truck & Bus also finalized a strategic partnership with Hino Trucks, Navistar reiterated to School Transportation News that it remains on schedule to achieve at least $500 million in savings over the next five years from the VW deal.
VW Truck & Bus also announced on Monday it is bundling its digital products into the new Volkswagen Truck & Bus Digital Services, the first brand being the cloud-based RIO.
"In doing so, the company intends to advance the digital connection of transportation along the entire value chain," a statement read. "Already today, more than 360,000 connected trucks from MAN and Scania are driving on Europe's roads. Including the Navistar fleet, this will increase to 650,000 connected trucks."