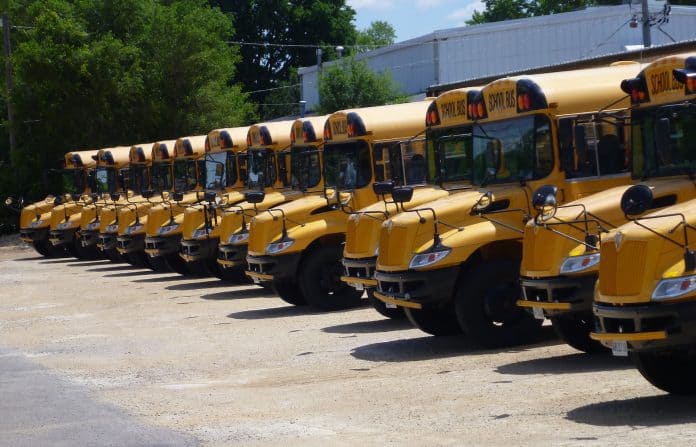 Two consultants who have worked with school bus operations across the U.S. provided strategies for school district fleet improvement and optimization, during yesterday's popular fleet management webinar.
The information was provided in a free webinar hosted on Wednesday by Tim Ammon, chief of business development for TransPar Group of Companies, and Paul Lauria, president of Mercury Associates. The webinar focused on handling fleet management, by understanding economic factors that affect school bus replacement, educating and cooperating with district decision makers, and implementing practices and procedures to streamline the process.
"Transportation in a school district is often one of the most under-appreciated and misunderstood services available," stated Ammon. To that end, he said, both his and Lauria's companies advise districts on how to make their school bus replacement plans more visible and institutionalized.
Lauria added that the transportation department is often an under-represented and under-invested part of the overall school system. That's because it is not seen as directly supporting education, or because others are unaware of what it takes to acquire, run and maintain the fleet of school buses. This perception is not aided by the division of tasks in some school bus departments, where different staff members are responsible for solving different "puzzle pieces." Both vehicle management and oversight of activities like accounting, IT, purchasing, and other operational tasks, are essential.
He explained that transportation department management is only going to get more complicated, due to more sophisticated vehicle technology, more data-driven decisions and a "brain drain." That has resulted in the industry losing more employees than it is gaining, especially so-called millennials.
"The reality is, a lot of organizations are feeling overwhelmed by the vast quantities of data that they're trying to make sense of," Lauria commented. From the 1980s to the present, he observed that businesses transitioned from paper to mostly computer-based technologies. Good record-keeping is essential to demonstrate compliance and thereby reduce risk. Real-time data capture and analysis assist operational management, by identifying areas in need of improvement.
Additionally, transportation department heads need to understand that costs and expenditures are two different things. In-house versus contracted services need to be considered, and make sure they are equipped with people who can handle all of the data they are receiving.
"Having an old fleet isn't a necessity, it's a choice," stated Lauria. Coming out of the Great Recession, many districts still have a backlog of old buses that they want to replace. But even abiding to mandatory replacement criteria may result in the average age of a fleet being high. He explained that there's a sweet spot to replacing a bus after you get the most operational life out of it, but before it starts requiring more maintenance to keep it running.
Continuing to operate old buses doesn't necessarily save a district money in the long-term, he cautioned. "If you can afford to operate an old fleet, you can afford to operate a less old one," Lauria added.
He said that districts often underspend on new school bus purchases, because they don't understand that fleet costs aren't constant year-to-year, or because the transportation department cannot provide transparency to help them understand.
These are misunderstandings that were highlighted during a class for new transportation directors that was held during the STN EXPO Reno in July. Presenters strongly advised directors to come armed with statistics, information and facts. Those would be necessary for responding to school board members and other district administrators who inevitably have a barrage of questions about the financials of their district's school bus operation.
Transportation department heads, Lauria said, must understand and share with decision makers the differences between costs, which are impacted by the economy and expenditures. These, he said, must be considered in relation to the district's fiscal realities.
Fleet replacement options include cash purchases, incrementally apportioned reserve funds, loans and leases. A "smooth" replacement plan requires less money up front, but in later years, the department will see a need for more funds as it comes time for backlogs of old buses to be replaced. Some options result in a newer fleet, as well as saving the district money.
By quantifying operating costs to superiors, it can be determined what the most reasonable way to reduce costs is—and what actions, if any, need to be taken regarding bus replacements and contracting. Breaking it down by year may also reveal inconsistencies and inefficiencies.
Lauria stated that this improving economy is helping districts play catch up, but this window of opportunity will close with the next recession. Now is the time to put these tips into practice, he recommended.
Most of the industry is familiar with and suffers from the current school bus driver shortage. Lauria posited that a related "brain drain" consisting of baby boomers leaving the industry also results in shortages of transportation professionals. Thirty years of employer underinvestment in human capital, plus difficulties related to millennial workers, add to this. He advised being proactive about employee culture, compensation and professional development to staunch the "brain drain."
He also suggested standardizing and developing policies and procedures to reduce dependence on a wealth of information that only exists in long-time employees' heads. Writing it down also helps ensure everything that needs to be done is being done, and uncovers any deficiencies.