A Wisconsin school bus driver is developing caring relationships with his student riders and parents and gaining their respect, all while having fun.
One of the school bus drivers at Student Transit Eau Claire, Rick Krause, was recently recognized by a local news station for his caring relationship with a young student rider.
Krause is beginning his 10th year as a school bus driver with Student Transit Eau Claire. He has driven the same morning and afternoon routes for the last five years, which has allowed him to build bonds and establish relationships with many students.
Driving the same routes year in and year out is a company goal, said Jim Fye, vice president of operations. That way, drivers like Krause can get to know the parents and students, plus it makes for a more controlled school bus environment.
The deep bond that Krause has built with the students and parents on his route has doubled his original five-year plan for driving a school bus as a retirement gig. It's the relationships, said the former firefighter of 30 years, that motivates him to get up every morning. For now, Krause doesn't have a foreseeable end date.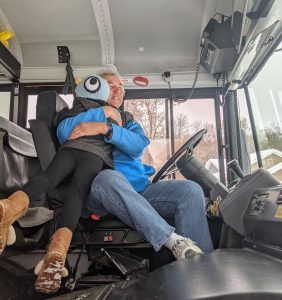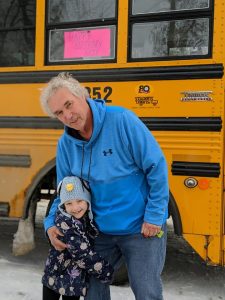 "Being a firefighter is kind of stressful, and I thought, I want to be around people who are in their happiest moods, not having a heart attack or in fires or car accidents," Krause explained. " Kids always seem to be upbeat. They see the world much happier than adults do. So, I just thought I would give it a shot one year and play it by ear."
Krause has gotten to know the parents and students on his bus very well. He relayed that at the beginning of each school year, he and his bus passengers play a game whereby they all introduce themselves.
"Half the parents on my route have my cell phone [number]. They text me the night before if their child is not going to be on the bus, that's how close we are," Krause explained. "I want to know about them and they want to know about me."
While Krause and wife Terri don't have grandchildren of their own, over 100 students fill the void in their lives. He said he and Terri are always attending the students' plays, band concerts and hockey games.
"My wife says if you say 'yes' to one, you better go to all of them because you can't show favoritism," Krause laughed.
While he does have rules on his bus, namely stay seated and don't bully, he said his bus is governed by the value of mutual respect.
He also understands that students are going to be a little loud after a long day of classes.
"They are cooped up in a classroom for six to eight hours a day. When they get out of school, I don't expect them to sit there like little statues," Krause said. "I know they are going to be a little bit louder and have fun. I want to see them have fun. I want them to enjoy themselves, as long as they are nice to each other and they stay seated."
Krause said the kids aren't the only ones who have a good time on the route. He enjoys the various stories that the kids tell him about their lives. While he admitted that he would have never wanted to ride a school bus as a child, many students on his route are sad if they don't get to ride it that day.
He said people will come up to him years later and remember his name and give him a hug. Krause said it's the relationships he builds on the bus that make the ride so special and enjoyable. He wants to hear what's going on in the children's lives, but it's only fair that he shares about his life as well.
"I am a firm believer that as you get older, if you stay with young people, you stay young," Krause explained. If you "stay with old people, you are going to get old. So, you kind of feed off their energy."
---
Related: Love the Bus Month Kicks Off in Central Florida
Related: School Bus Drivers Helping with Happy Hearts
Related: School Bus Drivers Going the Extra Mile
---
This week, Krause wasn't the only driver being recognized. Student Transit Eau Claire is celebrating all of its drivers in honor of Wisconsin's School Bus Driver Recognition Week.
"Rick got recognized for his connection with Arianna Peggs. But there are so many of our employees, bus drivers and monitors that have such a great connection with their students," Fey explained. "I am blessed to work with, what I think, is the best group of drivers in the country."
Fey said this week gives his operation the opportunity to show extra appreciation to its drivers. The week, which also happens to fall during Love the Bus month, recognizes more than 15,000 school bus drivers throughout Wisconsin.
The proclamation, signed by Gov. Tony Evers, states that Wisconsin bus drivers are responsible for transporting more than 600,000 students to and from school every day. The week highlights the importance of school bus drivers and the impact the yellow school bus has in the state.
"We understand the importance of [school bus drivers] and the impact that they have on the world's most precious cargo, when they get on the bus every morning and when they get dropped off every afternoon," Fey said.
Student Transit Eau Claire is a fourth-generation, family-owned business that provides student transportation to the Altoona and Eau Claire area school districts. The company has been in business since 1939 and is one of Wisconsin's oldest student transportation providers.
This week's driver celebrations began on Tuesday with a breakfast event. James Fey said his brother Ray Fye, who is also the company's president, cooked eggs, bacon and pancakes. The meal awaited the drivers when they returned from their morning routes.
The 130 drivers, 50 monitors and four technicians are also being treated to a pizza party lunch this week, which will be served before they perform their afternoon routes.
"The schools do a great job in supporting the drivers as well," Jim Fey said. "They will actually bring treats down, it might be a cheese and sausage tray with crackers, it might be donuts and muffins, or coffee and bagels. They do a great job of also supporting our team."