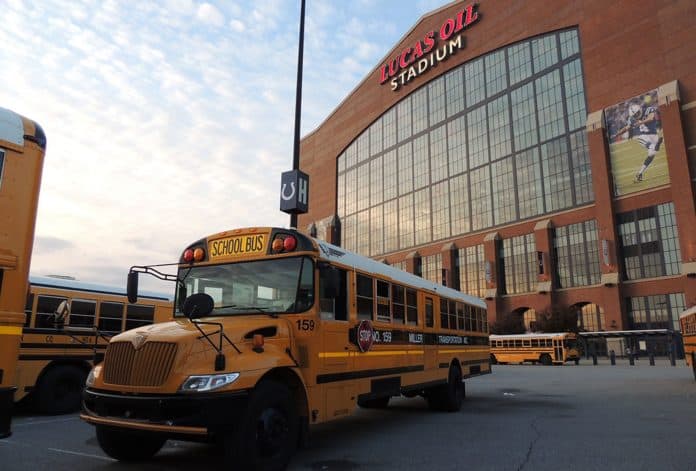 Charter and field trips add complexity to student transportation operations, but school districts say they are worth the extra expense to support learning and development.
School bus trips are an important part of student life in every school district. In addition to transporting students to and from school, they play a vital role in transporting teams to sporting events in other cities, and bands to competitions in other states, for example.
Many independent tour companies provide modern, state-of-the-art motor coaches for field trips to the destinations. Some are for students and family members, while others are designed for a variety of age groups and interests, including young adults, seniors, singles, sports fans, history buffs, art lovers, church groups and more.
Miller Transportation, located in Indianapolis, offers luxury coach overnight trips as far away as Washington, D.C.; Memphis and Nashville, Tennessee; San Antonio, Texas; New Orleans, Louisiana; Charleston, South Carolina; and Savannah, Georgia. Closer to home, there's a bus trip to the Wheeler Mansion for Thanksgiving's Turkey Dash, Broad Ripple Arts Fair, Blue Springs Cavers and Fort Benjamin Harrison. Valentine's Day Heat, across the river, features a dinner playhouse, and Chicago is the scene for Miller's St. Patty's Day Weekend Celebration. There are trips to satisfy every interest.
For students in the Indianapolis area, a fleet of modern school buses brings them to annual events like the Indy 500, Kentucky Derby, Bands of America, state fairs and sports tournaments, where school soccer, basketball, baseball and tennis teams are all represented. Miller Transportation continually adds new trips and is committed to maintaining state-of-the-art conditions on all of its buses.
"School buses offer transportation as an economical mode of transportation. They provide the basic needs to move a group of people quickly," pointed out Todd Edwards, the school bus operations manager for Miller Transportation. "Motorcoaches, however, offer amenities, such as a restroom, cloth seats, and entertainment options, [so they] therefore cost more."
Some of the challenges in using school buses include differing schedules from one type of school to another—elementary, middle school, K-8 and high school. And there are last-minute changes with outdoors sports events, due to weather, traffic and unforeseen situations. Sometimes, a game is delayed one or two hours, so the start time is moved, and the bus operator and router must adapt.
"I don't think of us as a big company, but we are a big company and we're always growing. Because we're family-owned, we can operate with family values," Edwards added. "We're also business-savvy, looking for new travel opportunities, and our buses use the latest technology, with interior and exterior cameras, forward-facing windshield cameras and GPS tracking. Our dispatchers [also] monitor local weather and traffic conditions. But most importantly, we're invested in the community, and we're staying."
Chris Ellison, transportation manager at the Eugene School District in Oregon, operates about 4,000 field and activity trips per year that cover 250,000 miles. His career path led from bus school bus driver to driver trainer, operations manager, trips director and finally, manager. "Safety is No. 1 for us. We only do what's right for the kids," he said. "With about 17,000 students at 20 elementary, eight middle and four high schools, we're the eighth largest school district in the state. That's a big responsibility."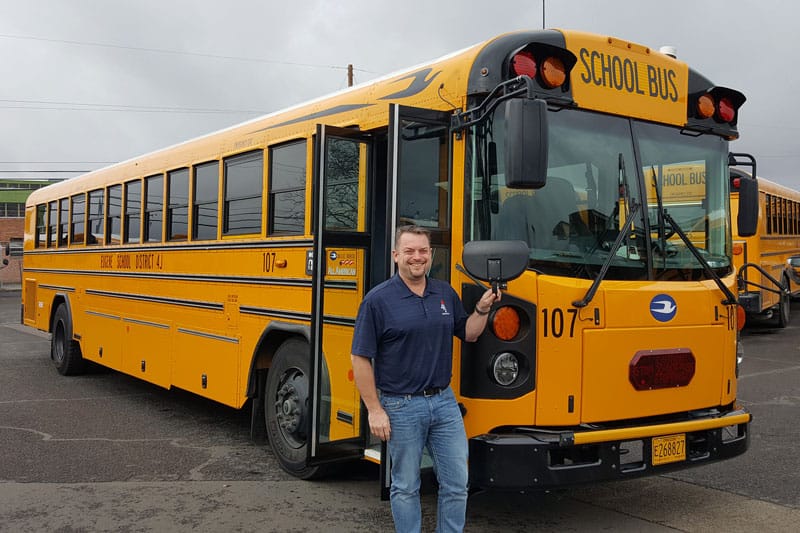 The annual Band Fest in San Francisco is one of the school district's most popular trips, and it is always booked months ahead. The seats for Lava Caves in eastern Oregon also fill quickly. Ellison still drives the buses himself. "Connects me with my roots," he explained.
On one visit there, a student fell into the lava, and very fortunately, was rescued in time. "We've had many adventures," he explained.
Ellison's tour groups have stayed in three-story luxury inns and lodges, and rustic A-frame huts. From state parks, historic monuments and national parks, "We've been everywhere," he says, "And I still love it." When asked how he guarantees such a large roster of school bus trips, he answered that the district maintains a large fleet of spare vehicles. "So, we always have enough that are ready to go," Ellison said.
Metropolitan School District of Lawrence Township in Indianapolis uses Tyler Technology's Trip Tracker, combined with "smart sheet" requests for district approval prior to scheduling and dispatching field trips. Most of the district's trips remain within Marion County, "with a handful of trips annually outside the state," observed Matt Miles, director of transportation for the district.
The most in-demand destinations are the Indianapolis Zoo, Children's Museum, Indianapolis Repertory Theatre and Conner Prairie. And there are dozens of trips for athletic teams and performing arts groups. The marching band's trip to Pasadena, California, to participate in the 2017 Rose Bowl Parade, and "District Night" football at Lucas Oil Stadium, are annual highlights.
All of Miles' bus drivers are Metropolitan School District staff, but sports team coaches and other employees can be trained and certified to drive activity buses. MSD doesn't have a charter bus program like Miller Transportation or larger school districts. Of course, all federal DOT, state and MSD safety rules are strictly observed.
But it's not always smooth sailing. Occasionally, a bus or driver isn't available when needed. And the trip requesters might not have complete details when they book a trip; games can't always be predicted, and performing arts groups need approval from their venues. Then the weather can play havoc with the best-laid plans. The bottom line is, timely and accurate communication between all parties is essential for a successful outcome.
At Belleville Independent School District, Director of Transportation Cody Cox said his staff plans the transportation, while the campus sponsor handles sleeping and food arrangements. The district's 3,000-plus annual trips range up to 500 miles from home, including neighboring states, and often require multiple buses. The number of trips has increased every year since the district opened, and last from five to 18 hours.
All of the drivers are regular school bus staff or substitutes with full qualifications. Trips are planned for kindergarten through 12th grade, with most of them provided for the high school students. Of course, the most popular destinations are repeated every year.
Cox explained that one challenge is that a school sports team or performing arts group trip can result in a shortage of school buses and/or drivers that would then be available for regular routes. Currently, Belleville ISD has 14 dedicated trip-only buses, which are usually enough to handle the need.
Still, Cox said field and charter trips create operational stress, so the increased mileage on the buses increases the possibility of vehicle breakdowns. Bellville also has a dedicated staff member who ensures these buses are frequently cleaned, fueled and inspected.
"It seems we do more and more trips every year, and I think this is awesome. [However] it does create more work for us, but we are here to make all possibilities possible for our students," Cox explained. "We are a support service and will always find a way to support our students in the educational setting."