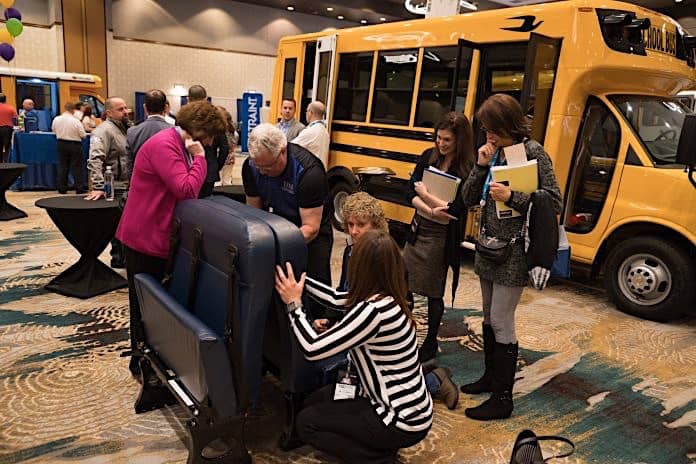 "I love coming here. It's like the "Shark Tank" of our industry," attendee Heather Handschin commented during the Trade Show held on day four of last month's national Transporting Students with Disabilities and Preschoolers Conference. Several fellow attendees entering the Trade Show with her expressed the same level of anticipation. For their part, the vendors were ready and eager to share their new offerings, flagship products or improved staples.
Handschin, transportation coordinator for Spotsylvania County Public Schools in Virginia, said she was seeking new transportation software, several options of which were represented at the show on March 12 in Frisco, Texas. There were also school bus manufacturers with full-size school buses parked in their booths; restraint manufacturers with bus seats, booster seats, and dolls, so attendees could practice; parts suppliers whose areas were packed with their many offerings; and newcomers that had never exhibited at the show before, but enjoyed a high level of visibility and good conversations.
Since the conference primarily focused on transporting students who are young, have special needs or are disabled, most of the products and services offered did as well. Representatives from HSM Transportation Solutions were kept busy demonstrating their new school bus seat, which includes an integrated harness for young students that can be neatly folded into the seat to accommodate routes that transport older students.
Easy Way Safety Services displayed several types of school bus seats, booster seats and child safety restraint systems. VP of Sales Kathy Anneken reported that the SafeGuard STAR seat from IMMI is its most popular product. President Tom Sackett added that they expect more interest in child safety restraint systems, due to a recent Indiana state law mandating them for preschool students.
Editor's note: A previous version of this blog confused the SafeGuard STAR seat with a similarly named seat-frame product from Thomas Built Buses.
New exhibitor Safely Cross Stop Arms was started just months ago by Danny Ringer, who explained that he sold his jewelry business to start the company, because he noticed stop arms were difficult to see, especially when turning a corner. So he invented a longer stop arm that is "almost maintenance-free," sticks 4-6 feet into the next lane and includes a solid row of LED lighting. He is manufacturing units for a school district in Saipan as a result of his TSD booth, and said he has 15 U.S. districts that are interested in beta testing.
Secure Transport provides school transportation for students who cannot easily ride a school bus, because of blindness, deafness, homelessness, severe disabilities, or bad behavior. John Chapman, southwest regional VP of sales, shared that the company expanded from providing limousine and medical services, after receiving a special transportation request from La Mirada School District near Los Angeles over 15 years ago.
AMF-Bruns of America displayed a free-standing head and back rest that bolts into the floor behind a wheelchair, which stabilizes its student rider and protects the rider in the event of a crash. The system is mandatory in Europe, but its U.S. application has to this point mostly been for personal and nonschool bus student transportation, said Sales Manager Steve Barker. It is crash tested for forces up to 20G.
The Q'straint/SureLok booth gathered crowds watching Southeast Regional Manager Chris Yarber demonstrate the updated QRT-360 wheelchair tiedown hardware, which has an auto-tension feature that tightens the securement as the school bus drives.
"ADA (Americans with Disabilities Act) says less than two inches of movement; with auto-tension you won't have two millimeters of movement," Yarber declared.
A Maryland attendee said she appreciated having the retracting system, rather than manually ratcheting each securement strap.
Yarber also reviewed correct securement techniques for manual tiedowns, including making sure the webbing used with J-hooks does not become twisted, because the product was not crash-tested that way.
Lisa Nippolt, Q'straint's western regional manager for the school bus and para-transit markets, also demonstrated how the combination retractable lap-shoulder belt could either serve as a lap-shoulder belt for non-WC-19 wheelchairs, or be doubled up to serve as an adjustable shoulder belt for wheelchairs with a lap belt.
Spot My Bus is a relatively new offering in the area of school bus tracking, but President Matt Brenner shared that it is one of the cheapest, coming in at just $19 per bus per month. There is no distraction of tablets, because all guidance and alerts are auditory. The system provides tracking, reporting and alerting, but requires little gatekeeping.
Within the past year, Rosco Vision Systems added a 360-degree camera with a helpful grid overlay to assist in backing up a school bus. South Central Regional Sales Manager Stephen Climer commented that bus drivers who are familiar with such technology in their personal vehicles would appreciate the feature's introduction to school bus applications.
William Jolbert, VP of vehicle systems at Amerex Corp., reviewed some features of the company's offered school bus fire suppression systems. The dry suppression system, he explained, is designed to access all the hard to reach areas of a hot engine, while the wet version cools the heated mechanism while also dousing spilled fuel on the ground beneath the bus. The Amerex system also completes the crucial step of shutting off the fuel supply, should a fire break out.
FleetSoft's President Kurt Claussner explained that version 11 of the company's fleet management software included integrations with Zonar Systems and Synovia Solutions.
This is by far not an exhaustive list of the creative products and services offered, or the conversations that took place that day, but it is a small sampling. From all reports, the four-hour-long TSD Trade Show resulted in valuable connections, and ultimately better student transportation operations.
Read more about new product offerings at the TSD Trade Show and see a photo gallery.