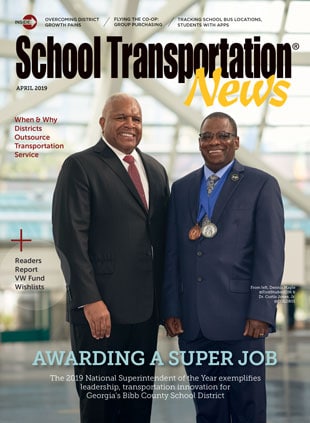 Superintendent of the year, contracting out student transportation, growing school districts and more.
Read the full April 2019 Issue here.
Cover Story 
Making Change
Dr. Curtis Jones, Jr. was recently named the 2019 AASA National Superintendent of the year. The retired U.S Army Lieutenant colonel uses the leadership he learned in the military to improve Bibb County School District in Georgia.
Features
Contracting Student Transportation
School districts are considering outsourcing for all or parts of their transportation services, in order to keep costs down and combat driver shortages.
Growth Spurt
Transportation departments are adapting to the growing needs of their school districts, by offering additional training and higher pay to employees.
Fuel Fun(ds)
School districts weigh in on how they hope to use Volkswagen Mitigation Trust Fund dollars for new school bus purchases.
Purchasing Power
Purchasing cooperatives help to consolidate purchasing, lower prices are helpful when specifying new buses.
Special Report
School Bus Transparency
A recent New York City law highlights the importance of apps that provide parents with real-time updates about the location of their children's school bus.
Sections
Feedback
Online
TSD Photo Gallery
Trends
Ad Index
Product Info
Marketplace
Columns
Editor's Take by Ryan Gray
The Assurance of Great Leadership
Publisher's Corner by Tony Corpin
How do you Make a Difference?