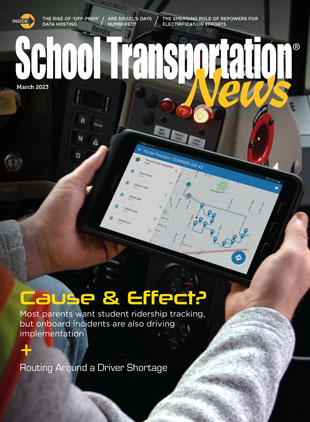 In this month's issue, our cover story dives into the details of using student rider data to accurately track students when they board and leave the school bus. Learn more about new EPA regulations & what that means for diesel, how to manage the costs of fleet electrification with grants, the future of storing data in the cloud, retaining staff amid ongoing driver shortages and more!
Read the full March 2023 issue.
Cover Story
Keeping Tabs
Student ridership data that tells parents where their children are can also assist school districts with ensuring the students exited the school bus in the first place.
Features
Rotating Through Driver Shortage Solutions
Today's bus driver shortages are presenting challenges to the way school buses are routed. Transportation directors are getting creative with solutions as a result.
Diesel Isn't Dead..Yet?
As the new 2027 EPA emissions regulations look to further tighten engine standards, industry professionals are asking what it all means to the future of diesel.
Consider a Repower
The initial sticker shock when purchasing an electric school bus regardless of grants are locking out some student transporters from experiencing the advantages. Enter repowers.
Special Report
Working Smarter in the Cloud
As on-premises servers are becoming the "old way" of housing data, vendors and transportation directors talk about the benefits of moving everything off premises into the cloud.
Editor's Take by Ryan Gray
The Yellow Tech Race
Publisher's Corner by Tony Corpin
Help Wanted