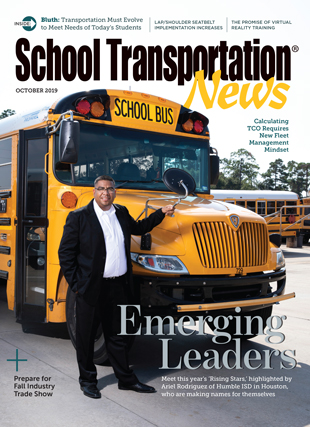 Meet our 2019 Rising Superstars in this month's issue. Then read about the growing popularity of seatbelts, augmented and virtual reality training, and what to consider when calculating the total cost of ownership (TCO).
Cover Story
Meet This Year's Rising Stars
Ariel Rodriguez and nine other individuals answer the bell in this annual installment of "Rising Stars" that celebrates up-and-coming student transportation professionals.
Features
Seatbelt Implementation is Starting to Click
Amid increased interest in states to demonstrate the safety benefits of lap/shoulder seatbelts in school buses, the number of voluntary installations is growing.
A New Driver Training Reality
Augmented and virtual reality training, while expensive, can simulate the actual environment that prospective employees would be placed in. What promise does it hold for school bus drivers?
Innovations on Display
Browse this month's advertisers that are exhibiting next month in Columbus, Ohio, at the NAPT Summit trade show.
Special Report
What to Consider When Calculating TCO
A smarter spend of money on fleet and technology updates allows for a more reliable and fiscally responsible fulfillment of the mission to transport students safely.
Sections
Feedback
Online
Trends
Ad Index
Marketplace
Columns
Editor's Take by Ryan Gray
Driven to Serve
Thought Leader by Linda Bluth
Is the Industry on the Right Side of the Road in Serving All School-Aged Students?
Publisher's Corner by Tony Corpin
Buy, Lease, or Finance Your School Buses