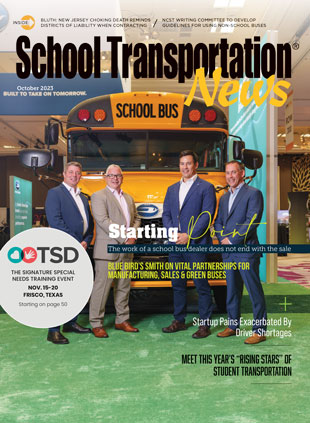 Meet the 2023 Rising Stars and learn more about their commitment to excellence in training, electrification and leadership in this month's issue. Hear from the new president of Blue Bird on how the company is prioritizing building solid partnerships with their customers. Also, learn more about training, liability and safety concerns in the industry, and the conversation around the latest guidelines for alternative student transportation.
The TSD Conference preview includes keynote speakers, daily agenda, exhibitor list, unique experiences and more!
Read the full October 2023 issue.
Cover Story
Bridging the Support Gap
School bus dealers are the link between customers and OEMs, They bring much expertise to the table for both partners, especially when it comes to school bus elecrification and deployments
Features
The World Series of School Transportation
Do everything that you normally do, but with 30 percent fewer drivers. It's not an easy task yet directors share their teams are making things work, with some hiccups, this fall.
Rising Stars: Flying Under the Radar No More
Meet 10 professionals who show excellence in their local operations, whether that be adopting electric school buses, teaching securement best practices, or training the next batch of drivers.
TSD Conference Preview
This year's conference and tradeshow provides attendees with invaluable networking opportunities amid information sharing on all things related to transporting the industry's precious cargo.
Special Reports
NCST Takes on Issue of Non-School Bus Transportation
The National Congress on School Transportation is developing guidelines for non-school bus vehicles that are on the rise amid the growing school bus driver shortage. Not everyone is happy about it.
Q&A: Market Wisdom
Britton Smith, named the new president of Blue Bird earlier this year, shares the company's vision when it comes to partnerships and manufacturing zero and near-zero emission school buses.
Editor's Take by Ryan Gray
Student Transportation Safety Is No Game
Thought Leader by Linda Bluth
Liability of School Districts in The Transportation of Children With Disabilities
Publisher's Corner by Tony Corpin
The Crucial Role of Training in Professional Growth