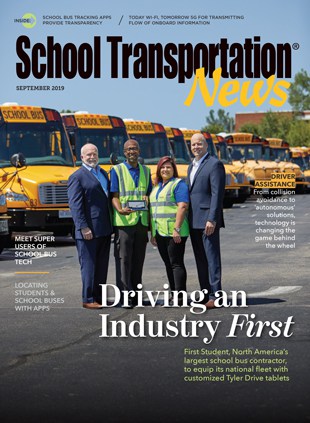 This technology issue covers onboard tablets, disruptions in the industry, new emerging technology and the industry's Super Users.
Read the full September issue. 
Cover Story
Are Onboard Tablets the New Norm?
School bus contractor First Student and Tyler Technologies team up to provide 42,000 buses across North America with tablets that include customized software.
Features
Technology Disruptions in School Transportation
Jim Harris, a keynote speaker at the 2019 STN EXPO Reno and best-selling author, discusses the new technology that is available today. These new developments will provide increased safety and efficiency for school bus services.
Getting Safer with Collision Mitigation
The era of school buses being able to avoid crashes has arrived. But so far, student transporters are slow to adopt the technology. That should soon change.
Technology Super Users
School districts nationwide are dabbling in new technology, with GPS at the forefront of purchasing decisions. Several "Super Users" share their stories and discuss how new technology is transforming their fleet.
Special Reports
School Bus Wi-Fi Proves Beneficial
Several districts have installed Wi-Fi on buses to track routes, improve the flow of data and identify inefficiencies. Wi-Fi also provides students with more productive homework time while traveling to and from school.
School Bus Tracking Apps Provide Transparency
Parents are increasingly demanding to know where their children's school buses are and when they'll arrive. The technology is also providing student transporters with improved peace of mind.
Sections
Feedback
Trends: Using Technology
Online
Photos from STN EXPO Reno
Ad Index
Product Info
Marketplace
Columns
Editor's Take by Ryan Gray
Connecting the Dots
Thought Leader by David L. Hopper
Cloud Computing & the School Bus Industry
Publisher's Corner by Tony Corpin
Superfast Moving Technology