During breaks in next month's inaugural STN EXPO Indianapolis conference at the downtown JW Marriott, you will want to see and explore what's around town. But don't forget to register first. While not to be considered as a definitive list, the following suggestions are a collection of favorite family-friendly places. And don't miss out on where bank robber John Dillinger is buried (see No. 20 below). Really. Who knew!
1. Allison/Rolls-Royce Museum — 450 S. Meridian St., Indianapolis IN 46225; 317-230-6516; http://www.rolls-royce.com/heritageindy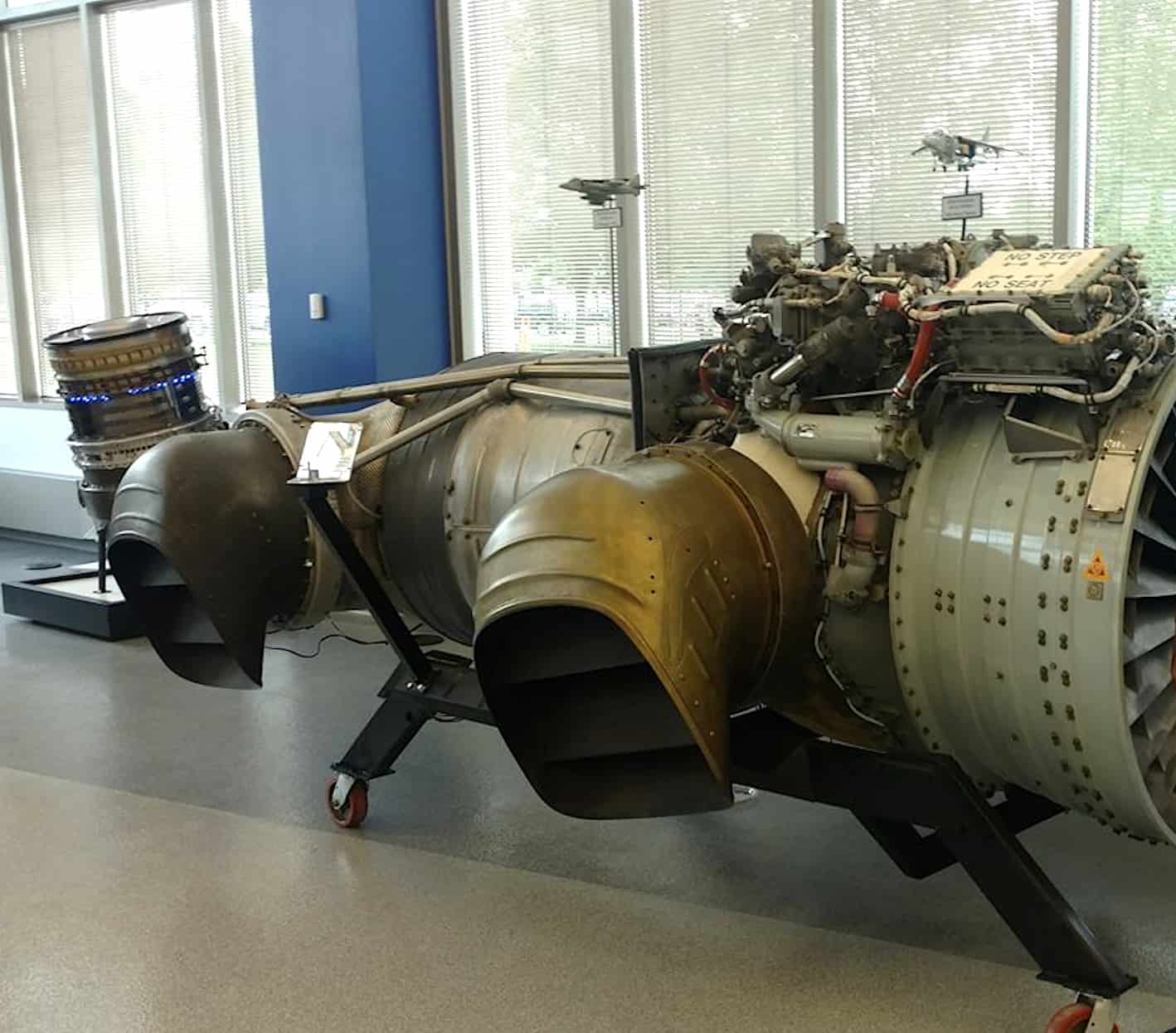 Located on the first floor of the Rolls-Royce Meridian Center's offices. Admission is free. See an extensive collection of aircraft engines made by Rolls-Royce and by Allison Engine Company. Yes, that Allison. According to Will Higgins at the Indianapolis Star, it's small by museum standards, just 6,000 feet, but if you're interested in how engines work, it's worth a trip. Touch screens tell the stories of the different machines, and some of the motors have moving parts and cutaway windows. Unlike at most museums, visitors here are allowed to touch anything they want. Rolls Royce acquired Indianapolis-based Allison in 1995. Allison has made engines for large airplanes and ships since the early 1900s.
2. Eiteljorg Museum of American Indians & Western Art — 500 W. Washington St., Indianapolis IN 46204; www.eiteljorg.org; 317-636-9378; Hours: Mon.-Sat. 10-5 p.m., and Sun. 12 p.m.-5 p.m.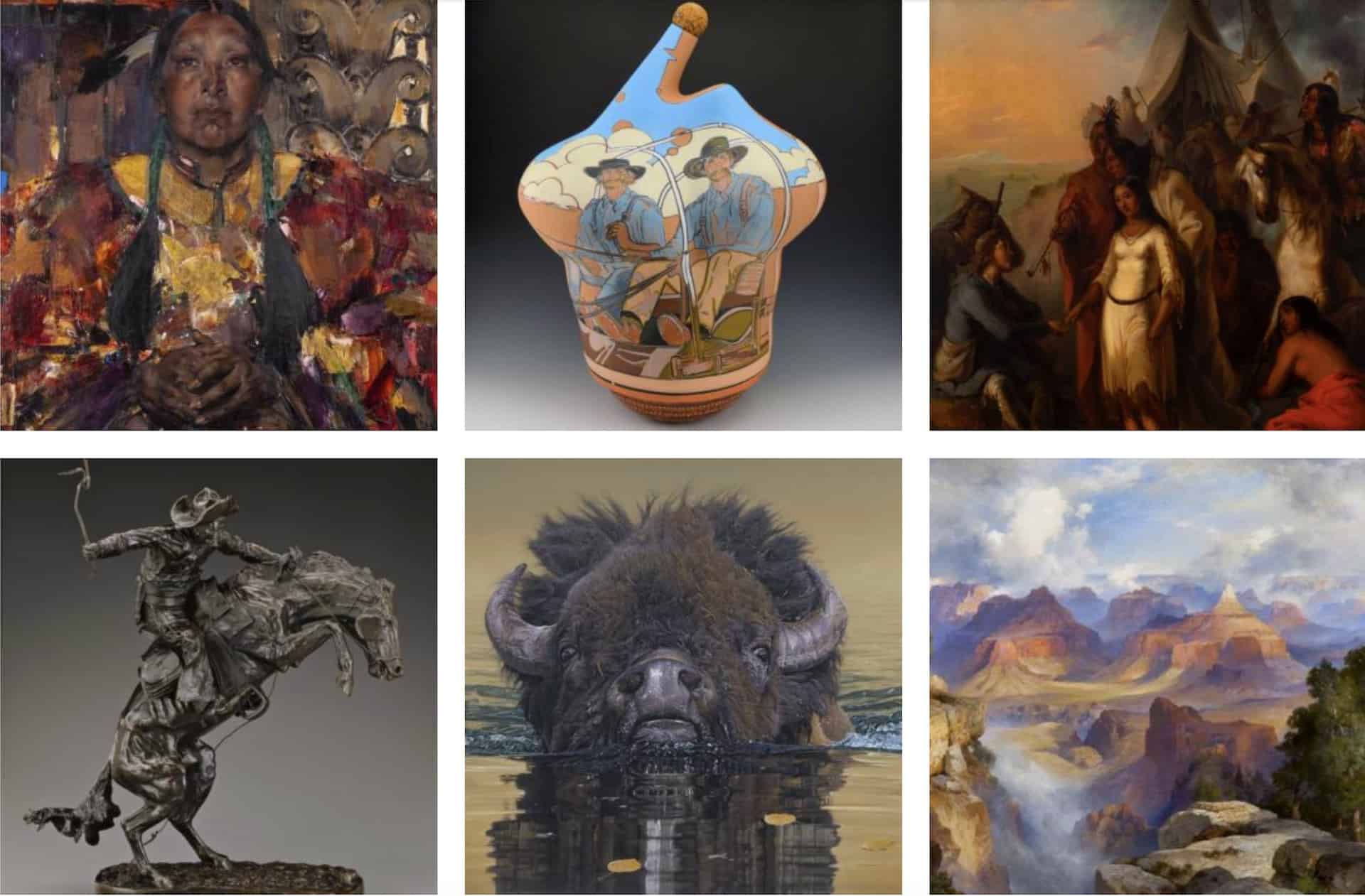 The place to hear and see America's stories through art and cultural objects. Indianapolis businessman and philanthropist Harrison Eiteljorg and other civic leaders founded the Eiteljorg Museum of American Indians and Western Art. From the museum's opening in 1989, its mission has been to inspire an appreciation and understanding of the art, history, and cultures of the American West and indigenous people of North America. The museum carries out this mission in exciting and often surprising ways. The Eiteljorg collects, conserves and exhibits outstanding Western art, Native American art and cultural objects. The museum's collection includes works by T.C. Cannon, N. C. Wyeth, Andy Warhol, Georgia O'Keeffe, Allan Houser, Frederic Remington, Charles Russell, and Kay Walking Stick. The institution's contemporary Native American art collection has been ranked among the best in the world.
3. Medal Of Honor Memorial, downtown Indianapolis — 650 W Washington St, Indianapolis IN 46204; admission is free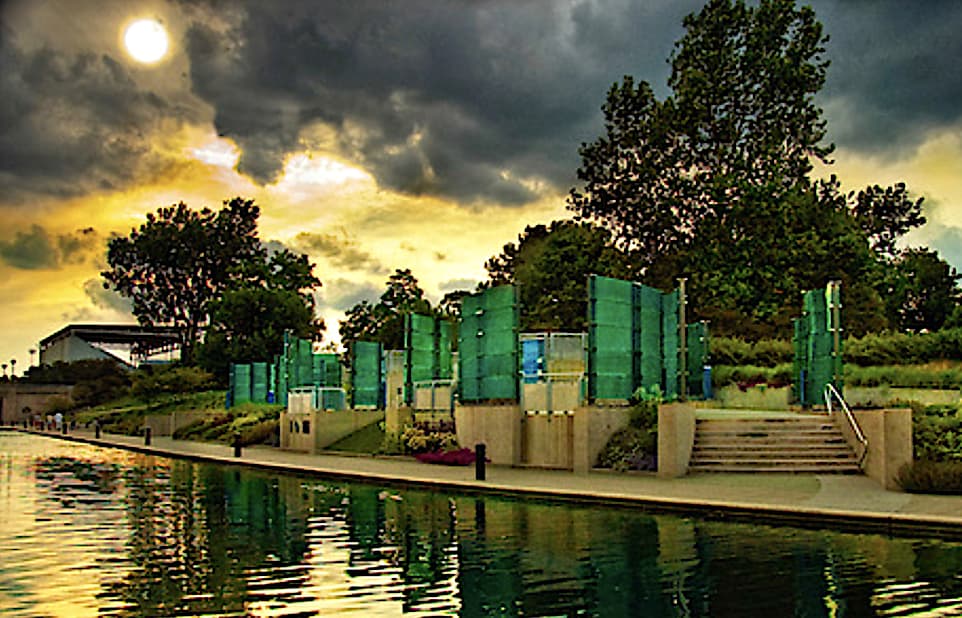 This memorial (free admittance) was built in downtown Indy to honor those service members who have received the Congressional Medal of Honor, the highest military award for valor in the U.S. Very beautifully designed with 27 glass panes and Indiana limestone in shades of buff, grey, pink and yellow. The names of the 3,436 recipients are etched into the glass. There are 15 walls set in a unique pattern. The memorial includes an elaborate lighting system that illuminates certain panels to correspond with a 30-minute audio tour that is played over a speaker system. The audio tour is made up of stories about the wars, and accounts of living Medal recipients. Many of the stories were recorded by Medal of Honor recipients. There were 96 living Medal of Honor recipients who attended the unveiling and dedication of the monument on May 28, 1999, the last Memorial Day of the millennium. The Memorial received a 2001 Merit Award from the American Society of Landscape Architects.
4. Kurt Vonnegut Memorial Library — 340 N. Senate Ave., Indianapolis IN 46204; free admittance; Hours: 11 a.m.-6 p.m.; 317-652-1954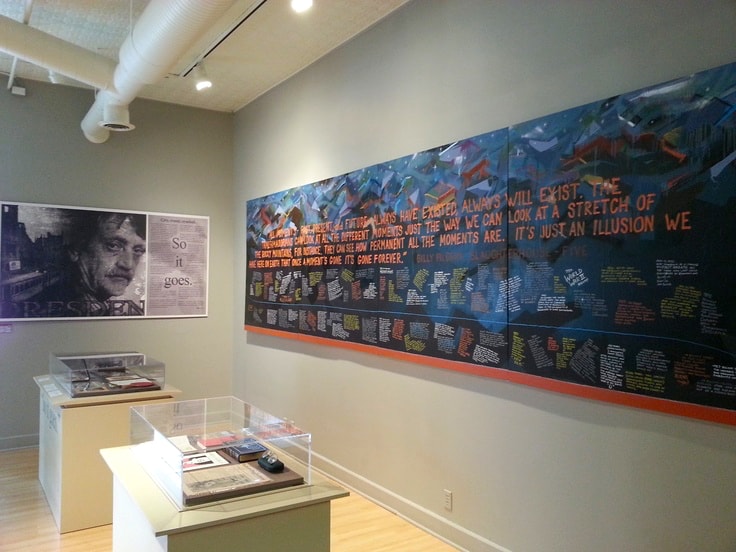 This library is dedicated to the writer and artist Kurt Vonnegut, Jr., who was born and raised in Indianapolis. It was added to the list of National Historic Places in the U.S. in 2011. Located in the Emelie Building, it serves as a cultural and educational resource facility, museum and reading room. The museum and library promote language and visual arts through the interactive programs they regularly host. The gallery and reading room are popular. Displays include the Purple Heart Medal Vonnegut received from serving in World War II, and other exhibits and books.
5. 1 Hour Walk-In Axe Throwing Experience Indianapolis — Bad Axe Throwing, 235 S. Meridian St. #211, Indianapolis IN 46225; 888-435-0001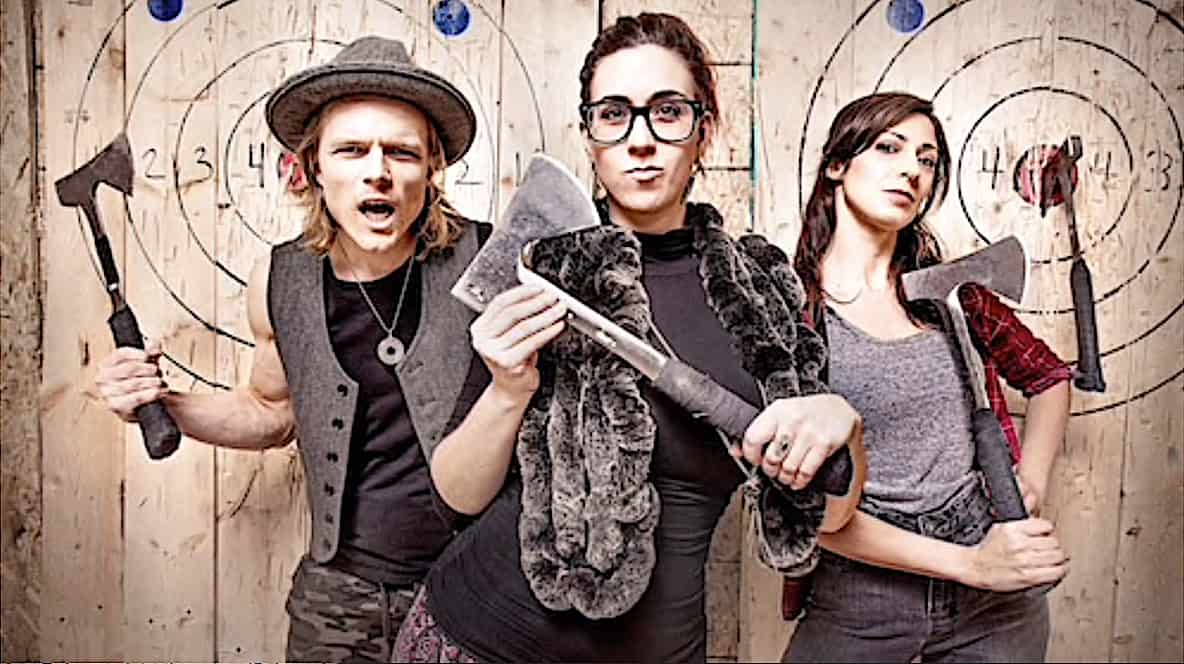 Just when you thought it was safe to avoid the sport of competitive basket weaving, now you can enjoy the sport of axe throwing! This thrilling traditional Canadian backyard pastime is now bigger than ever in urban communities. Enjoy a 1-hour axe throwing session with a dedicated axe throwing coach. Coaches provide a safety talk, demonstrate throwing techniques and are there to guide you through your experience. Once confident with the basics, coaches may introduce some simple and advanced trick shots, plus facilitate games to crown a member of your group as the ultimate axe-throwing champion. No experience is necessary, and all skill levels are welcome.
6. Zombie Scavengers of Indianapolis, IN — Indiana State Capitol, 200 W. Washington St., Indianapolis IN 46204; 866-299-3016; Open Daily, 10 a.m.-9 p.m.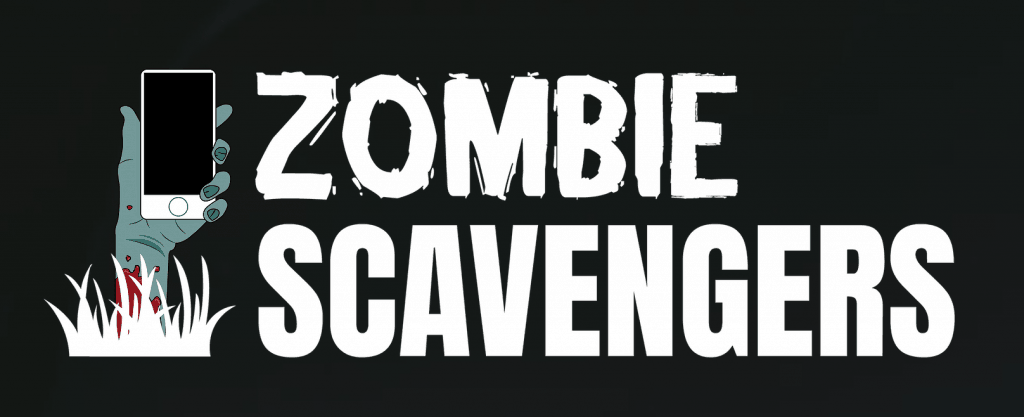 Fans of everything dead, and the rest of us, may get a kick out of this app that provides a list of items that are crucial for you to survive. It features fun, zombie-themed challenges to perform. There's an interactive live remote guide while you play. It's family-friendly fun, so bring your family, half-eaten or alive, willing or not, and survive the zombie apocalypse by earning survival points. If it's going to be your last day on earth, this 1-hour experience may be just what the doctor ordered.
7. Indianapolis Motor Speedway Museum — 4750 W. 16th St., Indianapolis IN 46222-2550; Hours: Sun.-Sat., 9 a.m.-5 p.m., 317-492-6784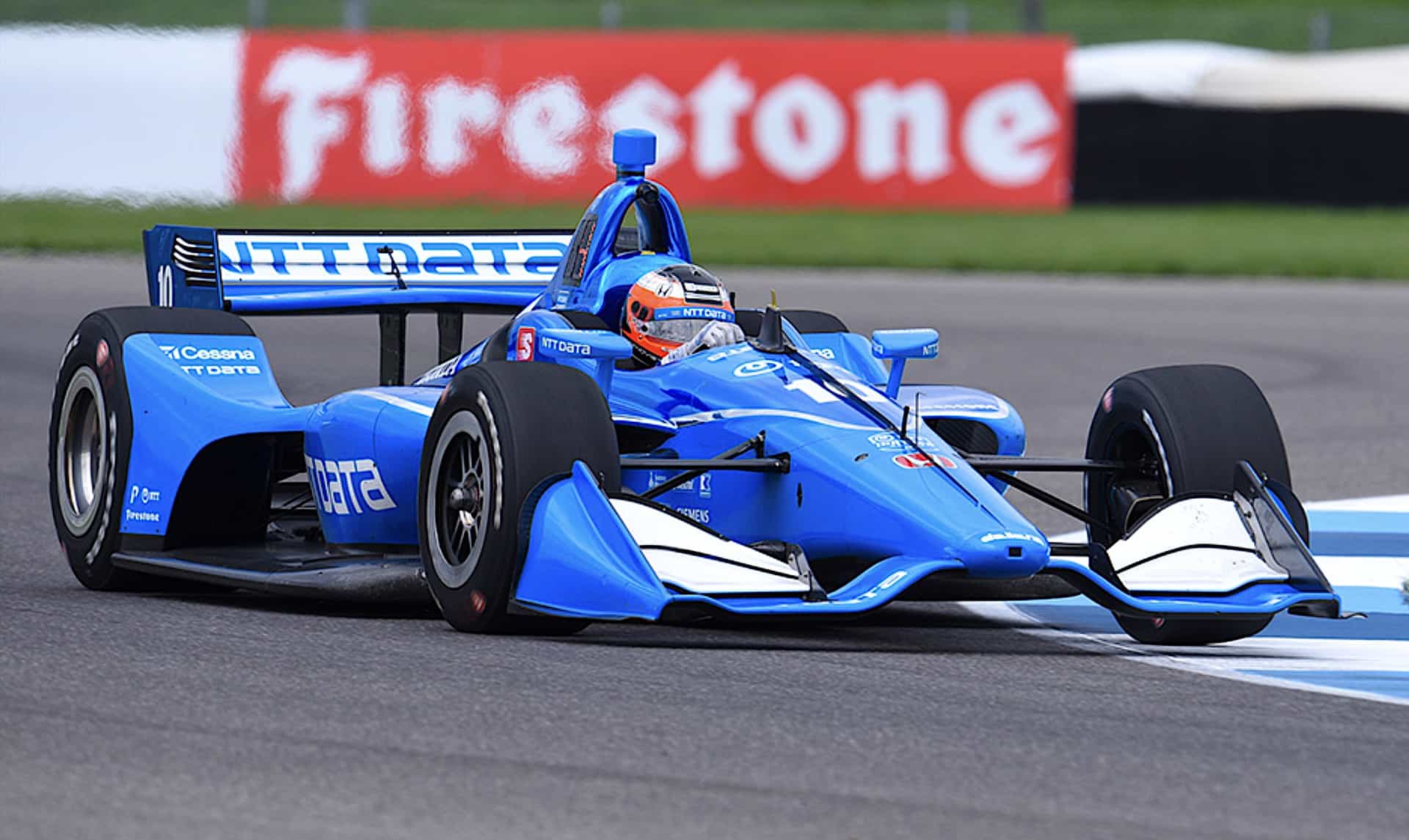 The Museum, which is uniquely situated inside the historic 2.5-mile oval track, is recognized as one of the most highly visible museums in the world that is dedicated to automobiles and auto racing.
8. NCAA Hall of Champions — 700 W. Washington, Indianapolis IN 46204; 317-916-4255; hocmail@ncaa.org, http://www.ncaahallofchampions.org; Hours: Tues.-Sat., 10 a.m.-5 p.m., Sun. Noon-5 p.m.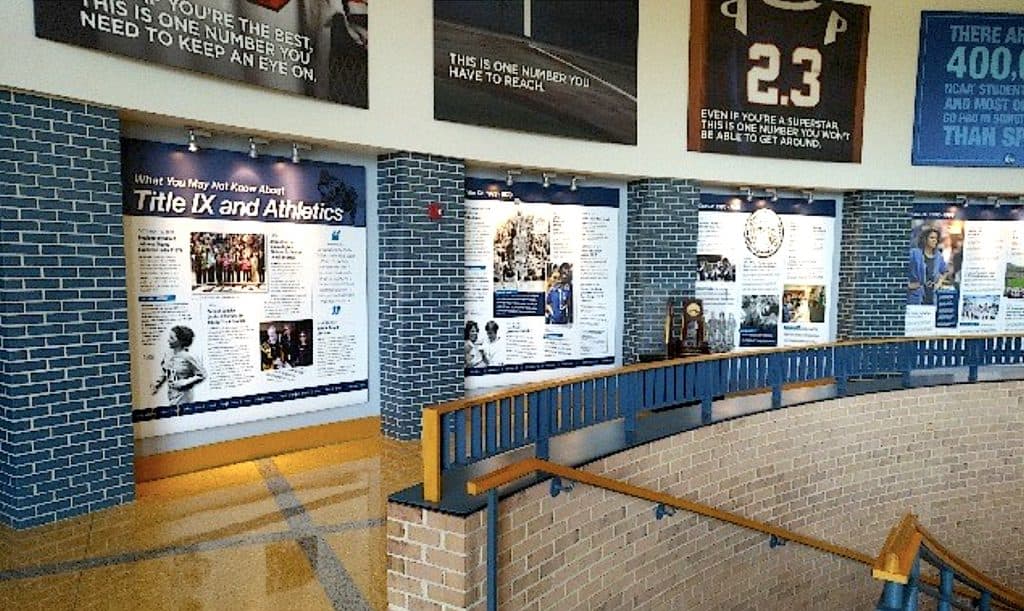 Two-levels of interactive exhibits engage visitors and create a true-to-life understanding of what it takes to make the grade. On the first level, all 24 NCAA sports are represented, with trivia challenges, current team rankings, video highlights and artifacts donated from colleges nationwide. Play, on the second level, is a fully interactive area for competing virtually and hands-on through sports simulators, a 1930s retro gymnasium, ski simulator and more.
9. Indiana Medical History Museum — 3045 W. Vermont St., Indianapolis IN 46222-4943; 317-635-7329; shalter@imhm.org, https://www.imhm.org; Hours: Wed.-Sat., 10 a.m.-4 p.m.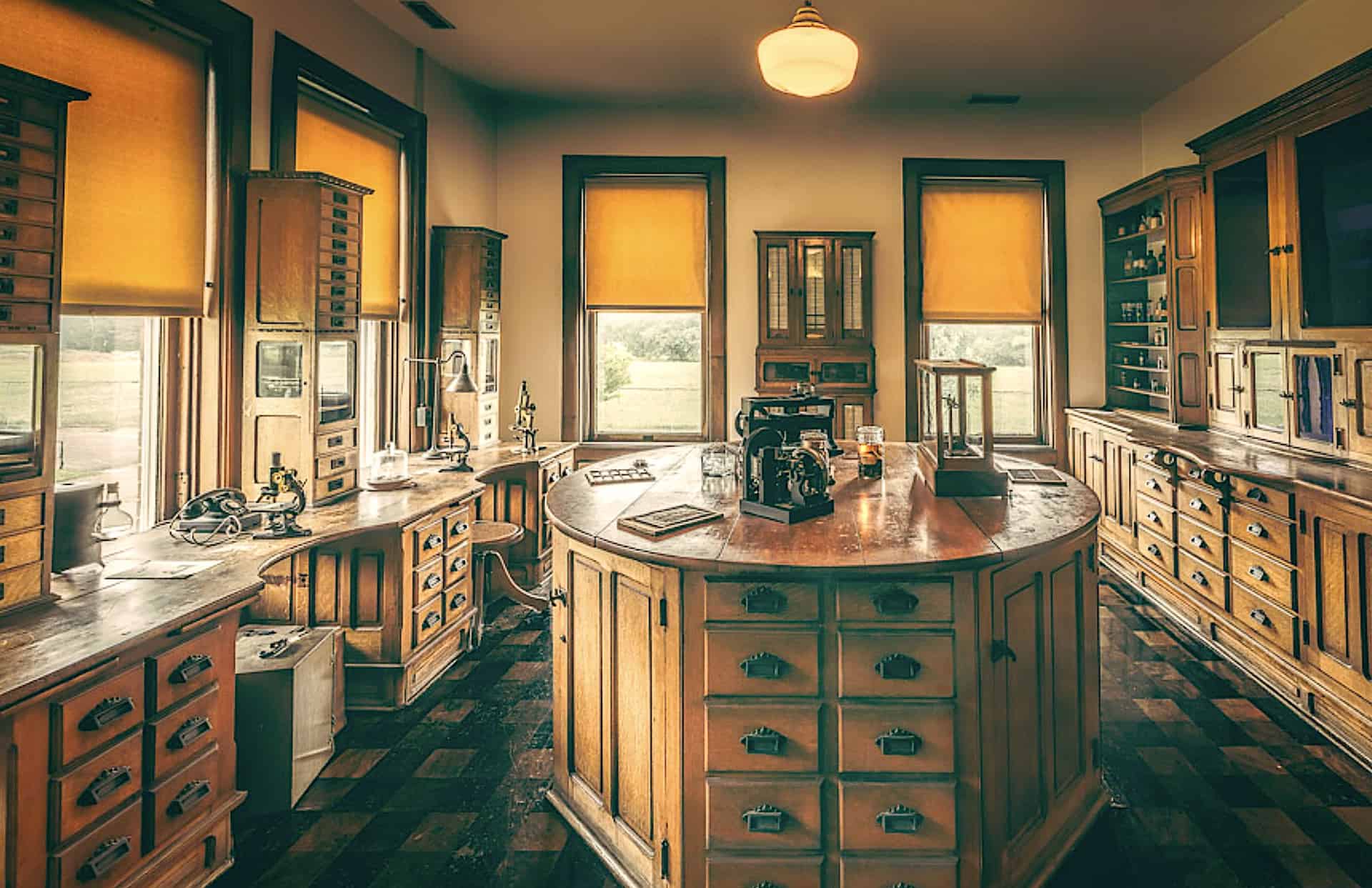 The Indiana Medical History Museum is located on the grounds of the former Central State Hospital, on the westside of Indianapolis. The heart of the museum is the Old Pathology Building, the oldest surviving pathology facility in the U.S. The building is listed in the National Register of Historic Places. Visitors can explore the teaching amphitheater; laboratories for bacteriology, clinical chemistry, histology and photography; library, reception room, records room and autopsy room. The anatomical museum houses preserved specimens—mostly brains, organized by pathology. The museum also has special events, exhibits, and programs on the history of science and medicine, mental health care past and present, forensic science and health careers today.
10. Indianapolis Museum of Art — 4000 Michigan Rd., Indianapolis IN 46208; 317-923-1331; www.discovernewfields.org; Hours: Tues., Wed., Fri., Sat., 11 a.m.-5 p.m.; Thurs: 11 a.m.-9 p.m.; Sun., 12 p.m.-5 p.m.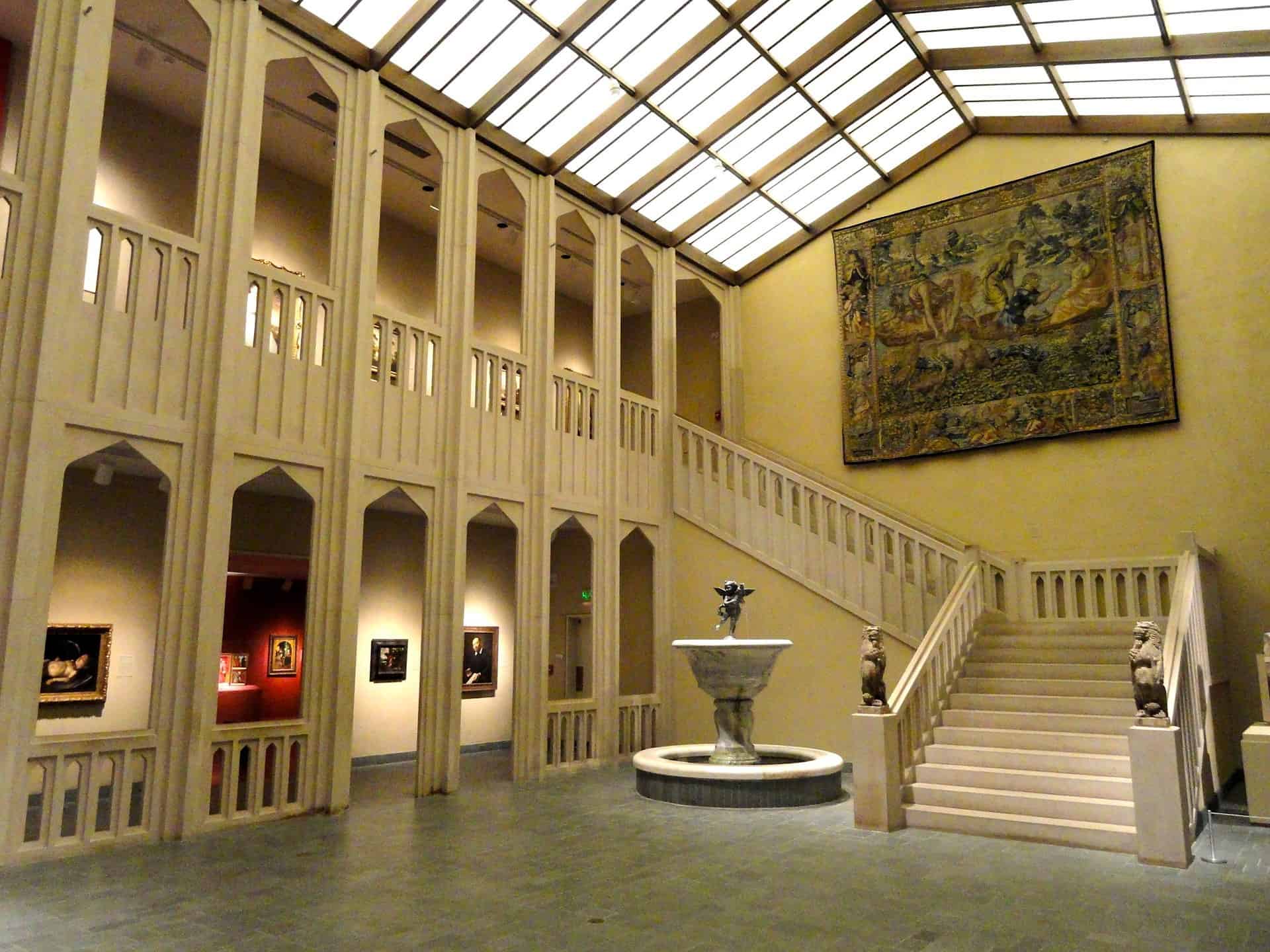 This museum is the ninth-oldest and eighth-largest encyclopedic museum in the U.S.; it was opened in 1883. The permanent collection of arts and sculptures including African, American, European and Asian pieces. The important ones include the Neo-Impressionist paintings, 20th-century modern artworks and Post-Impressionist works by Cézanne, Van Gogh, Seurat, Paul Gauguin, and the Pont Avent School, a large collection of A.M.W. Turner and an excellent contemporary art collection.
11. Dallara IndyCar Factory — 1201 Main St., Speedway IN 46224-6533; 317-243-7171; kcollins@indyracingexperience.com, https://www.indycarfactory.com/index.php; Hours: Wed.-Sat., 10 a.m.-5 p.m.

The Dallara IndyCar Factory is a joint venture between the IndyCar Experience and Dallara Automobili, located just one-third of a mile southwest of the historic Indianapolis Motor Speedway. The 23,000 square feet of interactive and hands-on exhibits focus on the engineering and technology of the world's fastest sport. Walk through a tunnel filled with IndyCar blueprints and design concept drawings, or sit down and relax in the theater. Feel what it's like to race at the famous 2.5-mile oval, when you sit behind the wheel of a race car simulator and race using IRacing. See where IndyCars are designed and produced.
12. Benjamin Harrison Presidential Site — 1230 N. Delaware St., Indianapolis IN 46202-2531; 317-631-1888; harrison@bhpsite.org, https://bhpsite.org; Hours: Mon.-Sat., 10 a.m.-3:30 p.m., Sun. 12 noon-3:30 p.m.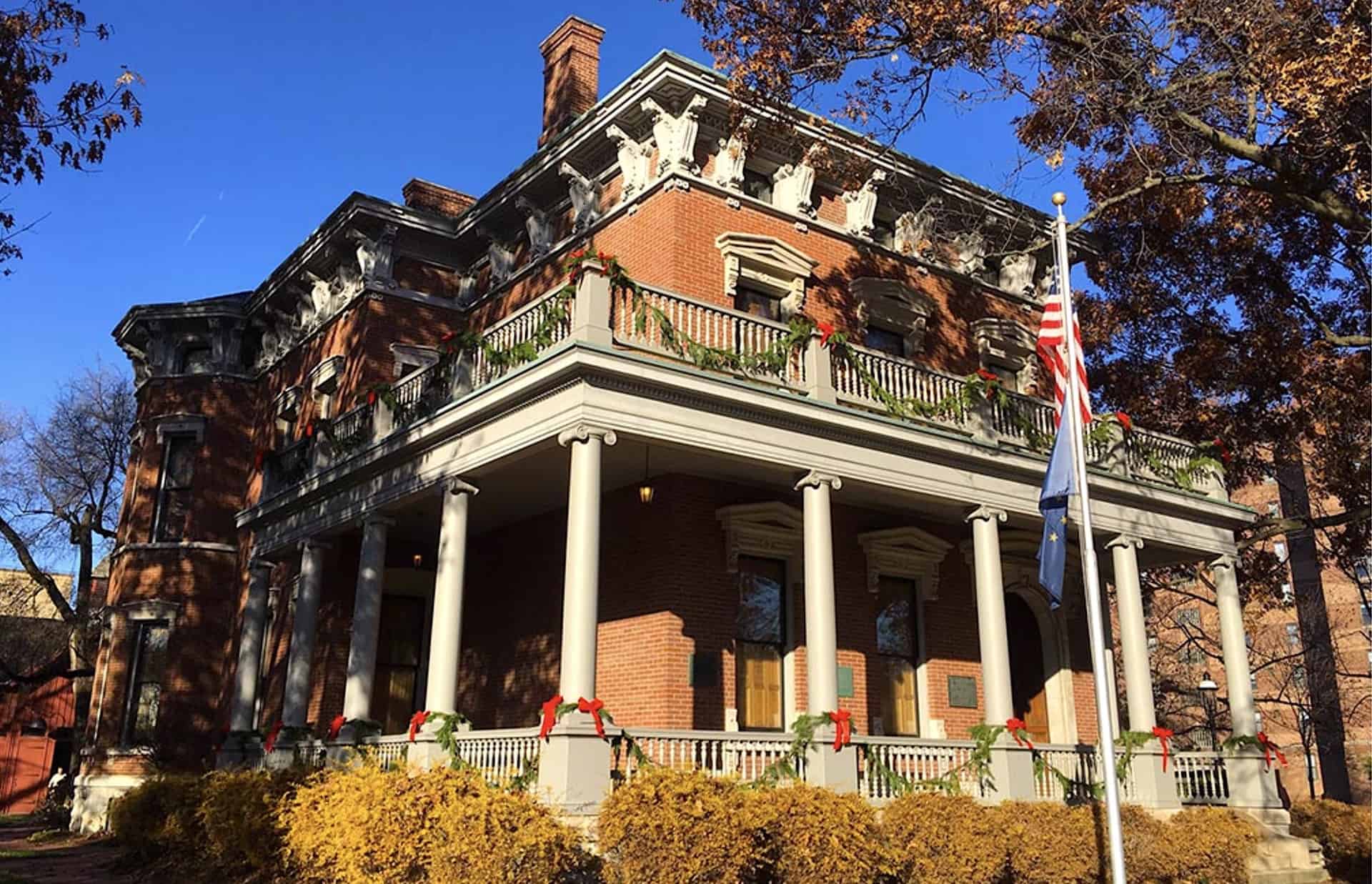 A Hoosier who did much for veterans and later became president, Benjamin Harrison, also served as a general in the Civil War. He insisted on volunteering, though he had no military experience. When he later was elected as a U.S. senator representing Indiana, he helped pass a law to provide for veterans and their families. As Indiana's only president, he graduated from Miami University at Oxford, Ohio, argued five cases before the U.S. Supreme Court (the most of any lawyer-President), served as a U.S. senator, 1881-1887, was elected U.S. President, 1889-1893, expanded the Navy from only three modern steel warships in 1889 to 22 ships by 1893, added six states to the Union during his Presidency (the most of any President), and instituted the practice of displaying the American Flag over public buildings and schools.
13. Indiana War Memorial — 51 E. Michigan St., Indianapolis IN 46204; 317-233-0991; https://www.in.gov/iwm; Hours: Wed.-Sun., 9 a.m.-5 p.m.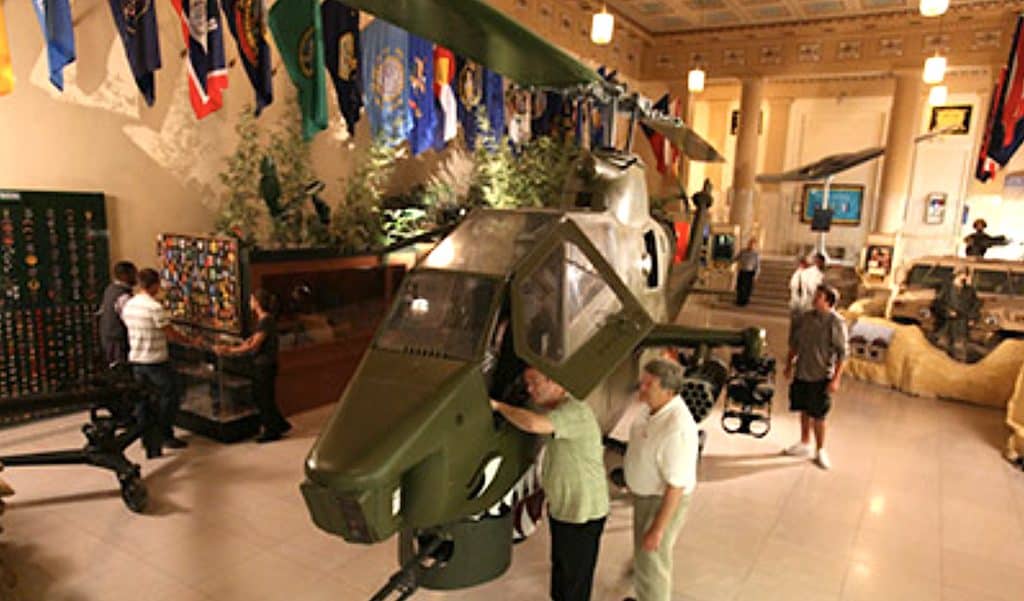 The Indiana War Memorial Plaza Historic District contains a 30,000-square-foot museum, complete with military equipment and artifacts, three parks, four fountains, and 25 acres of monuments, statues and sculptures in the heart of downtown Indianapolis. Indy is second only to Washington, D.C. in the number of monuments dedicated to veterans. There is no city in the country that maintains more acreage honoring veterans than Indianapolis. It is also home to the American Legion National Headquarters, which is the largest veterans organization in the world. The Memorial building also has a free military museum that profiles the history of Indiana's gallant veterans, from the Battle of Tippecanoe, through the several wars in which Indianans have been engaged, to the present. Among the most interesting exhibits are the USS Indianapolis Gallery, numerous military firearms and uniforms, an AH-1 Cobra attack helicopter, and hundreds of other artifacts, photos and documents.
14. Crispus Attucks Museum — 1140 Dr. Martin Luther King Jr. St., Indianapolis IN 46202; 317-226-2432; Hours: Mon.-Fri., 9 a.m.-5 p.m., Sat. & Sun., 12 noon-5 p.m.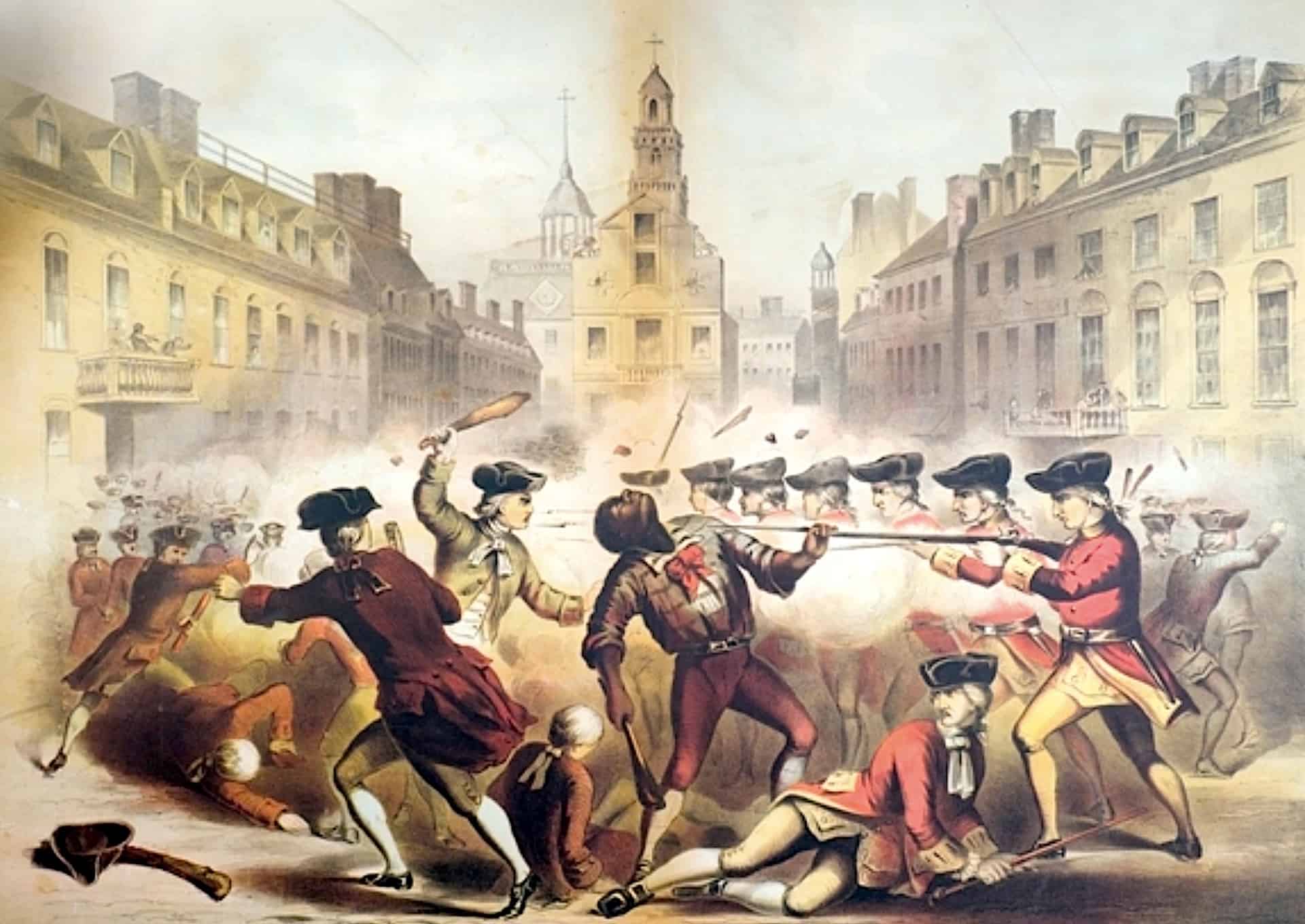 Crispus Attucks was recorded as the first person to die in the nascent American Revolution, during a 1770 slaughter that became known as the Boston Massacre. The Crispus Attucks Museum was created to educate and memorialize the "first hero of the American Revolution." John Adams, the future U.S. President, successfully defended the British soldiers in court who were accused of the murders. The small museum mostly focuses on honoring the students of the segregated high school, Crispus Attucks High School. The museum has sections about African and African-American history.
15. Wholesale District — 100 W. Washington St., Indianapolis IN 46204; 317-237-2222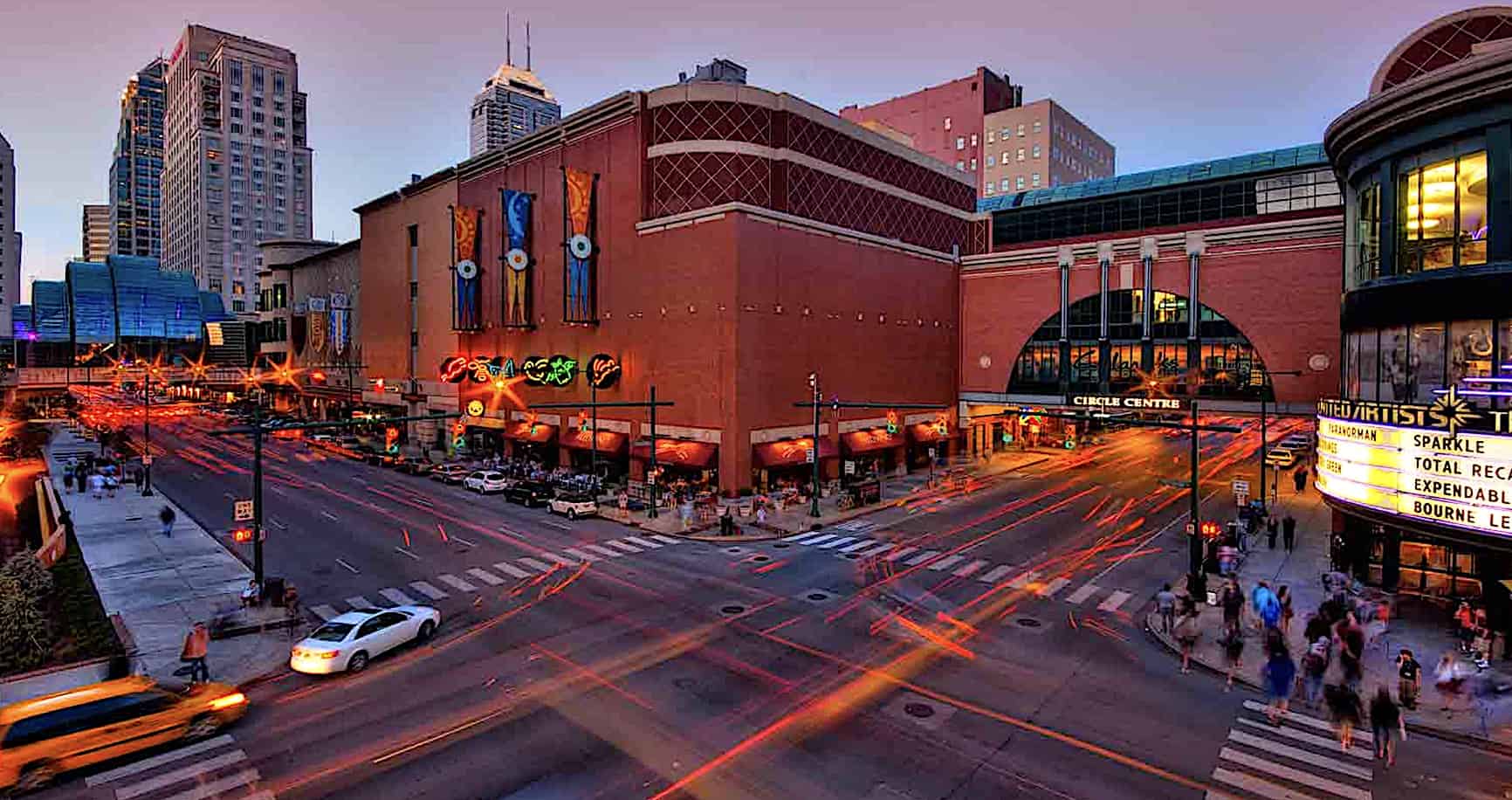 Bright lights and marquees highlight the best performances in town. Doormen in tuxedos greet guests. The Circle Centre mall delights even the most meticulous shoppers. Bustling sidewalks overflow with excited visitors viewing the scenery, while Monument Circle welcomes all. For a night (or day) out on the town, you've come to the right place. Amid downtown's historic buildings and newest skyscrapers in the heart of the business district, you'll find the biggest names and the brightest attractions the city has to offer. Whether it's world-class shopping, professional sports or concerts and theatre, it's here among the finest hotels and signature dining. In the Wholesale District, entertainment is front and center.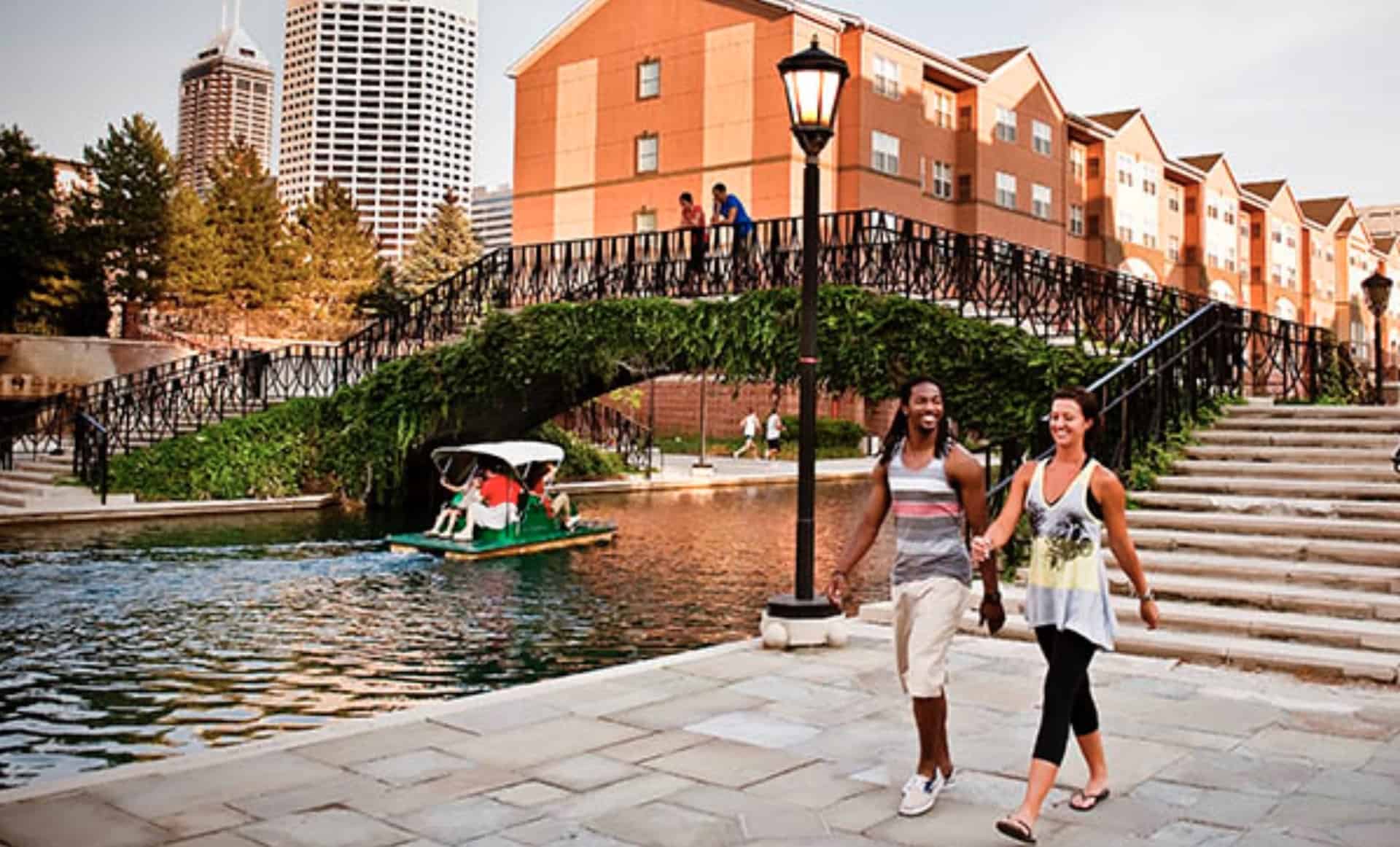 Walk the 1.5-mile-long Downtown Canal Walk. It stretches from the Indiana University School of Medicine at 11th St., south toward the Indiana State Library on Ohio St., before turning to the west toward Military Park, the Congressional Medal of Honor Museum and the Indiana State Museum, all of which are a short walk from the JW Marriott. Along the way, see some of Indy's best contemporary architecture. The three-mile loop is a popular urban spot for fitness enthusiasts and serenity-seekers. The downtown waterfront has pedal boats, gondolas, bicycles, surreys and Segways.
17. Artsgarden — Corner of Washington & Illinois Streets, Indianapolis IN 46204; 317-631-3301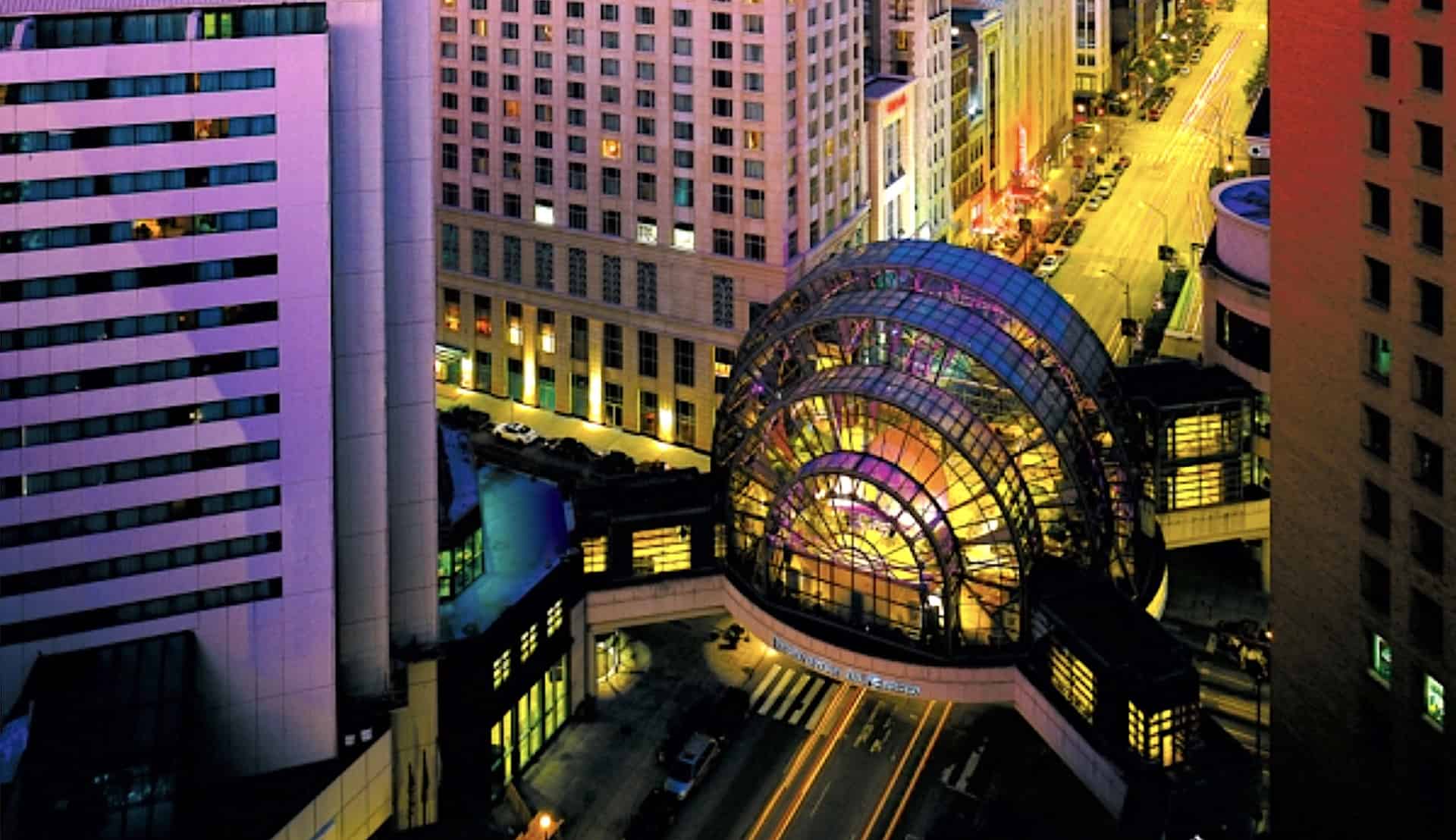 Located above the busy intersection of Washington and Illinois streets is the Indianapolis Artsgarden. The unique glass-domed structure is suspended 17 feet above street level and tops out at a height of 95 feet. Owned and operated by the Arts Council of Indianapolis, the Artsgarden hosts over 300 free arts performances and exhibits each year.
18. Indianapolis Zoo — 1200 W. Washington St., Indianapolis IN 46222; 317-630-2001; Mon.-Thurs., 9 a.m.-4 p.m., Fri.-Sun., 9 a.m.-5 p.m.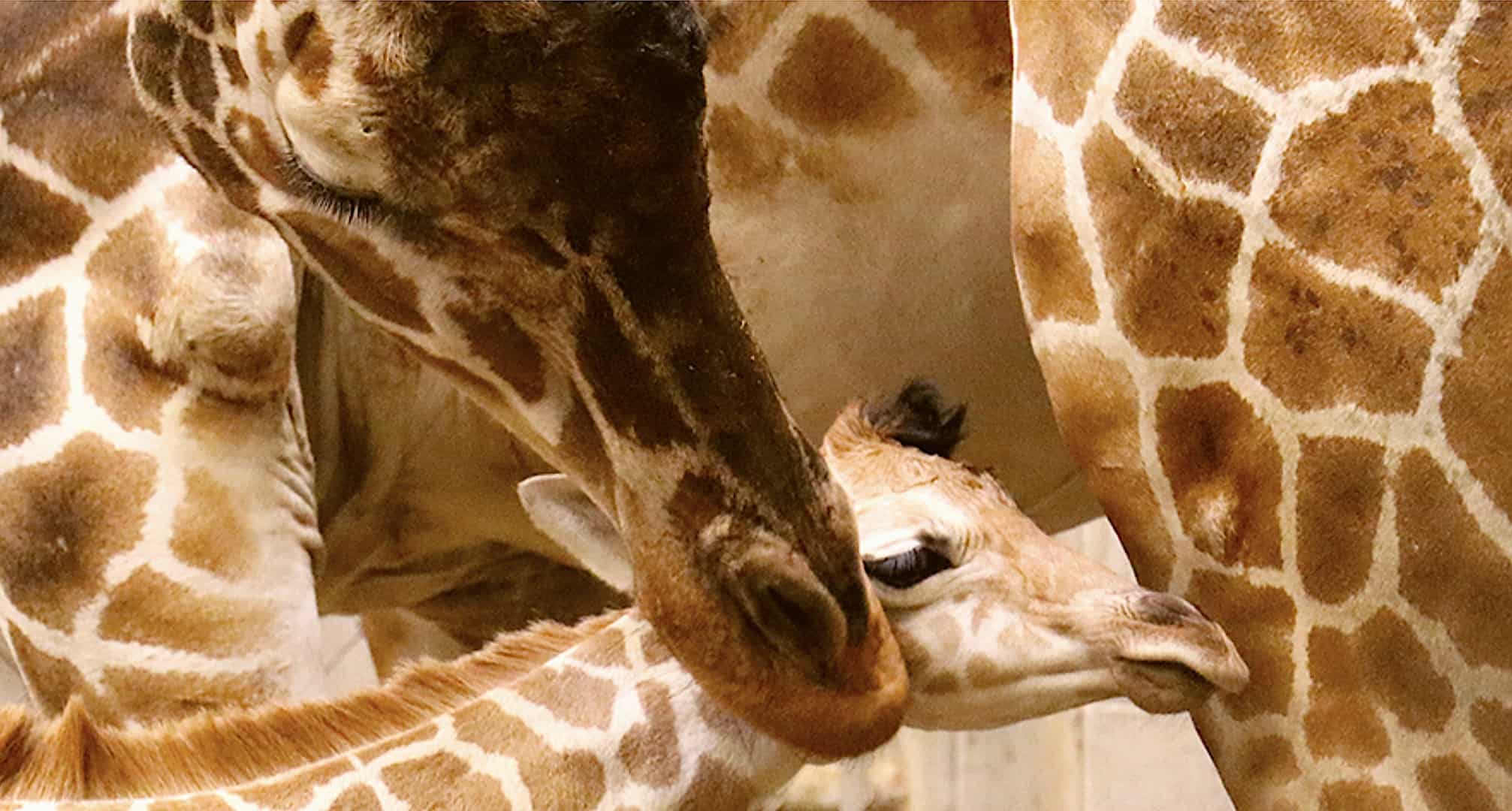 The Indianapolis Zoo was the first in the nation to be accredited as a combined zoo, aquarium and botanical garden. Visit the amazing International Orangutan Center, Dolphin Pavilion, shark touch tank, Flights of Fancy, White River Gardens and much more. The zoo is accredited by both the Association of Zoos and Aquariums, and the American Alliance of Museums. The zoo is a member of the World Association of Zoos and Aquariums. It is the host of this year's Transportation Director Summit at STN EXPO Indianapolis.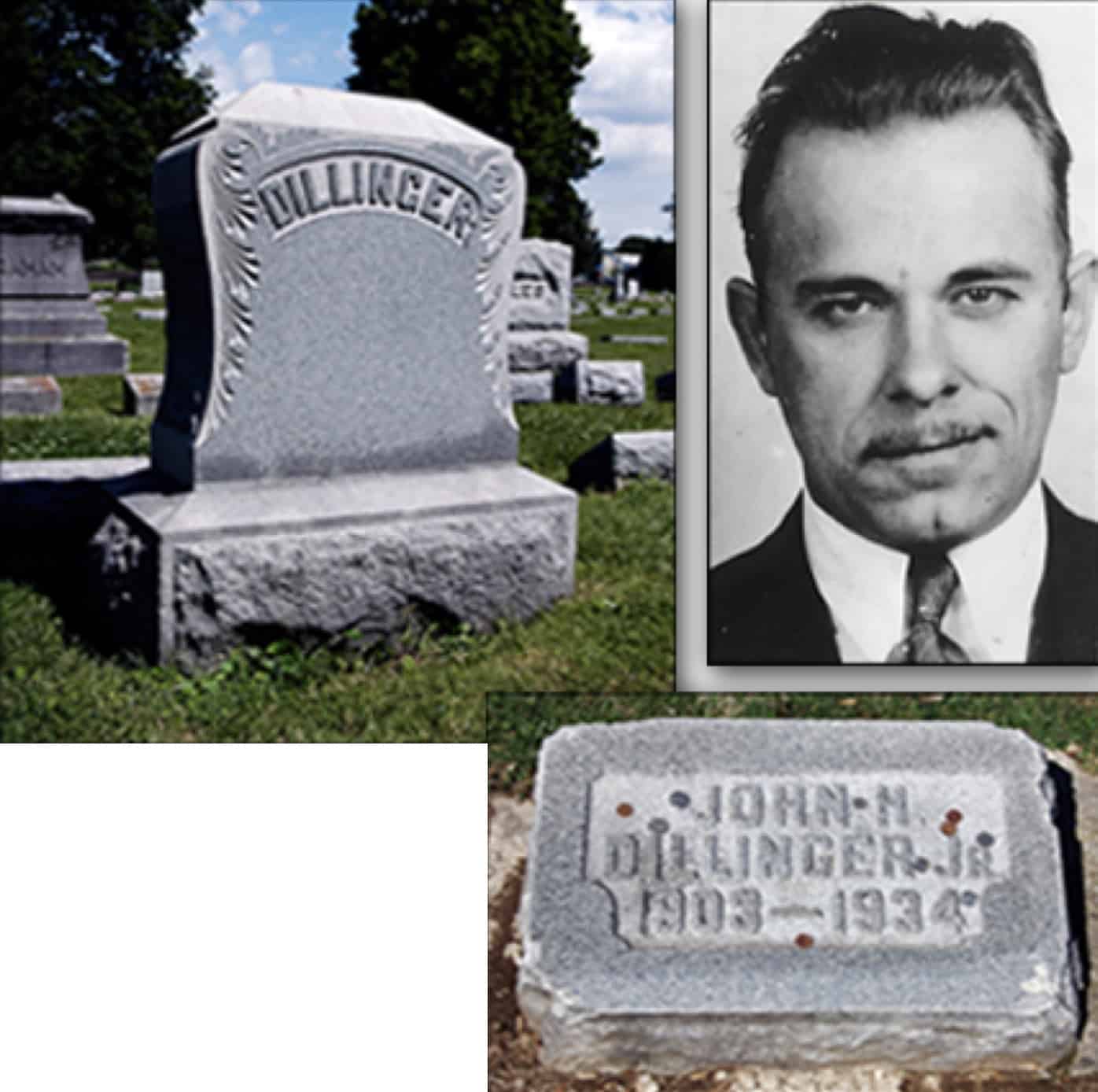 Ranked as the third-largest cemetery in the U.S., enjoy summer hikes and tours that showcase the burial plots of Indiana's most famous residents, including President Benjamin Harrison, poet James Whitcomb Riley, Col. Eli Lilly, three U.S. vice presidents, and the infamous bank robber, John Dillinger. Join the thousands who visit Crown Hill each year and experience the incredible beauty, history and heritage, on a guided walking or driving tour. Twice voted "Best of Indy Walking Tour" by Indianapolis Monthly magazine, the guided tours provide an interesting and detailed look into the lives of many of the famous and infamous, fascinating, and sometimes ordinary people who are buried and entombed here. There is no admission fee to visit the cemetery, but private guided tours and public tour fees vary. Decades after Dillinger's 1934 killing by FBI Special Agent Melvin Purvis at downtown Chicago's Biograph Theater, his grave continues to attract more public interest than other more worthy residents. According to the book Dillinger: The Untold Story, "Dillinger and the FBI [made] one another famous—or maybe infamous, since Dillinger humiliated his pursuers all the way to the Biograph. … Dillinger's spectacular robberies, jailbreaks, gun battles, elusiveness, and impudence provided Americans with an exhilarating game of cops n' robbers that … made J. Edgar Hoover a household name, and created the legend of the FBI.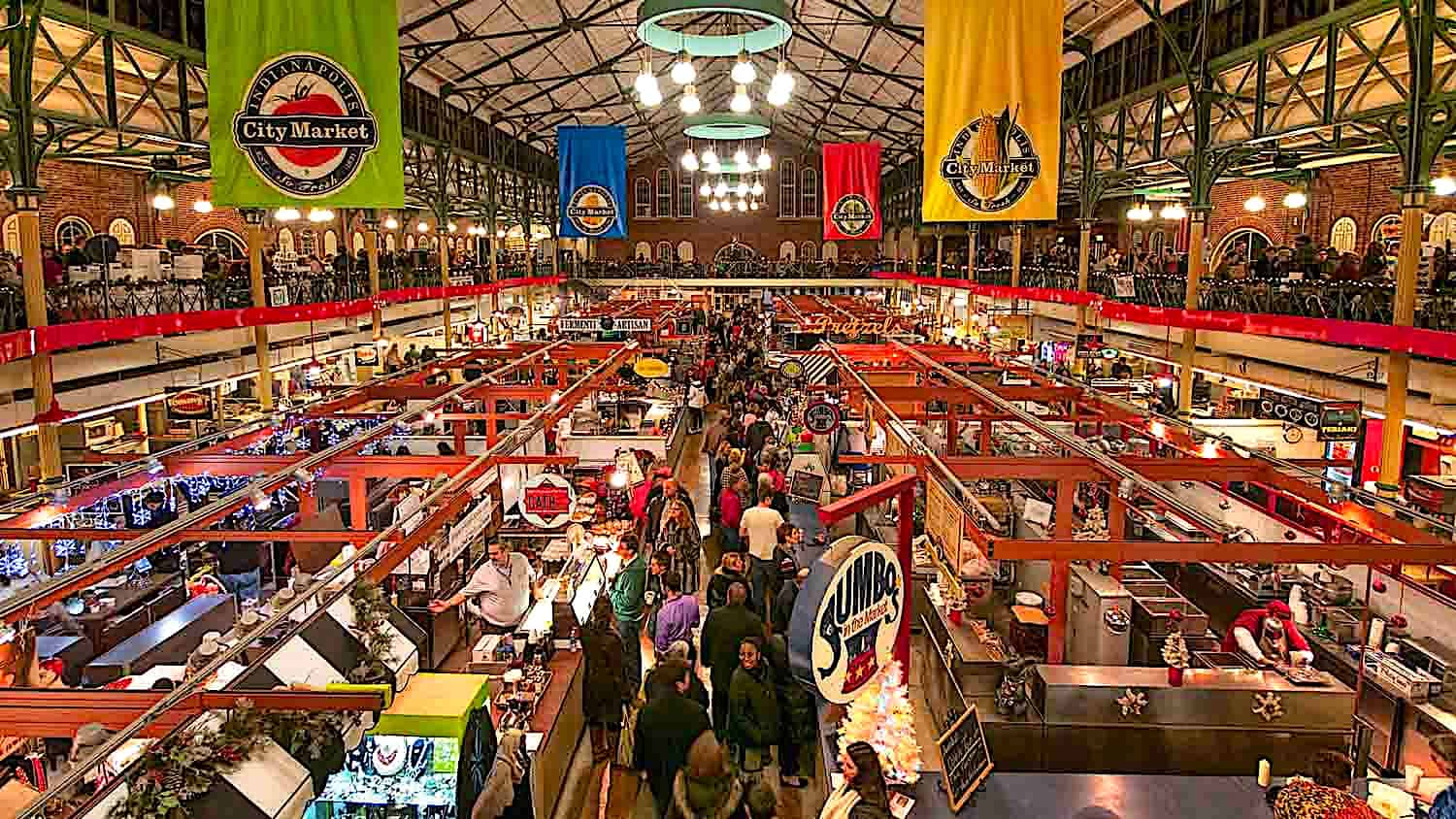 First opened in 1886, the Indianapolis City Market is on the National Register of Historic Places and offers tours of the Romanesque underground catacombs. With over 30 local artisan booths, this is a popular destination for eateries, fresh produce and retailers. The Original Farmers' Market is held every Wednesday, May through October, on Market Street in front of City Market, and is one of central Indiana's longest-running and largest farmers' markets. There are also guided descents into the City Market catacombs, a long-hidden ruin beneath City Market's Whistler Plaza. It's a great place to visit after the closing STN EXPO session on the morning of June 12.
---
To Register at the All-Inclusive, Lowest Possible Rate, Click Here
Early Bird Rate — Valid Through 5/10/19 = $399
Includes: Main Conference Workshops, General Sessions, Keynote Sessions, Networking Events and the Trade Show.
For the Trade Show Only Registration, Click Here
$99 per person
Includes: Access to the trade show ONLY. The fee does NOT include main conference workshops, general sessions and keynote sessions.
---
Conference Registration Contact
Alice Hung Sabedra
Senior Events Coordinator
310-802-7811
alice@stnmedia.com