While attending the STN EXPO Reno, you are going to want to try some local cuisine. Because we love good food, too, we selected some delicious and attractive dining options for breakfast, lunch, dinner, snack, hole-in-the-wall and after-hour spots.

This fun post is organized by the eating day schedule, with the first group of five listings being focused on breakfast/brunch, then 5 for lunch, then others for dinner. Some preference for inclusion was also given to restaurants that are located near the conference site.
These are not fast-food joints, so don't expect your food to be served in 2 minutes or less, with no waiting at the door. Really good food requires more time to properly prepare. These are restaurants that you will want to take some time to enjoy, soak in the atmosphere, savor the food, absorb the ambiance and remember the delectable aromas.
The comments and restaurants we included here were partially drawn from Yelp postings, plus various online resources that list consensus favorite eating establishments. We selected those restaurants that looked super-worth visiting and sounded special. The restaurant listings here are not ranked—they are posted here in no particular order.
So enjoy! And don't forget to tell Dave about any good gelato shops you find. And better yet, bring me a large sample!
---
BREAKFAST / BRUNCH / COFFEE
---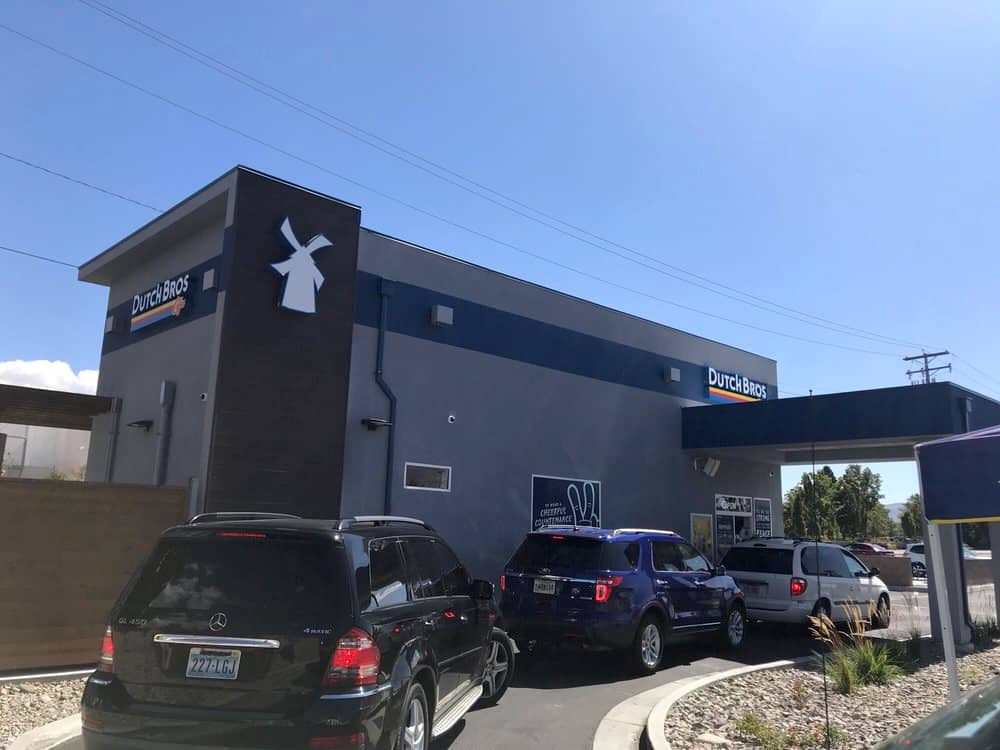 4555 S. Virginia St., Reno NV 89502; 541-955-4700; $ Coffee & Tea, Juice Bars & Smoothies; 65 Yelp reviews; 4.5 Yelp stars out of 5; www.dutchbros.com
I wasn't going to include any chain dining spots, I swear, but since this a drive-through/walk-up place that is conveniently across the street from the STN Expo, and a colleague here at STN recommended it, I relented. I even read through all 65 Yelp reviews that were posted. About 60 of them were extremely positive—yelpers threw both love and appreciation at Dutch Bros. The small chain saved the coffee-starved visitors of Reno when it arrived in early 2018. Almost all of the yelpers raved about the lower prices, larger portions and stronger coffee than what that other high-priced chain offers. But of course, a few rather unappreciative coffee snobs downgraded Dutch Bros. One yelper even griped about the lids on the paper cups. But I guess everyone is entitled to their own opinion, however unwarranted, ill-mannered, ill-informed, ungrateful and amateurish they may be. As a noteworthy barometer on Dutch's popularity, patrons uniformly loved the quality of their products and great friendly service. In contrast, many of the yelpers griped about the long lines for both the walk-up window and drive through. But hey, if you want really good and strong coffee, along with friendly, commendable service—this place warrants any wait, in my opinion. Now I really can't wait to fly to Reno! And besides, what really good food (or drinks) in life aren't worth waiting for? Plus, its location is perfect for STN Expo attendees!
---
2. Two Chicks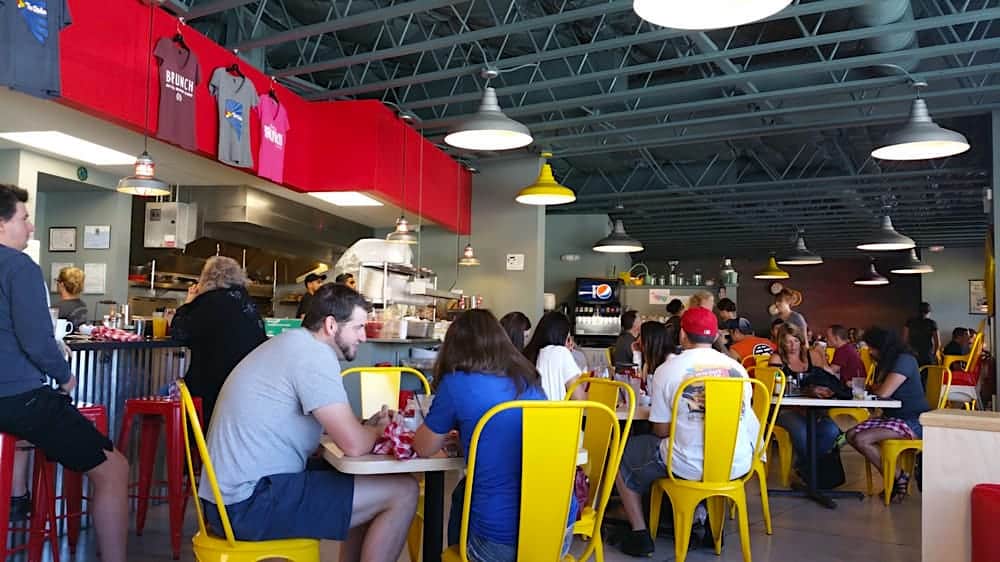 752 S. Virginia St., Reno NV 89501; 775-323-0600; $$ Breakfast & Brunch; 1,025 Yelp reviews; 4.0 Yelp stars out of 5; www.twochicksreno.com
I read the first seven long pages of Yelp comments out of 52 pages, and honestly, it was difficult to choose a representative commentary, because practically all of them raved about the quality of the farm-fresh servings, organic ingredients and very generous-sized portions. And, how many times can you get over 1,000 people on Yelp to agree on anything? It looks like this definitely is one of the Top 5 breakfast/brunch/lunch places in town, and is just around the corner from the Reno Expo. There were a few extremely picky negative reviews, but it dawned on me that those reviews must have been authored by some very jealous competitors, because the place is always jammed with a waiting line that requires the use of beepers for when a table is ready. Especially lauded were the strawberry or blueberry whipped butter for the thick steaming-hot pancakes, farm-fresh scrambled eggs, and special eggs benedict, special dietary requests, moderate prices, friendly helpful service, happy breakfast atmosphere, and really interesting dishes on the menu. "Try the Caprese Benedict on the veggie fritters. You won't be disappointed," commented Sarah from Reno. Arnie U. recommended the sourdough pancake combo, as did many other yelpers. "You get two pancakes, two eggs and bacon for about the same price as bacon and eggs. Very filling and delicious," he noted. And I had to include this review from Jeanna A., also from Reno: "I love love love that they serve local ingredients and they offer duck eggs as an option for an extra charge. If you've never had a duck egg, order it fried and you'll taste the difference between it and a regular egg. Duck eggs are so much creamier and richer in flavor. You'll never want to go back to regular eggs again." Enough said, when can I get the next open table?
---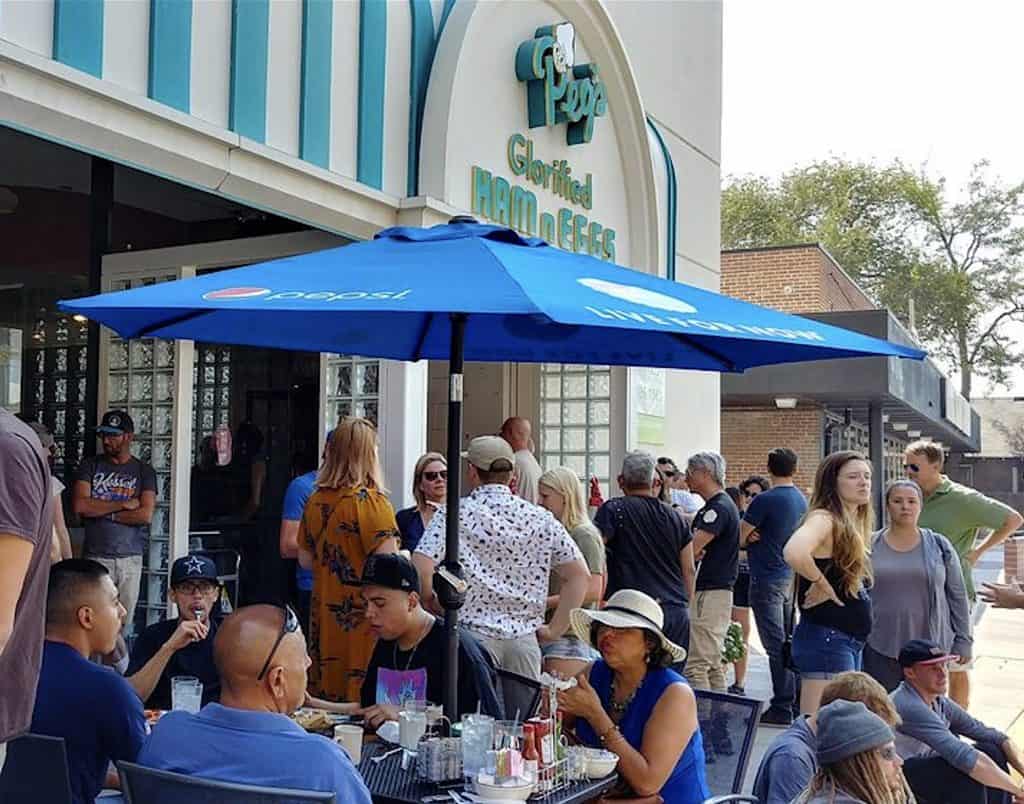 420 S. Sierra St., Reno NV 89501; 775-329-2600; $$ Breakfast & Brunch, American (Traditional), Hawaiian; 2,049 Yelp reviews; 4.5 Yelp stars out of 5; www.eatatpegs.com
Another one of the very popular breakfast places that appear to be favored by locals. A typical Yelp review was from Jasdeep S. from Reno, who wrote: "Incredibly fast service, huge variety and portions of food. Came in here for breakfast with my sister. The place was packed but seated us immediately. We ordered the Sierra omelet and the breakfast burrito. It comes with homemade pico salsa, hash-brown, beans, a cold cabbage salad and side of cantaloupe. The food was delicious but I could barely eat 25 percent of it, it's plenty for few people to share. Service is fast, friendly and the food is good enough to justify the major caloric splurge. It should be noted that you might want to avoid this place if you are looking to lose a few pounds. Portions are of epic proportions, and whether you opt for sweet or savory, you are going to leave happy but very very stuffed." Similarly, Faith M. from Pacheco, Calif., said, "Small place worth checking out. Gotta have the pancakes if you're a pancake person. Super fluffy and yummy!" Then she added, "Me being from Hawaii, I was much more satisfied with the HI breakfast that someone else at our table got. The Portuguese sausage was really good and there's lots of it on the plate! As big as the portions were we pretty much cleaned our plates. That's gotta tell you something!" Now I know what I can do in Reno for breakfasts—visit each of these top 3 places, a different one each day.
---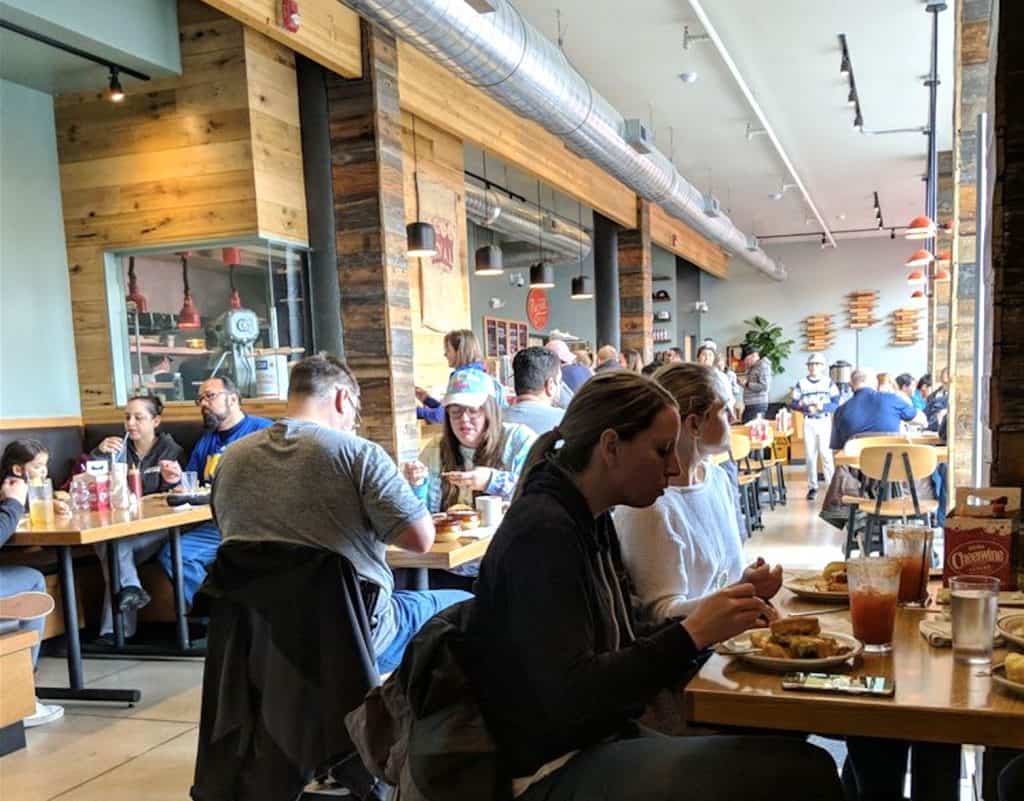 200 S. Center St., Reno NV 89501; 775-432-2464; $$ Breakfast & Brunch, Southern, Comfort Food; 373 Yelp reviews; 4.5 Yelp stars out of 5; www.pinestatebiscuits.com
Pine State made my Top 5 Breakfast Places sub listing, based primarily on the very delicious-looking photos of mouth-watering interesting creations for breakfast, and it is also located near the STN Expo. This is a quick and simple, cafeteria-style operation, where guests are asked to please order your food before sitting and to kindly bus your own table. If you are ok with a do-it-yourself approach, then you will be rewarded by trying some intriguing plates, such as "The Reggie (biscuit, bacon, cheese and fried chicken with gravy) with homemade spicy chicken sauce is amazing. Or this plate, with "sausage gravy that was awesome, flavorful chunks of sausage and peppery gravy that I spoon-fed myself throughout the meal." And Shelby B. from Reno reported on her experience there: "We both treated ourselves to Pine State's seasonal Pop-Tart, which was s'mores at the time. Let me tell you, it's a winner. Completely authentic and wholesome, and so decadent. Fair warning though, these babies sell out quick, no matter the seasonal flavor. If you want to order one more towards brunch or lunch, they may be out." Sounds like a tasty treat that is perfect for taking back to your hotel room. Yum.
---
5. Wet Hen Cafe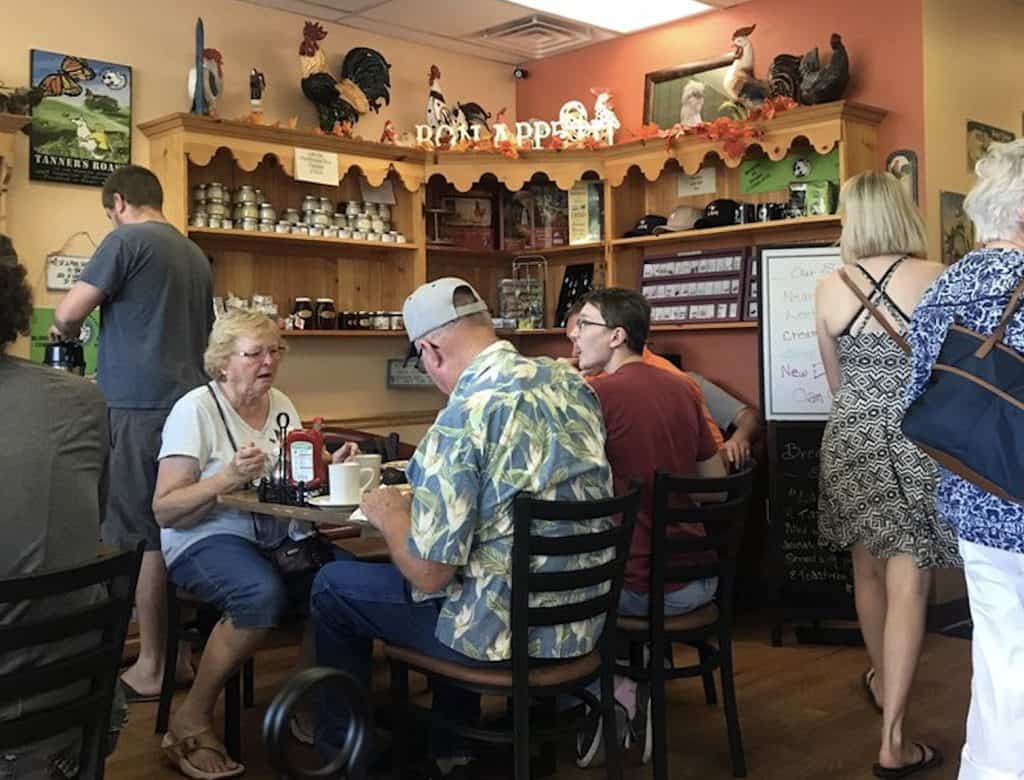 3979 S. McCarran Blvd., Reno NV 89502; 775-657-8880; $$ Breakfast & Brunch, American (Traditional), Coffee & Tea; 360 Yelp reviews; 4.5 Yelp stars out of 5; www.wethencafe.com
This has to be what is correctly called a traditional American hole in the wall restaurant, since the small, homey dining area (did I say small?) doesn't sit many hungry patrons. But it made it into my Top 5 Breakfast Places sub listing, because of its excellent Yelp rating, nearness to STN Expo, delicious-looking plates submitted by yelpers, and their laudatory comments. Some typical reviews were like this one: "Fun environment, crepes were definitely awesome, quiche was flavorful and my kids enjoyed their breakfast!" Or this one:
"I can say for certain that one of the best benedicts in town can be found at this little cafe." And this one from a resident (their reviews rank higher in accuracy for me since they eat there all the time): "I work at an office on Longley, and it's wonderful to have a restaurant that offers amazing food at a low price." This review also sounded right on-target: "They don't have a huge menu but it is great food and the servings are perfect!" Then Melissa U. from Reno reported, "Amazing local place, the food is wonderful, the service is great, the staff is so amazing nice and helpful. My breakfast came very quickly. The eggs benedict is perfect, and also the biscuits and gravy are extremely satisfying. I will return again and again! Keeping it local!"
---
3800 S. Virginia St., Reno NV 89502-6005; 775-335-3114; 418 Yelp reviews; $$$, American, Soups, Deli; 4.0 Yelp stars out of 5; https://www.atlantiscasino.com
A traditional big-city deli with an extensive menu that happens to be located in the Atlantis Casino Resort. It features authentic piled-high sandwiches, traditional Matzoh ball soup, bagels and lox, Manhattan cobb salad and house-made New York cheesecake await. Freshly prepared sandwiches and sliced-to-order deli meats, cheese, salads and desserts are also available for takeout orders. Yelper Nicholas R. from Sparks, Nevada, commented that it's an "Awesome sandwich shop, if you're looking for a sandwich that has tons of meat with little bread, you have arrived!! Great sandwiches!!" Many of the yelpers loved their huge pastrami sandwiches, and their huger juicy burgers, which are "heavenly and put you in a food coma," reported Brian C., also from Sparks. The pastrami is "always flavor-packed and the burgers are always thick and juicy. Don't forget to add cheese, as this burger doesn't come with cheese automatically," he added. Basically, if you like huge piled-higher-deeper deli sandwiches, this is your kind of place. And Elizabeth C. from Sparks (man, they do love deli food there!), added: "Oooh, pastrami. Piled high pastrami! Corned beef, rye bread…am I tempting you yet?"
---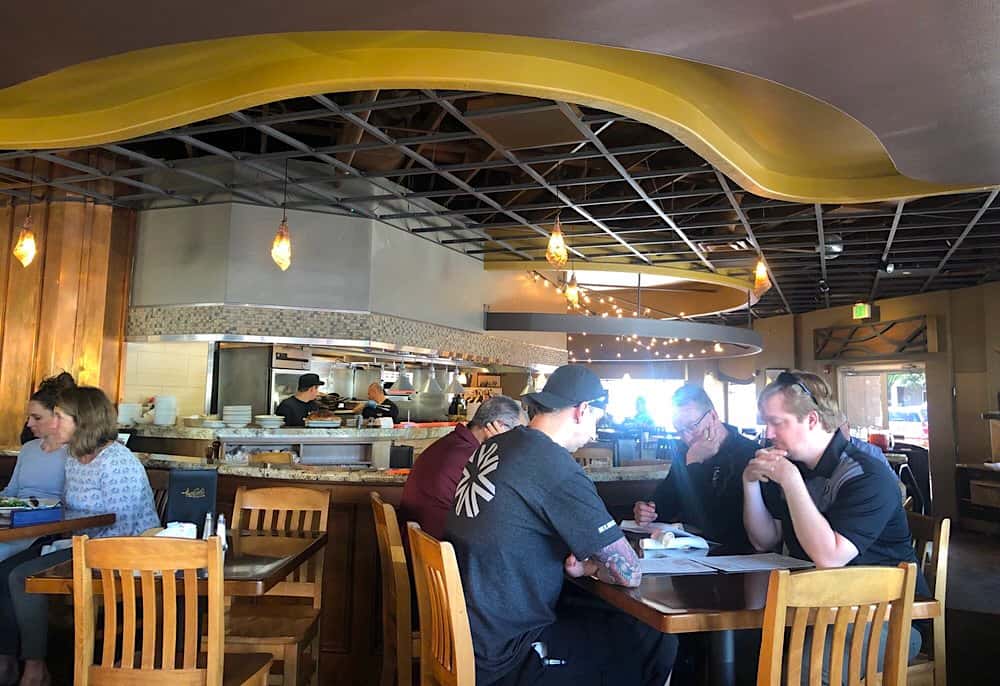 6520 S. McCarran Blvd., Reno NV 89509; 775-827-6262; $$$ American (Traditional); 201 Yelp reviews; 4.0 Yelp stars out of 5; www.grillatquailcorners.com
The Grill features an extensive menu, filled with such traditional favorites as freshly-made pizza, seared ahi, cioppino, steak fritas, short ribs, potstickers, pasta, crab cake, crack & cheese (so named because of its overload of crab), Thai chicken salad, clams, poke and more. Check for the daily special, which is always different. Yelper Jill S. from Honolulu reported that her family "loved the burgers, club sandwiches, petrale sole, and their three scoop salads. Everything was fresh and well presented." Also consider the fried mozzarella (which is incredible, we heard), calamari, salmon, game hen, lasagna, and fruit and cheese plates. The scallops, halibut and prawns also look very tempting, as do the savory and tender lamb chops. Yelper Valarie B. from Fernley, Nevada, recommended the Manhatten chowder, which "was yummy with a slight spicy kick to it. The bread and butter are an amazing combo and the taste is perfect!" The lunch menu stresses burgers, sandwiches, salads and a few larger dishes. Meanwhile, there were some yelper complaints about the noise level and sometimes spotty service, but I am usually wary of these kinds of posts, since you don't really know if these are legit descriptions of actual dining experiences, or are phony rip jobs from jealous competitors. But if you still have some room left after lunch, the house-made desserts of tiramisu and berry cheesecake are highly recommended. Also praised were the "very good bread pudding and great chocolate cake, both with excellent vanilla ice cream," reported local resident skier John L. from Reno.
---
3. Sports Deli (in the Peppermill)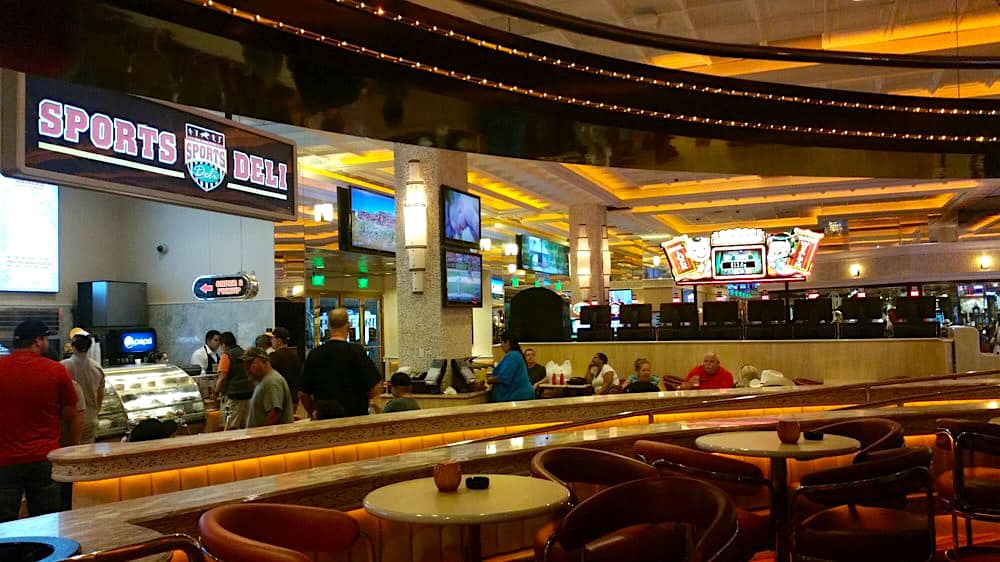 2707 S. Virginia St., Reno NV 89502; 866-821-9996; $$ Deli, Sandwiches; 64 Yelp reviews; 3.5 Yelp stars out of 5; www.peppermillreno.com
This restaurant is what I call the "Get it Done, Now" kind of walk-up deli/restaurant for when you don't have the time, energy or stamina to venture outside your conference hotel. You will find that it has a relatively limited menu, decent but basic tasting food when you are starved between conference sessions, little service (no waiters), stand-in-line cafeteria-style, clear-your-own-table, no-frills, hurry-up, solid quality sandwiches (meatball sandwiches were praised by yelpers), little hassle, fairly reasonable prices for a hotel (higher than Subway but less than regular restaurants) and good hours (open until 10 p.m.). Hot dogs are available, plus the usual burgers, fries, potato salad, nachos and turkey sandwiches. The "cheesytastic pepperoni baguette pizza has that delicious marinara sauce," reported local resident Yelper David C. from Reno. The sub sandwiches and cheese dogs are also a favorite for local residents. Yelper Joyce T. from Honolulu praised the "chicken noodle soup with chunks of chicken, potatoes, celery and rigatoni noodles. Hefty ingredients. A little on the salty side but the amount and the ingredients were great." Basically, it's a reliable place that serves its purpose and that's its strength, having gulped down food there several times at the last STN conference. But don't forget, since it's an actual lunch place, it doesn't open until 11 a.m., so you can't just drop by for a quickie breakfast, 'cause there is none. For late-night desert famines, though, it is especially nice and appreciated to have it available and be able to sit quietly alone and catch up on your cell phone texts. Check out the chocolate chip cookies, cheesecake, pecan or banana cream pie and carrot cake.
---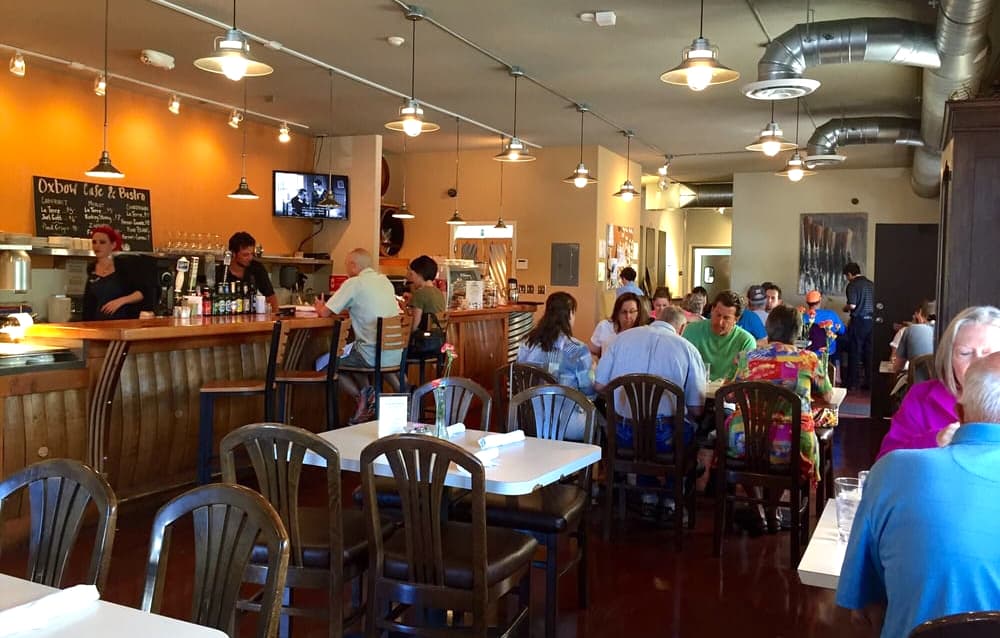 2365 Dickerson Rd., Reno NV 89503; 775-453-1160; $$ Cafe, American (Traditional), Breakfast & Brunch; 262 Yelp reviews; 4.0 Yelp stars out of 5; www.oxbowcafebistro.com
Local resident Yelper Charlie B. from Reno asked, "Will I ever order anything other than the chicken-fried steak? I really can't say. I don't want to order something that's just good and think about the mouthgasm I could have had, had I ordered the chicken-fried steak." Then Yelper Cory P. from Reno reported on his lunch experience. With the French onion soup, "I have to say, nothing beats having a warm, savory soup on a chilly Reno morning. The bread was soaked with all of the soup's flavor, the cheese was satisfyingly gooey and the slight crunch of the onions gave the perfect bite. The chili cheese omelet was also very good. With the generous portions of potatoes and slices of toast, it made to be a hearty meal. Lastly, I loved their French toast breakfast. I ordered mine with ham, and they gave a nicely portioned steak of ham. Their french toast was crispy on the outside, yet warm and slightly soft and doughy on the inside; just the way I like it. It was sweet, but not overpoweringly sweet." Also praiseworthy are the chili cheese omelet, the great prime rib special on weekends, eggs benedict, ham and Swiss sandwich, breakfast burrito, French toast using Hawaiian bread that is topped with powdered sugar, clam chowder bowl, bloody mary's and mimosas that "are to die for," noted Andre C. from Fullerton, Calif.
---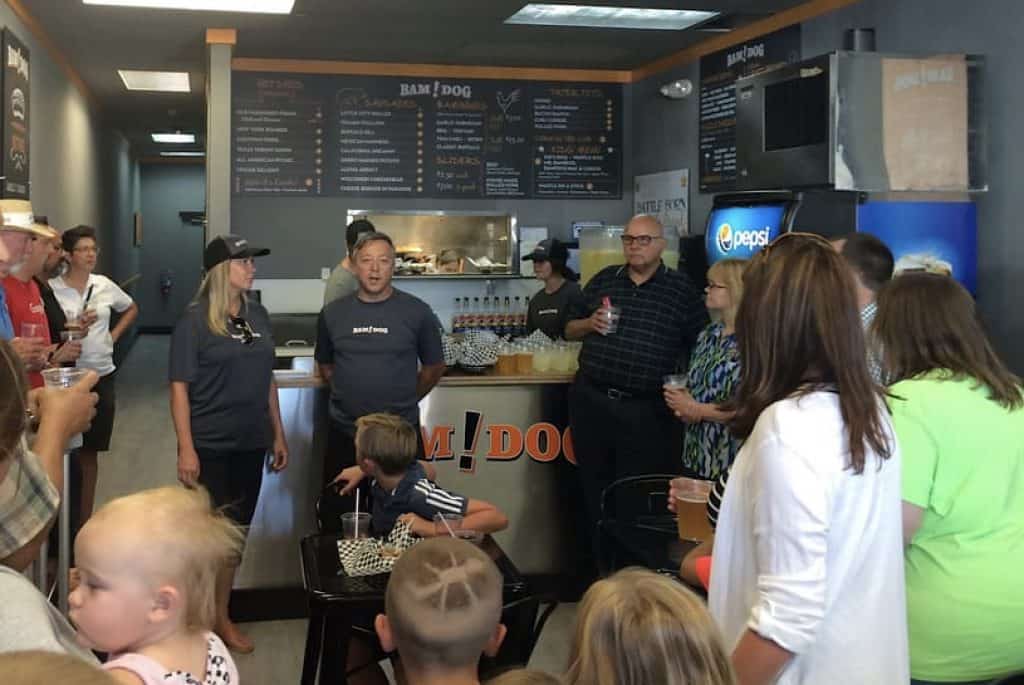 5000 Smithridge Dr. Ste. A-25, Reno NV 89502; 775-824-9070; $ Hot Dogs, Chicken Wings, American (Traditional); 208 Yelp reviews; 3.5 Yelp stars out of 5; www.bamdoghotdogs.com
What could be better than a nice hot dog place that is locally owned, relatively inexpensive compared to a regular sit-down restaurant, AND serves beer with your dog? Local Yelper Debbie R. provided a representative rundown of what they serve and what to expect. "It's hot dogs, tater-tots, sausages! The NY dog was good. Nice mix of onions, sauerkraut and mustard. The dogs are fat and beefy. A true NY dog is thin and snappy. Still a good dog! The bun was a little doughy but it worked! The poppyseed bun looked good; might need to swap next time. Tater-tots with pulled pork. Crispy tots. Tender pork. Sprinkle of cheese. Next time I'll ask for a side of BBQ sauce. This is not really a side dish—it's a meal! Sausage & Pepper Hero. Got it to go. It took a while but everything was made fresh. The person who ate it enjoyed it; high praise from a man that doesn't unpack his adjectives when talking about food. There are more dogs on the menu including a veggie. So I'll be back."
---
3800 S. Virginia St., Reno NV 89502; Located in the Atlantis Casino Resort Spa; 775-824-4433; $$$ Buffets; 680 Yelp reviews; 4.0 Yelp stars out of 5; https://www.atlantiscasino.com
Toucan Charlie's Buffet, located in the Atlantis Casino Resort, is #1 on my list of restaurants I absolutely positively without question, have to dine at during the STN Expo. The truly incredible menu and literally piles of almost everything you could possibly want to eat is incredible, and I don't use that word often. This restaurant is the stuff of what makes legends, in my humble opinion. In fact, I just had to view every single photo, up close, of the 1,680 photos that were posted on Toucan's Yelp page today. I just wish there was more space in this post to include more of these photos to share with you. But I will warn you in advance, don't eat for three days prior to arriving, because I don't think you will be able to forgive yourself if you don't try to eat more of the vast mountains of fresh seafood, mouth-watering meats, spectacular-looking desserts, complete with huge slabs of juicy steaks, really thick prime rib, ribeye ribeye ribeye, turkey, pork, brisket, Dungeness crab, stone crab and snow crab legs with hot drawn butter, mussels, chicken, shrimp, fish, soups, chowder, lobster ravioli, quiche, fresh-baked pizzas, crab cakes, oyster Rockefeller, bread, flowing chocolate bar, pie, pastries, gelato, cakes, fruit tarts, ice creams, cheesecake, cookies, cotton candy (yes!), and on and on. This was a typical Yelp comment, from Gabrielle M. from Cordova, Tennessee, who commented, "Oh my god, you have to go on Saturday nights when they have all you can eat seafood and steak! Delightful and decadent. Not only could we eat as many snow crab legs, shrimp skewers, mussels, ribeye, prime rib, and other delicacies, they were delicious as well!" And don't forget to visit the chocolate fountain, "where they dip strawberries, pineapples, marshmallows, Rice Krispie (bars) and other treats." Good tip: there is a $7 discount if you have a player's card (free to sign up) and are over 55. I should also mention that there is likely to be a waiting line, but don't get upset with that or let it discourage you from visiting. You will thank me afterwords that you persisted, no matter how long it took. Or, you may be calling me names (oh no!) because you just gained 5 pounds after dinner.
---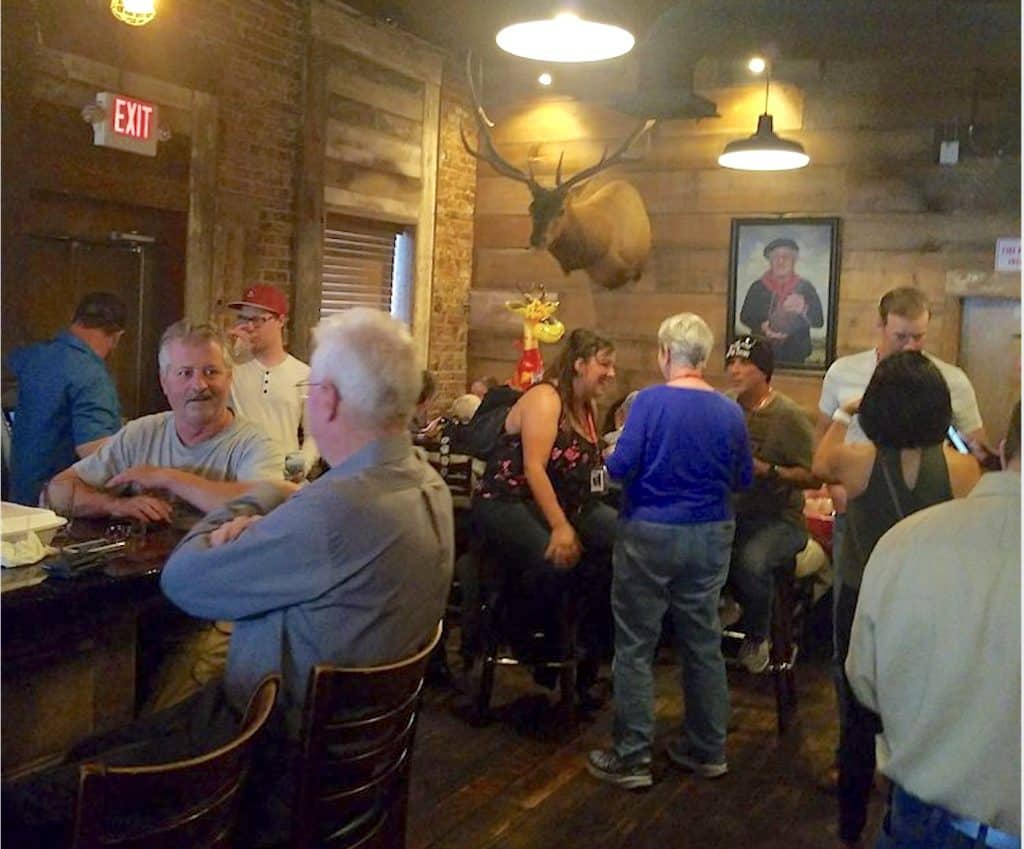 301 E. 4th St., Reno NV 89512; 775-323-7203; $$-$$$ Basque; 322 Yelp reviews; 4.0 Yelp stars out of 5; www.louisbasquecorner.com
If you can get past the Basque "family style" traditional method of dining and everyone constantly bumping elbows (literally) with everyone else, having zero privacy with your personal conversations and sharing your food with strangers, then you are in for a good experience. To be honest, although I'm more of the shy type and don't wish to be forced to return to my college dorm room period, with that loud, communal dining hall, you are in for a fun treat. With huge delicious servings of everything, you will share a hearty tasty meal that you will remember. Diners simply select which main entre protein they want to eat—either steak, lamb or a shrimp dish. Then everything else arrives in waves of mouth-watering courses. Fresh-baked bread, home-cooked soup (chorizo and kale, for example), house salad, beans, oxtail stew, garlic fries, salty-everything, pickled cow tongue (I have eaten at various Basque restaurants over the years and can never get past the idea of my food talking back to me, lecturing me somehow for yanking his tongue out of his mouth), all served on cramped picnic-style long tables that are covered by plastic red checkerboard covers. Louis' rustic, old Western-style thick-wood paneling and rough-cut wood floors, mounted elk head on the nearby wall who looks like he is wondering if you are going to eat one of his cousins, and dim lighting, means that good or bad, you will feel thoroughly stuffed, satisfied and happy that you definitely got your money's worth at Louis'.
---
3. Romanza Ristorante Italiano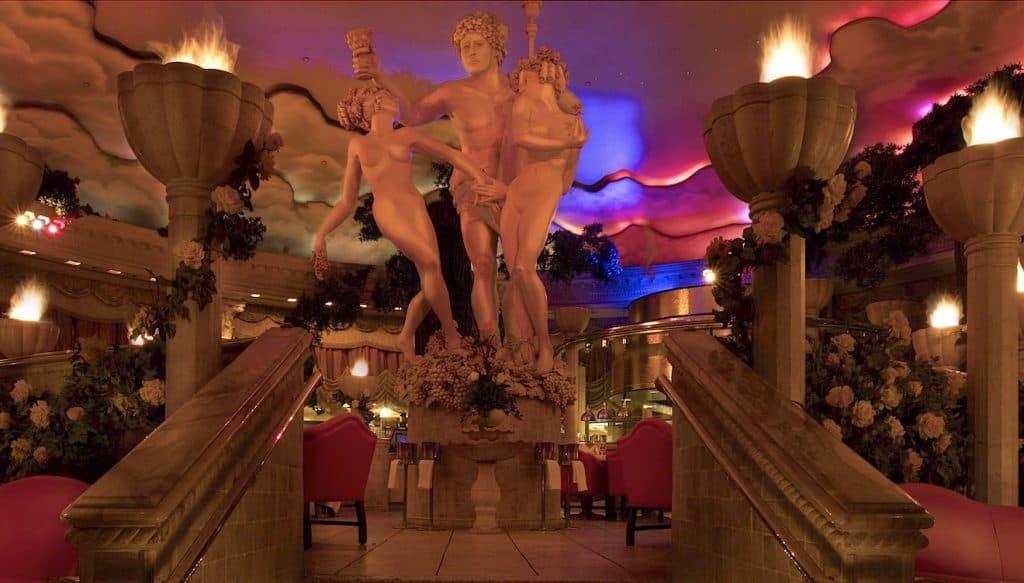 2707 S. Virginia St., Reno NV 89502; 775-689-7474; located in the Peppermill Reno Resort; $$$$ Italian, Salad, Soup; 214 Yelp reviews; 4.0 Yelp stars out of 5;  https://www.peppermillreno.com
Undoubtedly one of the top Italian restaurants in Reno, Romanza has elegance, a strong menu, opulent romantic setting, great service, candle centerpieces, classic Roman sculptures and Corinthian columns topped with torches, plus a perfect location—in the middle of the Peppermill. Romanza features a solid variety of traditional Italian dishes, such as chicken piccata or marsala, chicken parmigiana and chicken romanza. And genuine homemade pasta. On the beef and seafood side, there are the tempting veal dishes that are often difficult to find these days, such as the veal chop parmigiana, veal marsala, veal piccata or oven-roasted veal chop. Then check out the chianti-braised short ribs, lamb rack, filet mignon, or wood-grilled filet with butter-poached prawns (this one sounded like the best). The restaurant's website profile explains that "Romanza is dedicated to the art of handcrafted meals and authentic flavors. Watch as master chefs skillfully prepare each course in the exhibition kitchen, combining locally-sourced ingredients with premium meats and seafood to transport guests straight to old-world Italy. Romanza's pastas are handmade daily from age-old recipes, and the wine list overflows with exclusive options straight from Tuscan wineries." Yelper Spring W. from Sacramento represented the sentiments of many of the Yelp comments when she wrote, "Very much worth the money. The atmosphere and ambiance were great. The wait staff was on point and the food was excellent. I would definitely come back for a meal here. It's pricey, so not too soon." Yelper Malu D. from San Rafael, California, reported that she loved the linguini with giant scampi and halibut with asparagus. "They were very delicious!" she said. Tammy Y. from Cupertino, California, yelped about the lobster asparagus risotto, which "was delicious (we asked for less salt, butter and cream) and it was just right—would definitely recommend." Thank you for that suggestion, I think I will try it during the STN Reno conference!
---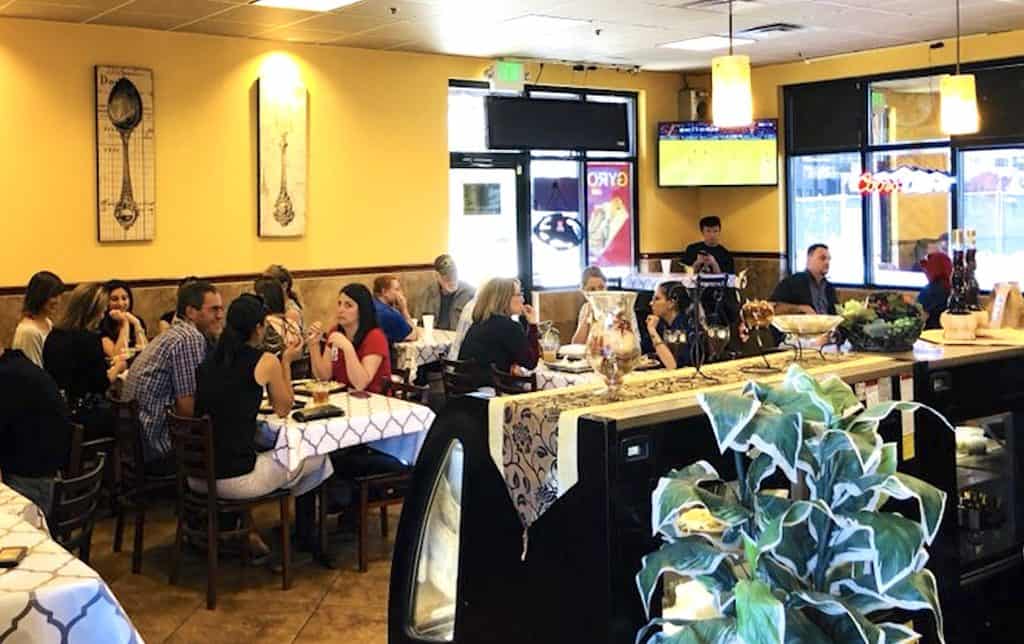 80 Giroux St., Reno NV 89502; 775-870-9616; $$ Mediterranean, Fast Food, Indian, Greek; 233 Yelp reviews; 4.5 out of 5 stars; www.surisreno.com
Sort of mixed reviews but it did collect 4.5 stars, especially deserved because of the relatively low prices, considerate staff and several uniformly popular specialties. Singled out for praise are the lamb and beef gyro platters, chicken kabob, chicken wrap, stuffed grape leaves, chicken and beef shawarma, beef shawarma plate, lamb gyro plate, falafel, loaded fries, cheesy fries, hummus, pita, garlic tzatziki yogurt sauce, cucumber salad, Persian iced tea, baklava, Persian ice cream with rosewater, saffron and pistachios. Yelper Kristy C. from Reno wrote, "I tried the chicken and beef shawarma, as well as the lamb gyro, while I was there recently. All of them were delicious, but the chicken takes the cake by far. There was just a certain crispy meaty flavor to the chicken that set it apart a bit. If you're not interested in eating an animal, they have falafel as well (and the rest of the food is generally vegetarian-friendly so it's a safe choice). The garlic sauce is super good, especially with the potatoes, but it's definitely not a first date food or something you should eat before an important meeting or job interview." Yelper Mindi A. from St. Louis commented, "I ordered a lamb gyro wrap combo and had their soup of the day, lentil soup, as my side. The gyro was delicious and was easy to eat because they wrapped it with foil similar to a Chipotle burrito. The lentil soup was also very warming and filling; I would recommend it for your side. Service was also good, very friendly, and prompt. You receive a number for your order and when it is ready, the number is called and you go up to the counter to grab it."
---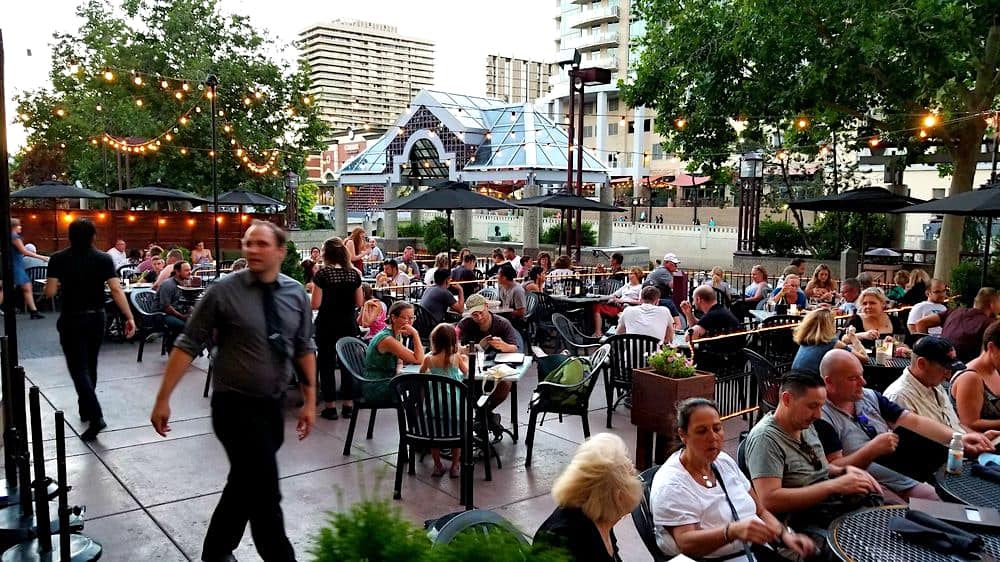 17 S. Virginia St. Ste. 180, Reno NV 89501; 775-284-7455; $$$ American (New), Bars, Steakhouses; 896 Yelp reviews; 4.0 out of 5 stars; www.wildrivergrille.com
Last but not least is Wild River Grille, which features an attractive large patio for dining al fresco, and fronts on the Truckee River. Like almost all of the Yelp reviews, there are some bitchy-nitpick-juvenile-unfair comments that may or may not have been submitted by a competitor. But you can often tell the truth by reviewing the submitted photos that show crowds and standing lines, plus superior-quality delicious-looking specialties. Restaurants don't usually stay in business for years and have waiting lines, if they don't have decent menus, solid service, good quality food, nice decor, reasonable prices, maybe a nice view, and so on, to offer prospective customers. But let the food speak for itself, I have concluded. For instance, one yelper Anna M. from Reno, wrote, "We ordered the crab and salmon cakes…so delicious. The special was a pan-roasted halibut, which was awesome. We also ordered the meatloaf with portabella mushrooms and rosemary house mashers. To be honest, I was very scared to order meatloaf due to past meatloaf nightmares…lol, but it was truly amazing. Then there was the amazing ribeye, with added sautéed mushroom blend, and turf it was very good. We had the flourless chocolate torte and the Truckee River mud for dessert; both were very good. The torte was heavenly, I will be dreaming about that for a while!!" Jennifer B. from Sparks said, "The caesar salad was great, steak w/sauteed shrimp & potatoes even better and then the cheesecake was delectable." Debbie R. from Reno helpfully noted that "on some nights they have live music and all nights the outdoor seating is dog-friendly. The halibut seems to the summer special; TOTALLY worth checking out. Check Costco; they have usually have gift cards available at a discount." And another happy customer was Rameesha K., also from nearby Sparks, who wrote, "for appetizers, we started with Caprese bruschetta which melted in my mouth. The mozzarella was fresh and yummy. For my main course, I got the filet mignon cooked medium. The steak was cooked to perfection, super juicy; great sides to compliment the filet mignon."
---
Conference Registration Contact:
Alice Hung Sabedra
Events Manager
310-802-7811
alice@stnmedia.com