Are you doing twice the work? Do you need a powerful school bus routing solution, as well as easily managed reports and districtwide access to transportation information for staff, administration and parents?
This webinar on September 26 at 10 a.m. PST / 1 p.m. EST, will share how Transfinder enterprise solutions provide you with the tools and information you need on your smart phone, tablet and web browser—when and where you need them.
Please join Transfinder CEO Antonio Civitella and Solutions Engineer Phil Levesque for this informative webinar and learn how the industry-transforming browser-based solution Routefinder PLUS will revolutionize the art of routing forever. See how quickly Routefinder PLUS responds, its amazing capabilities, and its leading-edge features that will reform everything you thought you knew about routing.
You will also learn how Viewfinder, Wayfinder and Routefinder GO will empower and inform you and your staff, district administration and parents every day. Receive that critical information in the palm of your hand during crisis situations.
Presenters:
Antonio Civitella, President & CEO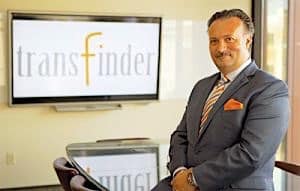 Antonio Civitella began his career as a computer software intern with James Forth & Associates, a management consulting firm. He developed the company's flagship product, Transfinder Pro. While Vice President and COO, he purchased the company in December 2000 and became Chairman and CEO. He changed the company's name to Transfinder to reflect the focus on the products and services associated with pupil transportation. He has since led the development of the company's product line as well as the management and support teams.
He is active in the National Association for Pupil Transportation (NAPT), National Association of State Directors of Pupil Transportation Services (NASDPTS), The Association of School Business Officials (ASBO), New York Association of Pupil Logistics (NYAPT), the Texas Association of Pupil Logistics (TAPT), the New York State Association of School Business Officials (NYSASBO) and the New Jersey School Transportation Supervisors (NJSTS). He holds a B.S. degree in computer science from Siena College.
Phil Levesque, Solutions Architect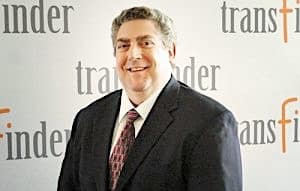 Phil works across departments within Transfinder to bridge communication on the technical components of Transfinder's software solutions and the value they have in addressing client needs. By listening to clients and assessing their challenges, he helps to uncover the tools within Transfinder's solutions that will help them achieve their goals. In addition, Phil acts as a liaison between development, client services and sales teams to share what is being asked for by school districts, as well as helping to provide information across the company on what development is doing to address those needs. Phil has over 23 years experience as a solutions engineer with Pitney Bowes Business Insight – Mapinfo, a Transfinder mapping and GIS data partner.