The old saying goes that it takes a village to raise a child. The same adage can also apply to transporting children to and from school, particularly special needs students, according to Dr. Joseph O'Neill, a developmental-behavioral pediatrician based at the Riley Hospital for Children in Indianapolis.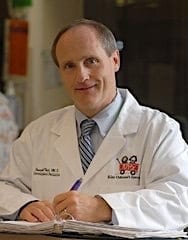 Dr. Joseph O'NeillThe primary concern being debated is how to administer medication that is both safe and non-invasive to a child in crisis, especially aboard a school bus where neither a medical practitioner nor a school nurse may be present.
From the transporter to the care worker assigned to the student, school administrator and parents, "There must be clear communication with a wide group of people who care for the child," said O'Neill, who has been practicing medicine for 26 years.
O'Neill underlined the importance of strong coordination between all parties involved in order to determine the best way to help the child when they are in need, and to anticipate any problems that might arise when delivering life-saving medication.
The individuals potentially administering the emergency medication need to understand the risks involved and the possible side effects that could potentially arise from application, O'Neill added.
"Everyone, including drivers, should be required to receive special training so that those who give the medication know the right dose and can deliver it in the appropriate way," said O'Neill.
The American Academy of Pediatrics recently released a paper covering the same subject of rescue medicine, specifically the application of seizure medication in school settings, including the school bus.
Like O'Neill, the AAP's report, Rescue Medicine for Epilepsy in Education Settings, discovers that, setting aside potential liability issues, "Collaboration among prescribing providers, families and schools may be useful in developing (action) plans for the use of seizure rescue medications."
O'Neill will discuss his own findings on the topic along side Angela McDonald, Sue Shutrump and Cheryl Wolf during a panel discussion for the TSD Conference in Louisville, Kentucky, for the general session, Rescue Medications on the School Bus, on Sunday, March 13.