The American School Bus Council has encouraged states and local districts nationwide to hold their own "Love the Bus" events next month, as there will not be a singular national event featuring federal officials like in years past.
The ASBC and its three national association members—NAPT, NASDPTS and NSTA—issued the statement on Thursday and reminded the industry of downloadable resources, such as thank-you cards, T-shirt templates and educator toolkits, to assist in developing local campaigns. The council also encouraged the use of #LovetheBus on social media to document and share information on celebrations.
The national Love the Bus event has been held each year since 2007 on or around Valentine's Day to recognize the roles of school bus drivers, as well as the educational, environmental and safety benefits of yellow bus travel. Events have featured the likes of former Transportation Secretaries Anthony Foxx and Ray LaHood, former NHTSA Administrator Mark Rosekind and other congressional and federal agency representatives. However, for the past two months, ASBC has been without a full-time coordinator to plan the event.
February has become known as Love the Bus month, with local school district and community events to celebrate school bus drivers and the yellow bus. These have included meals served to school bus drivers and student thank-you cards and posters to honor drivers, along with local media and public outreach campaigns.
The ASBC includes school bus manufacturers Blue Bird, IC Bus and Thomas Built Buses as members.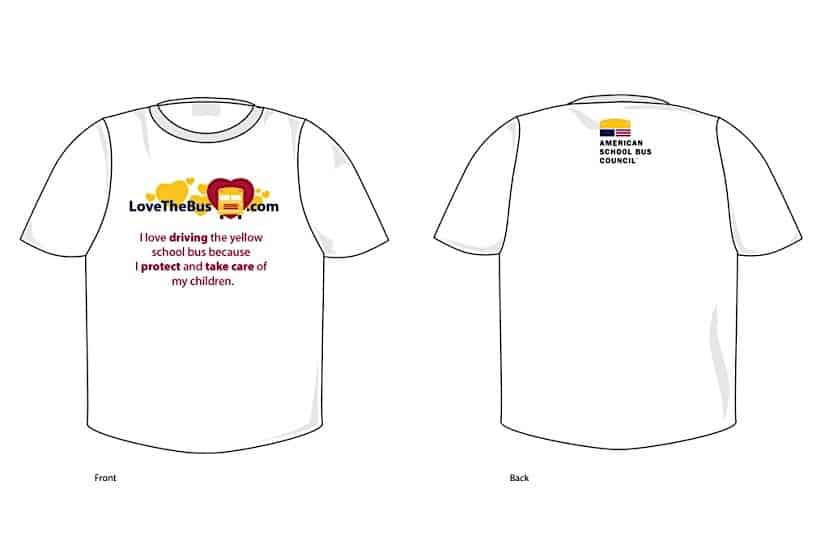 Tools available on the ASBC website include t-shirt templates that local districts can download for use in their own Love the Bus celebrations. (Photo courtesy of ASBC.)